Wheelchair racers push in solidarity for Black Lives Matter
'I don't want to ignore this injustice anymore'
19 Jul 2020
Imagen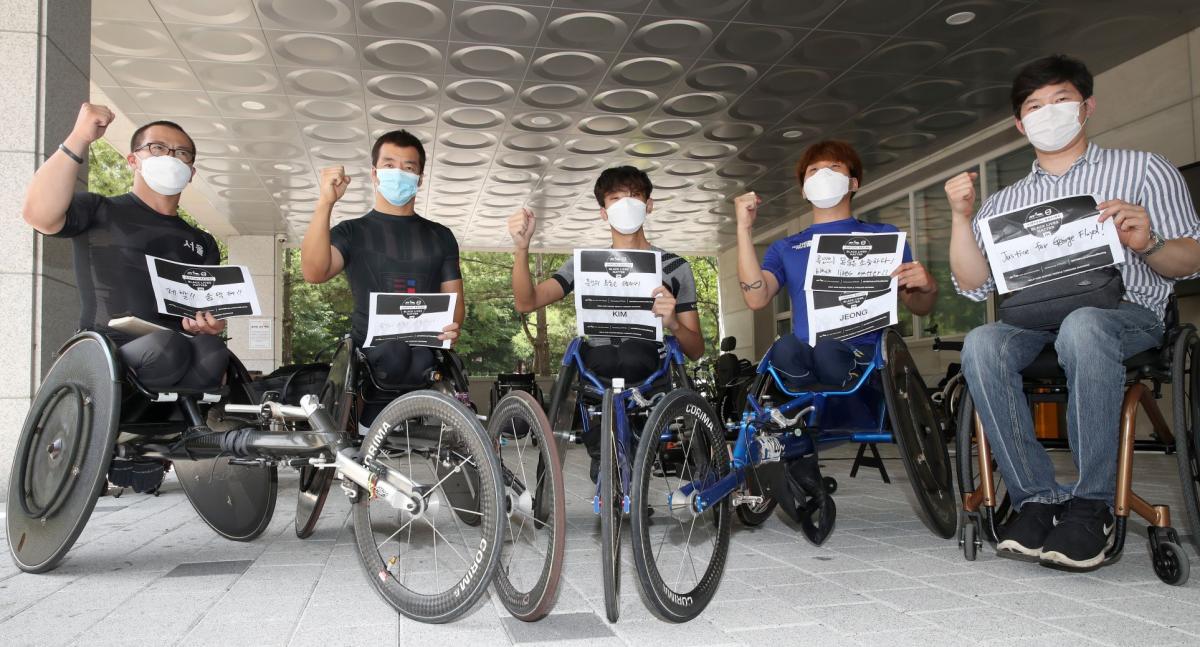 ⒸKPC
By EJ Monica Kim and IPC
South Korea's Gyu Dae Kim found a reason to get back in his racing chair despite many competitions canceled due to the COVID-19 pandemic.
A four-time Paralympic medallist, Kim joined the Virtual Black Lives Matter (BLM) 1 Mile race that was set up by New York Road Runners (NYRR), the organisers of the New York City Marathon. He brought together five other Korean Para athletes to join him in the cause and as solidarity with his fellow US Para athletes also participating across the ocean.
"In the past, many people told me to avoid conflict situation when I shared my own experiences of discrimination not only as Asian but also as a person with impairment," Kim said. "But I don't want to ignore this injustice anymore." 
Kim is temporarily back in South Korea due to the pandemic. But part of him is connected to the USA, as he has lived, studied and trained at the University of Illinois at Urbana-Champaign. The experience opened his perspective, and helped him empathise with the racial injustice that has sparked nation-wide protests in the USA since late May.
"I may not be able to protest for Black Lives Matter on streets in the US, but I thought that I had to be part of it for lives that have been lost from where I would be," continued Kim. "As I have gotten involved in wheelchair racing for 15 years, I wanted to make social contributions through what I am best at." 
The 36-year-old has participated in every New York City Marathon since 2013, but this year's event was cancelled due to the coronavirus outbreak; he damaged his spinal cord during parachute training in South Korean Navy in 2004. 
Kim was joined by Byung Hoon Yoo, Yun Oh Lee, Jong Gu Lee, Byung Hoon Kim and Jeong Beom Kim in the Virtual BLM Race, held across 1-12 July. In front of media, they pushed on rollers outside the Uijeongbu Community Rehabilitation Centre on 9 July.
"Although many Koreans are not aware of the feeling of racism in general, I encouraged Para athletes to support this campaign as it is an important step to break down any forms of discriminations in our society," said the retired Para athlete.
"As Paralympian, we all should take responsibility to achieve equality which is also one of the core Paralympic values for the next generation."
The Virtual BLM 1M race ran between 1-12 July and aimed to raise awareness and funding to support nonprofit organisations assisting the Black community n the USA. NYRR donated up to USD 100,000 (EUR 87,500) to support nonprofit organisations who are on a mission to confront systemic racism and achieve racial justice.  For this race, USD 5 (EUR 4.3) for every runner would go to the NAACP Legal Defense and Educational Fund and The Audre Lorde Project.
Multi-major marathon winner and Paralympic champion Tatyana McFadden joined the initiative with fellow US Paralympians Kelsey LeFevour, Susannah Scaroni and Brian Siemann. More than 12,000 registrants participated in the race.
McFadden commented: "I hear you and I support you. Over the weekend it's been hard to put into words the emotions that I've been feeling. As a white person, I can't imagine with what you're going through and what you have to go through every single day. 
"I support Black Lives Matter because I support my family members who are Black, friends, teammates, disabled friends and teammates, friends who are part of the LGBTQ community, and other colleagues who I love so much. We cannot discriminate based on the color of our skin. So I stand with you and support the change that needs to happen."