Lex Gillette: 'Don't give up on 2020'
The four-time Paralympic medallist spoke during Airbnb's Olympian & Paralympian Online Experiences
31 Jul 2020
Imagen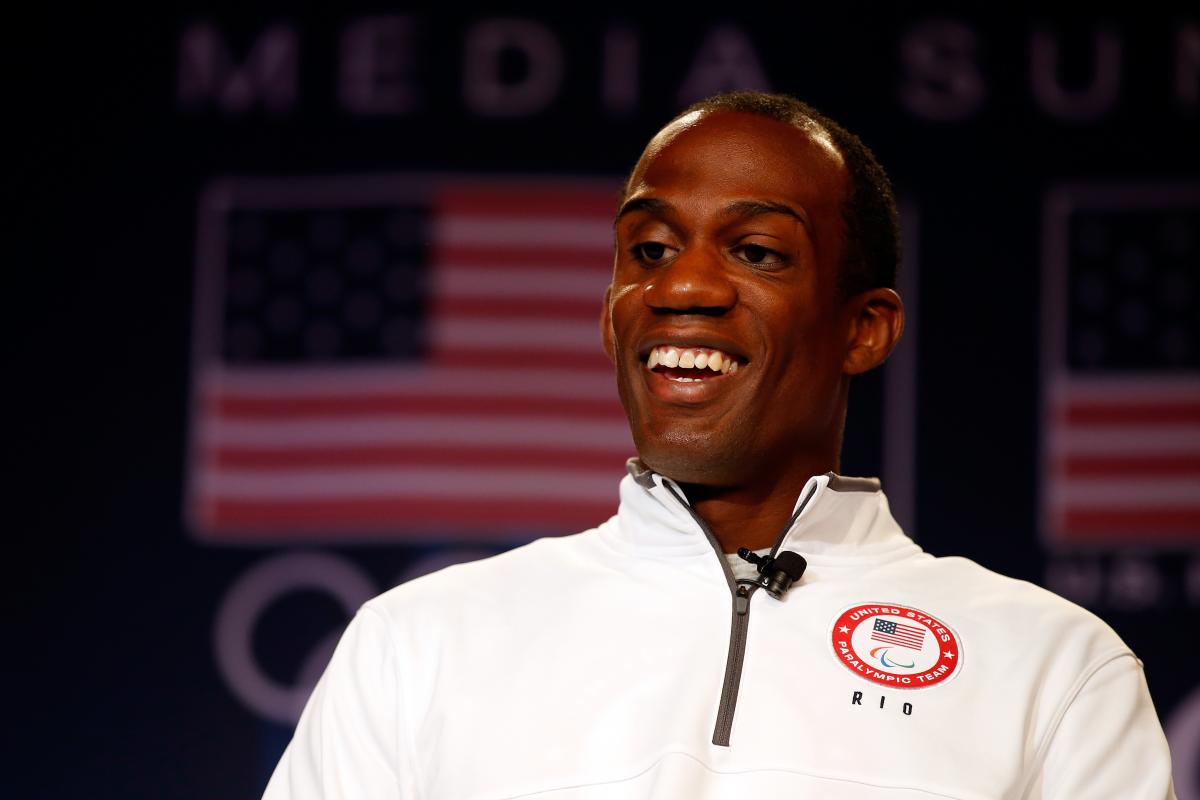 ⒸGetty Images
By Tokyo 2020
US long jumper Lex Gillette has never let challenges faze him.
At the age of eight, Gillette's sight had begun to slowly fade due to recurrent retina detachments which led to numerous visits to hospitals and surgeries before he lost his sight completely.
Encouraged to maintain his independence, his mother kept him in public school and sports, where he was eventually introduced to long jump. At the age of 19, his years of hard work and training accumulated in his first Paralympic long jump silver medal at Athens 2004.
While the postponement of the Tokyo 2020 Paralympic Games has presented new challenges to athletes, the Paralympian has found the positives.
"I know that initially it was definitely challenging and it was something that I had to get over but I think the biggest thing was knowing that it's just a postponing and not a cancellation," four-time Paralympic medallist Gillette said during Airbnb's Olympian & Paralympian Online Experiences.
"That's the one thing that we can kind of find solace and knowing that we still have a chance."
'Don't give up on 2020'
Gillette recalled the time he was going for a jump at the 2015 World Championships in Doha, Qatar. However, he was unable to hear his guide Wesley Williams, whom he always relied on to know where to run and jump.
So instead of landing in the soft sand of the long jump pit, he had missed it and crashed on the side.
While this may have been an off the cusp-story to some, as Gillette had explained how he trained and competed, it had a much more significant meaning.
"A lot of us in March and April when we were affected by the pandemic - it kind of feels that same way; it feels like we run and crashed on the side of the long jump pit," the reigning world champion explained.
"We were all trying to figure out what the next move was going to be, how we were going to overcome, how we were going to tackle the obstacles at hand.
"It feels like you land on the side of this long jump and it's like, man, where do I go from here?"
Leading into a new year, people around the world had their goals, ambitions and aspirations set for 2020 but some might not get to achieve them. However, what helped Gillette was no matter what, he had some by his side helping him. For him that was his guide Wesley.
"I think for all of us, we have someone who we can genuinely connect with. Someone who we can have that authentic link with. That's what has helped us and that's what will help us continue to get through.
"So I just want to encourage you to don't give up on 2020. We still have five months left. There's still amazingness (sic.) to achieve.
"We can fight through it."
Going further
At the World Para Athletics Championships last year, Gillette reached 6.45m - a championship record - and four years ago he did 6.44m at the Rio 2016 Paralympics.
However, Gillette, who is looking towards his fifth Paralympics, is hoping to go even further and has set his mark on reaching 7m.
"So it was nowhere near what I needed to do but the good thing is that there's always a second chance, right?" Gillette said.
"Of course the goal is to go to Tokyo and win gold. We got a lot of time to get ready so I'm excited about it."
However, on top of his goals there is one other thing the four-time Paralympian also wants to do when he comes to Tokyo next summer.
"So after I'm done competing my top two goals are to go compete, win gold and go to Disneyland."
Anyone interested can still take part in the Airbnb Online Experiences by signing up online.