Five things we learned about wheelchair fencing at Rio 2016
It was a terrific five days of fencing action in Carioca Arena 3. Here's five things that we learned during Rio 2016.
17 Sep 2016
Imagen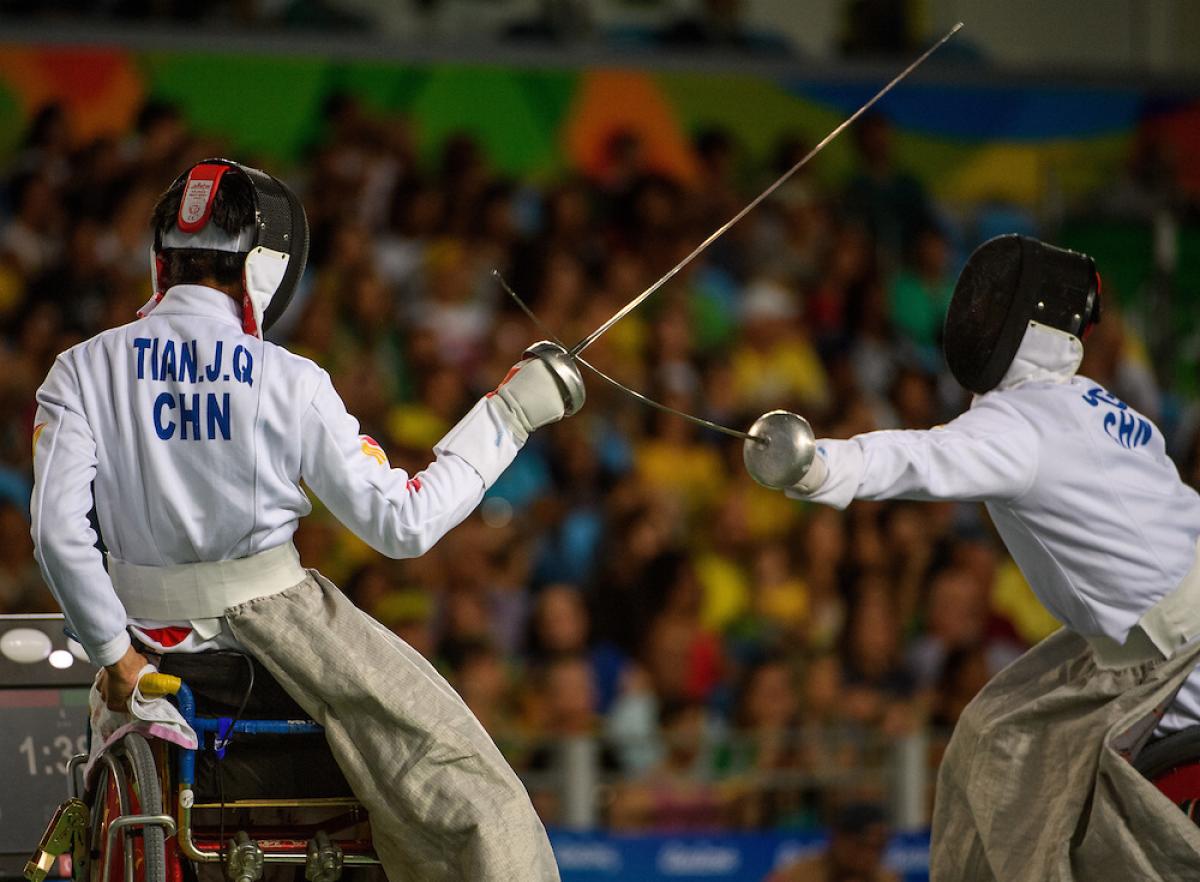 ⒸThomas Lovelock for OIS/IOC
By IPC
1. The key to Bebe Vio's success is not what you might think…
Even though it was her first Paralympic Games as a competitor (Vio was a torchbearer at London 2012), the 19-year-old showed no hint of nerves as she outclassed the best foil category B fencers in the world to win gold in Rio.
The key to her incredible performances? Apparently it is all down to her toy mascot.
"The credit for this success actually belongs to 'Squacchero', my stuffed animal that is always with me, even when I fence on the piste." Vio explained.
"Luckily he was with me during the final bout, because I was worried that he would not pass the technical test but then he made it too!"
2. Zszuzsanna Krajnyak's pursuit of gold continues
Rio 2016 was the fifth Paralympics for Hungary's Zsuzsanna Krajnyak. She first competed at Sydney 2000 and has now medalled at every Games since but never won gold.
As such, 37-year-old Krajnyak has refused to rule out a return at Tokyo 2020. "We'll see if I'll compete in Tokyo," Krajnyak said. "It's going to be my 20th anniversary at the Paralympic Games. Maybe."
3. China's wheelchair fencing squad is unrivalled.
When a Paralympic champion does not make it into the line-up for the team events, you know the opponents should be worried.
China's Yanke Feng won gold in the Rio 2016 individual foil category B event, but was not one of the fencers selected for the team foil competition.
The best evidence of the strength of China's fencing squad is the medals table. Chinese wheelchair fencers topped the standings at Rio 2016 by some distance, winning 17 of the 27 available medals, nine of them gold.
Looking ahead to the 2017 season, China's wheelchair fencers are definitely the ones to beat.
4. Adrian Castro has some difficult conversations ahead.
When Poland's sabre category B fencer Adrian Castro beat countryman Grzegorz Pluta in the bronze medal match at Rio 2016 he defeated not just his training partner, but his future father-in-law.
"I met his (Pluta's) daughter during a fencing training camp four years ago," Castro explained. "She accompanied Grzegorz to that event, and everything started from there.
"Me and Pluta train together every day. Today before our bout I told him 'the loser will pay for the wedding'."
But Pluta insists it will be Castro who picks up the bill.
"Not at all, I don't agree," Pluta said. "I lost the bronze medal; he will earn money from winning it so he has to pay now. Of course he has to."
Castro now faces some unenviable conversations, on and off the piste.
5.Robert Citerne is the Peter Pan of wheelchair fencing.
At 55 years old, France's Robert Citerne was the oldest fencer at Rio 2016, but you'd never tell given his energy on the piste.
Citerne's gold as part of the men's epee team at Rio 2016 comes 28 years after his first Paralympic medal at Seoul 1988, and he has no intention of stopping yet.
"It might seem impossible because I'm 55 years old now and I am at my eighth Games. But I feel very young in my head and I know I can go as far as I want.
"When I am on the fencing piste I feel like a young boy. I like to make the show.
"Now I'm looking at the next four years. The gold in Tokyo (2020) is very much possible after this one here, it's true."