Gabriel Araujo and William Martin wrap up Paralympic debut with more gold
Ukraine's Maksym Krypak wins his 14th Paralympic medal while Talisson Glock and Zsofia Konkoly notch their first golds on day nine
02 Sep 2021
Imagen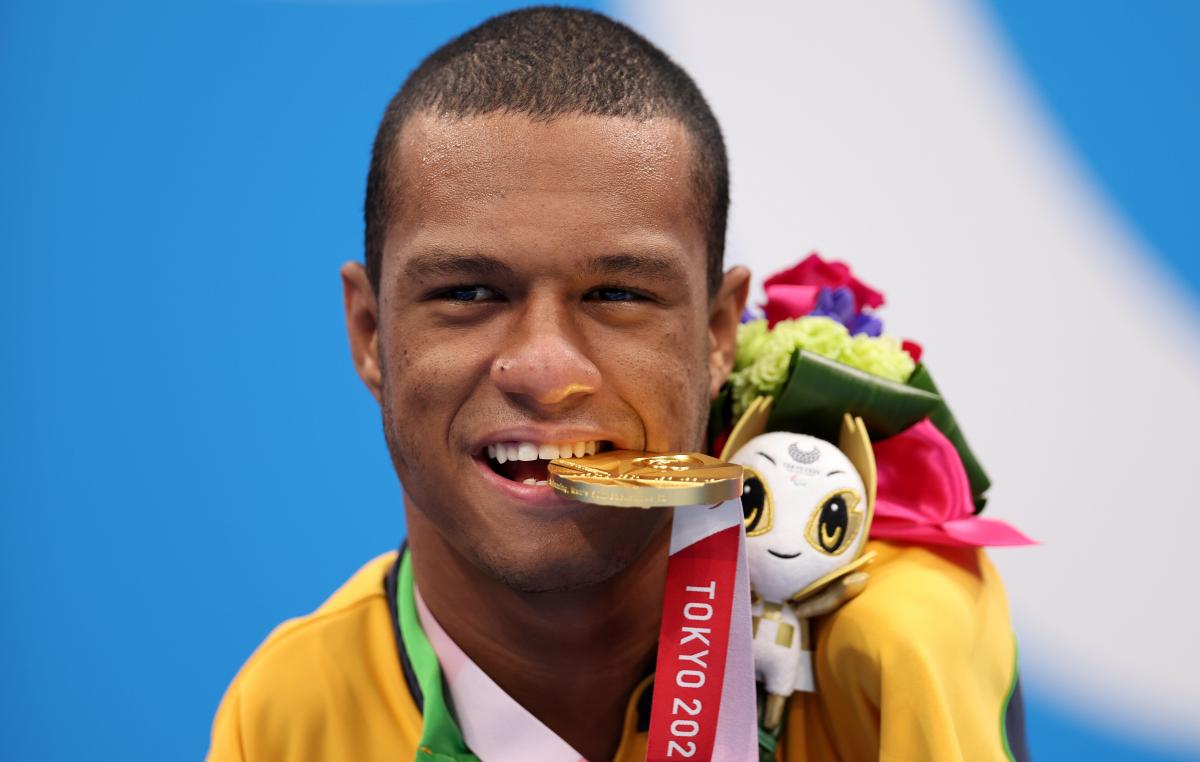 ⒸLintao Zhang/Getty Images
By OIS and World Para Swimming
The penultimate day of Para swimming at the Tokyo 2020 Paralympic Games offered another spectacle with 15 finals on the schedule and more gold from two swimmers who made their debut in Japan. Brazil's Gabriel Araujo and Australia's William Martin won their third medal on Thursday (2 September) at the Tokyo Aquatics Centre.
Araujo added the gold medal in the men's 50m backstroke S2 (53.96) to his title in the men's 200m freestyle S2. On the first day of Para swimming programme he won silver in the men's 100m backstroke S2.
"These medals are a culmination of my hard work together with my coach. I feel so happy about these medals," said the 19-year-old who defeated Chile's Alberto Abarza to victory.
Araujo started practicing Para swimming because of iconic compatriot Daniel Dias, the 27-time Paralympic medallist who ended his successful career on Wednesday.
"I saw Daniel on TV at the last Paralympic Games and I aspired with the performance. I thought one day I will participate in the Paralympic Games and for me it was very special to stay here together with him, like the beginning and the end coming here."
Martin defeats Barlaam
Araujo ended his first Paralympics appearance with a gold medal, as well as Australia's William Martin.
He triumphed in the men's 100m butterfly S9 with a new world record (57.19). The 20-year-old Para swimmer broke the world record in both the morning and afternoon sessions.
"I didn't really have anything left in the tank. I was pretty cooked by the end of it. At the 10-metre-left mark that's where I kind (of) hit a brick wall and really started to sting," said Martin who won three gold medals in the S9 class.
"Everything is just going well because of the great support at work that I got at home. Awesome family, always looking after me. Great coach, back at the home club he's phenomenal."
World and European champion Simone Barlaam of Italy took silver, while the RPC's Alexander Skaliukh settled for bronze.
Martin's teammate Benjamin Hance also had a sensational race in the men's 100m backstroke S14 to hit the wall first and set a Paralympic record in 57.73.
RPC's Viacheslav Emeliantsev was close on his heels in 59.05 with Great Britain's Reece Dunn taking home bronze.
There was a third gold for Australia in the women's 50m freestyle S4 with Rachael Watson defending her Paralympic title from Rio 2016 (39.36).
First golds for Glock and Konkoly
Brazil also won another Paralympic gold on Thursday as Talisson Glock triumphed in the men's 400m freestyle S6 with a time of 4:54.42. It was his first-ever Paralympic gold. He already had two bronze medals in the pocket, as well as a silver and a bronze from Rio 2016.
"It's a very special moment for me, something unique. I am very happy. I am sure I will leave [Tokyo] with a lot of happiness," said Glock who led from start to finish.
Hungary's Zsofia Konkoly was another Para swimmer who got the taste of Paralympic gold for the first time on day nine. She won the women's 100m butterfly S9 with a new Paralympic record (1:06.55).
Elizabeth Smith from the USA touched the wall in the second place winning her first Paralympic medal in an individual event, while Spain's Sarai Gascon took bronze after winning silver in both London 2012 and Rio 2016.
Krypak wins fourth gold in Tokyo
Ukraine's Maksym Krypak notched up the ninth Paralympic gold of his career and smashed his own world record (57.19) in the men's 100m freestyle S10.
Italy's Stefano Raimondo, who is a three-time world champion, came second in 59.36 and France's Florent Marais took the bronze.
"I'm satisfied, I'm happy, but I hope in the future I can get a better result," said Krypak on breaking the world record. "In Rio it was my first medal, so I had a lot of emotions compared to this one."
The gold was Krypak's fourth of the Games. He has also won a silver and bronze – to bring his tally to 14 Paralympic medals in total - and could claim another gold in the 200m individual medley SM10 at the Tokyo Aquatics Centre on 3 September.
His victory would be another title to add to his already impressive portfolio, which includes five world and 10 European championship titles.
Bianka Pap led the field in the 100m backstroke S10 putting Hungary again on top of the podium. The world champion finished in 1:06.70 with Canada's Aurelie Rivard, who is a three-time Paralympic champion, in silver and the Netherlands Lisa Kruger, also a Paralympic champion, in third.
Two golds for Israel
Iyad Shalabi notched up his second gold medal for Israel in the men's 50m backstroke S1 in 1:11.79. He beat Ukrainian Anton Kol into second with Italy's Francesco Bettella third.
On the first day of competition, 34-year-old Shalabi became the first Israeli Arab to win a medal at the Paralympics or the Olympics when won the men's 100m backstroke.
Shalabi's teammate Ami Omer Dadaon also celebrated his second win of the Games in the men's 50m freestyle S4 and set a Paralympic record when he hit the wall in 37.21.
"All the Israeli medallists are living in one apartment and we inspire each other and push each other as long as we can. We try to take it easy but it's not always easy," emphasized Dadaon.
The host nation's Takayuki Suzuki claimed his fifth medal of Tokyo 2020, and second silver, when he finished just behind Dadaon with Italy's Luigi Beggiato in bronze.
New WR for Jiang
China's Jiang Yuyan also impressed in the women's 400m freestyle S6 with a world record finish in 5:04.57. The 16-year-old beat reigning Paralympic champion, Ukraine's Yelyzaveta Mereshko into second and Switzerland's four-time European champion Nora Meister who finished third.
"I've never done a time like this before, it's so much faster than anything I've swum before," said Jiang.
Great Britain's Bethany Firth successfully defended her women's 100m backstroke S14 title in 1:05.92 to claim her second gold of the Games and her sixth Paralympic title in total.
Her compatriot Jessica-Jane Applegate came third with RPC's Valeriia Shabalina hitting the wall in second.
Xiu takes gold to Singapore
There were also victories for Singapore's Yip Pin Xiu in the women's 50m freestyle S2 in 1:02.04 landing ahead of Japan's 14-year-old Miyuki Yamada, who collected her second silver of the Games, and China's Yazhu Feng in bronze.
Mexico's Diego Lopez Diaz sealed a sensational victory in the men's 50m freestyle S3 in 44.66 with China's Zou Lianking claiming silver and Ukraine's Denys Ostapchenko bronze.
"This medal is very special for me because the other day when I got bronze [in the men's 50m backstroke S3] I was too nervous and I did not perform that well. Today I managed to calm down and be focused to get this gold," said the Mexican Para swimmer.
Closing the evening was a victory for the United States in the 4x100m medley relay 34 pts, with team member, Para swimming superstar Jessica Long, claiming her 15th Paralympic gold medal of her career. RPC came second and Australia third.
The last day of Para swimming will see 16 finals at the Tokyo Aquatics Centre on Saturday (3 September).
Complete schedule, results and medallists from the Tokyo 2020 Games are available on Paralympic.org.