Pelendritou returns to the top 13 years later
Teenage talent Taliso Engel denies Ihar Boki's six-gold plan while Paralympic legend Daniel Dias makes his last appearance in the pool in Tokyo
01 Sep 2021
Imagen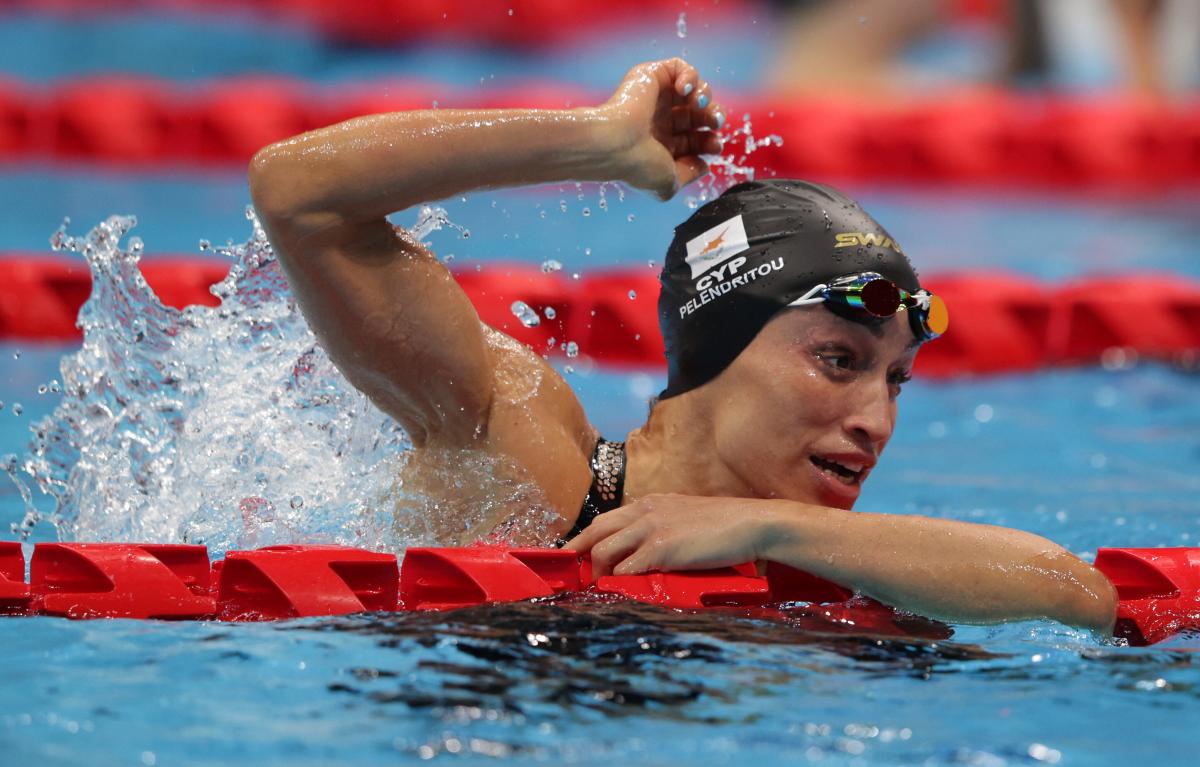 ⒸAdam Pretty/Getty Images
By OIS and World Para Swimming
The last time Karolina Pelendritou had won a Paralympic gold, Talison Engel was just a six-year-old. Thirteen years on and the two were on top of the same podium at the Tokyo Aquatics Centre on Wednesday (1 September), day seven of the Para swimming action at Tokyo 2020.
Pelendritou won the women's 100m breaststroke SB11 with a new world record (1:19.78). The Cypriot was ecstatic in the pool after discovering the result.
"I was very excited because I worked very hard the last five years. It's my event, the 100m breaststroke, and I wanted to repeat my success in 2004, 2008 and 2012," said the 35-year-old, referring to her two gold and silver Paralympic medals.
Pelendritou won her last Paralympic title at Beijing 2008 in the women's 100m breaststroke, but in the SB12 class.
"I started my first event in Para swimming in 2002 in Mar del Plata, now it's 2021 and I am still here and I am a golden Paralympian."
China's Jia Ma fininshed 0.04 behind the Cypriot swimmer for silver and Ukraine's Yana Berezhna took bronze.
Engel stops Boki's golden quest
After five golds, two world and two Paralympic records, it seemed inevitable that Ihar Boki of Belarus would cruise to victory again on Wednesday.
But the Belarusian's attempt at another six-gold Games, a feat he achieved at Rio 2016 having won five titles four years earlier in London, was thwarted when German teenager Taliso Engel touched home first in the men's 100m breaststroke SB13 with a new world record (1:02.97).
Boki, who just days earlier admitted this was his least-favoured event, missed out on the podium for the first time in Tokyo and had to settle for fifth.  
Engel's victory was also Germany's first gold in the pool at the Tokyo Paralympic Games. It was swiftly followed by another victory in the next event, when Elena Krawzow won the women's 100m breaststroke SB13 (1:13.46).
"I heard that he [Boki] trained more breaststroke," Engel said.
"The next step after World and European Championships title is winning a Paralympic title, and that was my dream. It feels so good. It felt incredible to stand on the podium. The medal is so heavy, and I'm just happy."
Dias says goodbye
Brazil's Maria Carolina Gomes Santiago ended her first Paralympic Games with three golds and five medals in total. Her last title (for now) came in the women's 100m breaststroke SB12 with a new Paralympic record (1:14.89)
"This is the realisation of a dream that started in 2018, when I started in the sport. I am very emotional, because this is really more than I hoped for. The sport has changed me as a person and made me better from time to time," said the 36-year-old Para swimmer.
Her compatriot and Para swimming legend Daniel Dias said goodbye to his extraordinary career with a fourth place in the men's 50m freestyle S5.
One of the most decorated Paralympians ever won 27 Paralympic medals throughout his four Paralympic Games appearances. Dias took three bronze medals in Tokyo.
China's Zheng Tao picked up his fourth gold medal in the men's 50m freestyle S5 (30.31), his final event in Tokyo.
Zheng was joined by teammates Yuan Weiyi (silver) and Wang Lichao (bronze) on the podium - the second time the trio had made a clean sweep in Tokyo.
He said: "This is my most glorious moment. I don't think it can ever be topped in the future."
Fifth medal for Krypak
Rogier Dorsman of the Netherlands is enjoying a dream debut. He won the men's 100m breaststroke SB11, his third gold of the Games with one event to go.
Italy's Antonio Fantin broke the world record (1:03.71) and won the gold medal in the men's 100m freestyle S6. He triumphed for the second time this year in the event after taking the first place at the Madeira 2020 European Championships.
"This gold comes to me after a lot of work, after many years and after two great relays. In both of the two relays we got silver, but here there are different emotions," explained Fantin.
Colombia's Carlos Serrano won his third medal and first gold in Tokyo in the men's 100m breaststroke SB7 with a new Paralympic record (1:12.01).
Ukraine's Maksym Krypak continued to dominate in the S10 class clinching his fifth medal and third gold in the men's 400m freestyle (3:59.62).
Rivard and Pascoe get second gold
His triumphed was followed by Canada's Aurelie Rivard who won the first place in the same event with a new world record (4:24.08). It was her second gold in Tokyo.
"For the past two years 95 per cent of my work has gone into that race. I work really hard every single day to try and maintain the pace, try to lower that time as much as possible," said Rivard who took four podiums so far.
New Zealand's Sophie Pascoe followed in Rivard's footsteps picking her second title in Tokyo. She triumphed in the women's 200m individual medley SM9 with a time of 2:32.73.
The 18-year-old Azerbaijan's Vali Israfilov took his first-ever Paralympic title in the men's 100m breaststroke SB12 with a new Paralympic record (1:04.86).
"I cannot find the words. I am so happy. I was expecting more, but I had some problems with my muscles. My muscles tightened up in the first 50m. Otherwise, I could have broken the world record, but a Paralympic record is also good."
RPC dethrones China
RPC swimmers won three golds on Wednesday, overtaking China at the top of the Para swimming medal table with 15 titles, one more than the Chinese.
Mariia Pavlova triumphed in the women's 100m breaststroke SB7 (1:31.44) with USA's Jessica Long taking silver - her 27th Paralympic medal. 
Viktoriia Ishchiulova was first in the women's 50m freestyle S8 (29.91) while Andrei Kalina won the men's 200m individual medley SM9 (2:14.90).
Day nine, the penultimate day of the Para swimming programme at this year's Paralympic Games, will see 15 finals at the Tokyo Aquatics Centre.
Complete schedule, results and medallists from the Tokyo 2020 Games are available on Paralympic.org.