Daniel Dias looks to continue to inspire
Para swimming legend says the last of his career was 'quicker than hoped for' and reveals his future plans after retiring with 27 Paralympic medals in Tokyo
02 Sep 2021
Imagen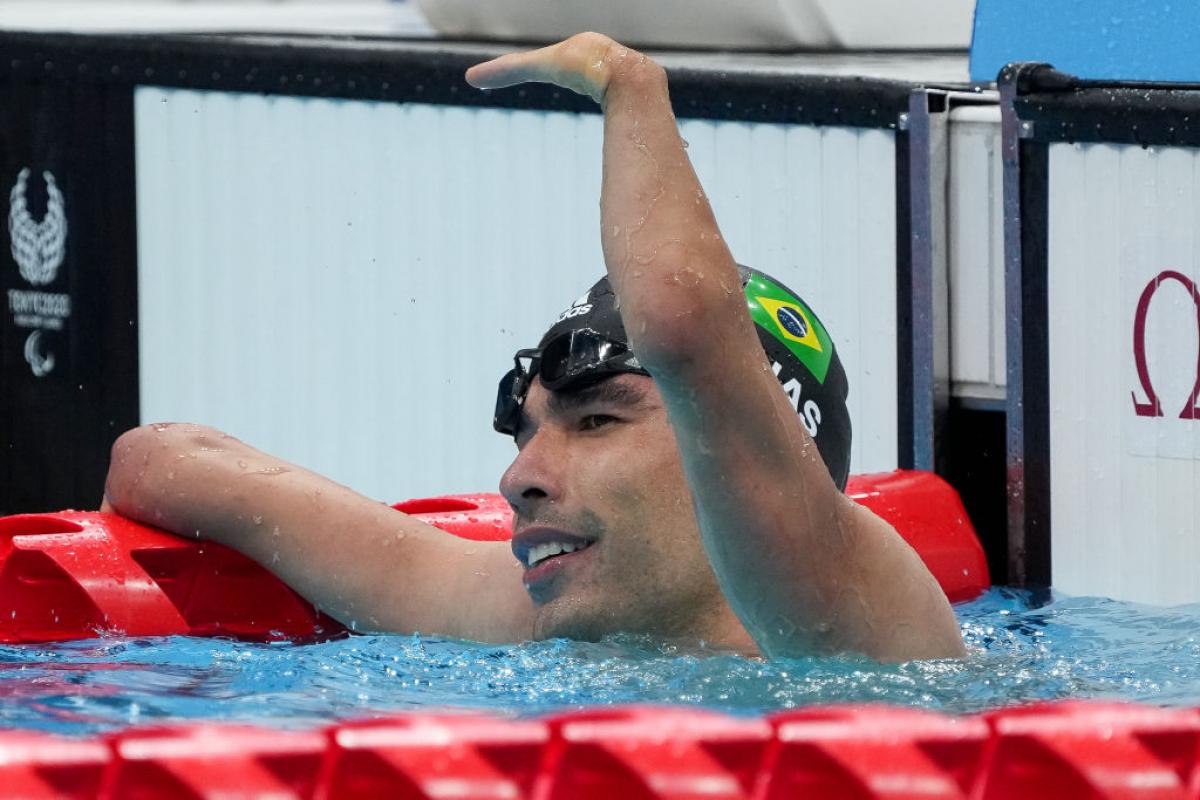 ⒸChristopher Jue/Getty Images
By World Para Swimming
Daniel Dias swam 34 Paralympic finals in his career, from being a newcomer to a Paralympic legend, but he said there was nothing like the men's 50m freestyle S5 final in Tokyo on Wednesday evening. 
It was the last race in an extraordinary career across four Games with 27 podiums – more than any other male Para swimmer in Paralympic history. 
"It went quicker than I hoped for, but it is the 50m freestyle so it has to be quick," Dias said in a press conference on Thursday morning at the Tokyo 2020 Main Press Centre (MPC).
"But I did something different this time. I took time to look at the stadium, look at our team in the stands and wave to them. I knew it would be difficult [to swim the last race of his career], but it was much tougher than I thought.
"I cried a lot during the day. First when I woke up. Then, before the heats, I felt nervous as if it was my first competition. I cried again before going to the final, but after the race I felt well and thought I could handle the [mixed zone] interviews, but no. It is still not easy to talk about it."
Dias finished in fourth place but will not leave Japan empty handed as he took three bronze medals in the men's 100m and 200m freestyle S5, and in the mixed 4x50m freestyle relay 20 points.
"It is one medal for each of my children, so I am really happy for that. I framed all my medals in major events and there was space for three left to make it 100, so it was perfect," he said.
The decision to retire after Tokyo was not an easy one, according to Dias, but it was long time ago which gave him enough time to process. The Brazilian is sure it was the right one.
"It was not a decision I took from a day to other. I have been thinking about if for a long time and I think it was time to contribute to sport in other ways. The Paralympic Movement and swimming gave me so much, now I think I can help giving something back to," he added.
The 14-time Paralympic champion has often talked about how important it was for him to watch Brazilian Paralympic champion Clodoaldo Silva swimming on TV at Athens 2004. It was when he discovered Para swimming and believed he could be an athlete too. 
Now Dias hears a similar story but with him as the role model and inspiration for persons with disabilities – especially children and their families – to start in Para sport. Even from his teammates.
"Wendell [Belarmino, gold medallist in the men's 50m freestyle S11] told me that I presented him with the medal when he won his first competition in the Para School Games in Brazil and that I inspired him. To hear that from the guy who won the 100m in the Paralympic Games was really special. I felt emotional, and also a bit old," he said with a smile.
"I have received so many messages from athletes from different countries and sports. It has been amazing. I feel really honoured. 
"Maybe in eight years' time we will meet some young athletes who will say that he saw me competing and also felt inspired. I believe there are a lot of children out there who will feel inspired by what the athletes do [here]."
Dias also took time to praise Japan for the Games in difficult circumstances and said he hopes to return in the future.
"If there was a place that could host the Games in this moment with the pandemic, that was Japan. I want to say thank you and congratulations to all Japanese people for delivering the Games. I hope the legacy will continue and that I can return in the future to swim again in that pool, not to compete but maybe with children who will be using the structure."
Now there will also be more time to spend with family in Brazil and to try things Dias has also wanted to do but not always could as a high-performance athlete. He revealed the new experiences started when he came back to the Athletes' Village after his last race.
"I had a pizza, ice cream and soda. I had all the things that I could not do when I was following a diet as an athlete," Dias said.
"Now I also want to try different sports. I told Vinicius [Rodrigues, Brazilian blade runner] that I want to have the experience to run with a prosthetic leg like him. It will be just for fun, I won't becoming for real. He will of course beat me easily but I just want to feel it as it looks really nice."