Gangneung 2017: Italy stun South Korea in penalty shootout
Sweden and the USA also grab wins on day six of the World Championships.
18 Apr 2017
Imagen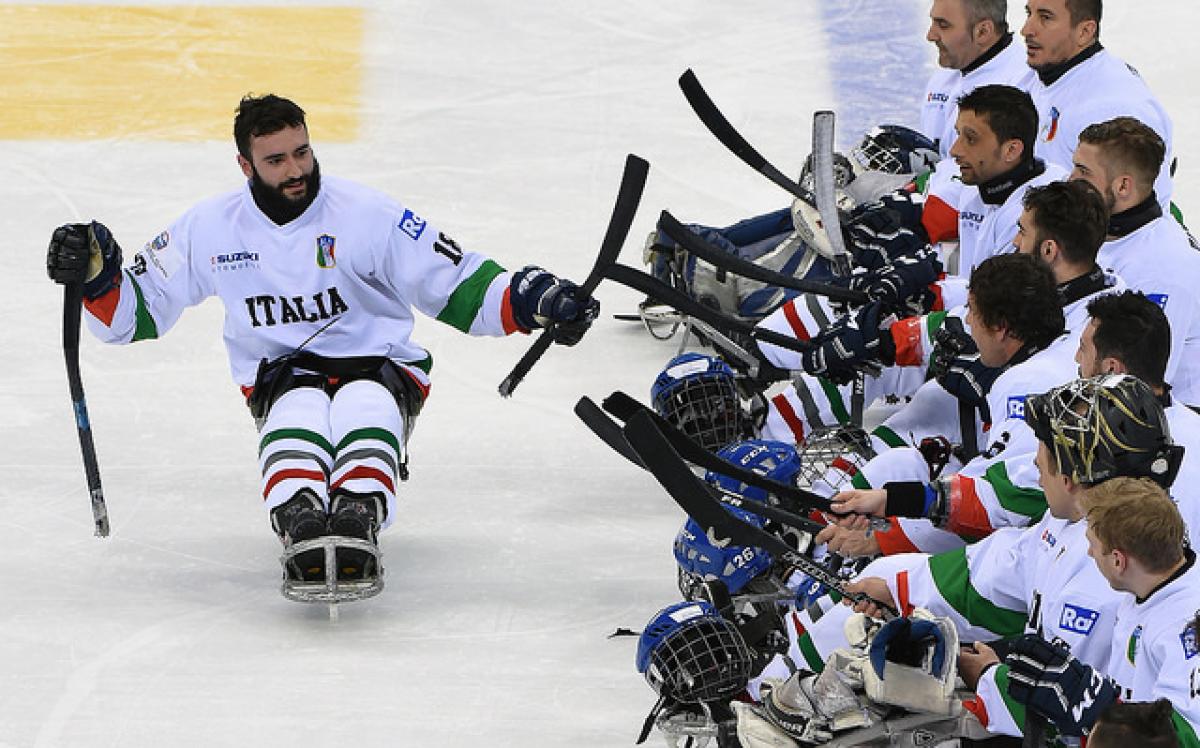 ⒸPOCOG
By By Stuart Lieberman | For the IPC
Italy, which has never finished higher than fifth place on the world stage, stunned South Korea on its home ice with a 3-2 penalty-shootout victory on Tuesday (18 April) to hold onto fourth place in the standings at the 2017 World Para Ice Hockey Championships A-Pool.
Following a 2-2 tie at the end of the game's regulation in Gangneung, South Korea, neither team found the net during the five-minute overtime period. In the penalty shootout, Italy's leading goal-scorer Sandro Kalegaris converted on his team's first attempt and defender Gianluigi Rosa converted on the third, as goalkeeper Gabriele Araudo blocked all attempts from South Korea's skaters to secure the victory.
"This win is a big step ahead for us as a programme, and hopefully we can take a medal this year," Kalegaris said. "But we don't have time to celebrate a lot, as tomorrow we have another game against Norway."
The game's first 15 minutes were tightly contested, with only South Korea's captain Jong-Kyung Lee finding the net, assisted by two-time Paralympians Jong-Ho Jang and Seung-Hwan Jung.
Just 27 seconds into the second period, Young-Sung Kim scored on the power play to give the home team a two-goal advantage.
But the third period was a different story. Veteran forward Florian Planker turned on Italy's engines when he scored with 9:57 left in the contest off a pass from his protégé, Kalegaris.
Nearly 10 seconds later, dual-sport athlete Andrea Macri had a great opportunity just outside the crease, but his shot banked off the right post. Within three minutes, though, 19-year-old Christoph Deapoli successfully leveled the score for Italy with his second goal of the tournament.
Kalegaris' goal in the penalty shootout would then be ruled the game-winner, giving Italy two points in the standings for their victory and leaving South Korea with one.
Araudo finished with 10 saves on the day for Italy, while Man-Gyun Yu fended off the puck 14 times for South Korea, which remains in third place behind Canada with 10 points.
Sweden 2, Germany 0
Sweden picked up its first win in Gangneung with an exhilarating 2-0 victory over Germany to jump up to sixth place in the tournament standings with three points.
Sweden's Robin Meng, a 2008 Paralympian in wheelchair basketball, scored his first goal of the tournament and his team's third with 15 seconds remaining in the opening period to give the yellow and blue their first lead during these World Championships. Captain Peter Ojala and Niklas Rakos were credited with the assists.
"This was a really important goal to score for me because I'm a newer player and don't have much confidence, so it's what I need to become better," Meng said. "I've had a lot of time here to improve on my game, and I've obviously done that."
Although Germany outshot Sweden, 4-3, in the second stanza, neither side had any success in front of the net.
Both teams continued keeping each other at bay throughout the third period until two-time Paralympic forward Per Kasperi scored from just beyond the crease on a wide-open net with 1:29 remaining in the contest to provide Sweden some insurance.
Ulf Nilsson registered the shutout in net for Sweden, racking up eight saves in 45 minutes to bring his total save count for the tournament to an astounding 125. Simon Kunst had 10 saves for Germany before being pulled from the goal with about a minute and a half left in the game.
USA 6, Norway 0
The USA remain undefeated with 15 points atop the tournament standings after forwards Brody Roybal and Declan Farmer both registered hat tricks in the team's 6-0 shut out over Norway.
"Our line is just working really, really well together out there," Roybal said, referencing the forward front of Kevin McKee, Farmer and himself. "Kevin's feeding us the pucks and we're just taking the shots and they're going in."
Roybal struck first in the game with a breakaway score 7:18 into the first period off a long-range pass from Tyler Carron to give the reigning world champions the early advantage.
Less than a minute into the second period, 18-year-old Jack Wallace found 19-year-old Farmer in front of the net for a goal. The assist was Wallace's first point as a member of Team USA.
Roybal then scored two more goals in a span of four minutes, first firing a wrist shot to the top of the net and then redirecting a pass from Farmer into the net to complete his hat trick. Farmer made it 5-0 with just under five minutes in the period with a helper from linemate Kevin McKee.
With a short-handed breakaway shot in the first minute of the final frame, Farmer notched his third hat trick in Gangneung and tournament-leading 11th goal in just over 16 minutes of ice time against Norway.
The USA's Steve Cash was credited with the win and shutout in net. Kissinger Deng, who moved to Norway as a child after living in Sudan and Egypt, recorded 26 saves on the day. Norway now sits in fifth place in the standings with five points.
The 2017 World Para Ice Hockey Championships are taking place from 11-20 April in Gangneung, South Korea, which is the ice sports venue city for the PyeongChang 2018 Paralympic Winter Games. The tournament also serves as the Paralympic Test Event, with the top five finishers automatically qualifying for the PyeongChang 2018 Games.
All games from the 2017 World Para Ice Hockey Championships are being streamed live alongside stats and results at www.Gangneung2017.com.
Photos will be made available for media to download throughout the tournament on the IPC's Flickr account at www.Flickr.com/photos/paralympic.