Germany's team captain 'surprised' by new players
Bas Diveld, the new skip of the national ice sledge hockey team, is confident his team can deliver good results at the Euros.
29 Mar 2016
Imagen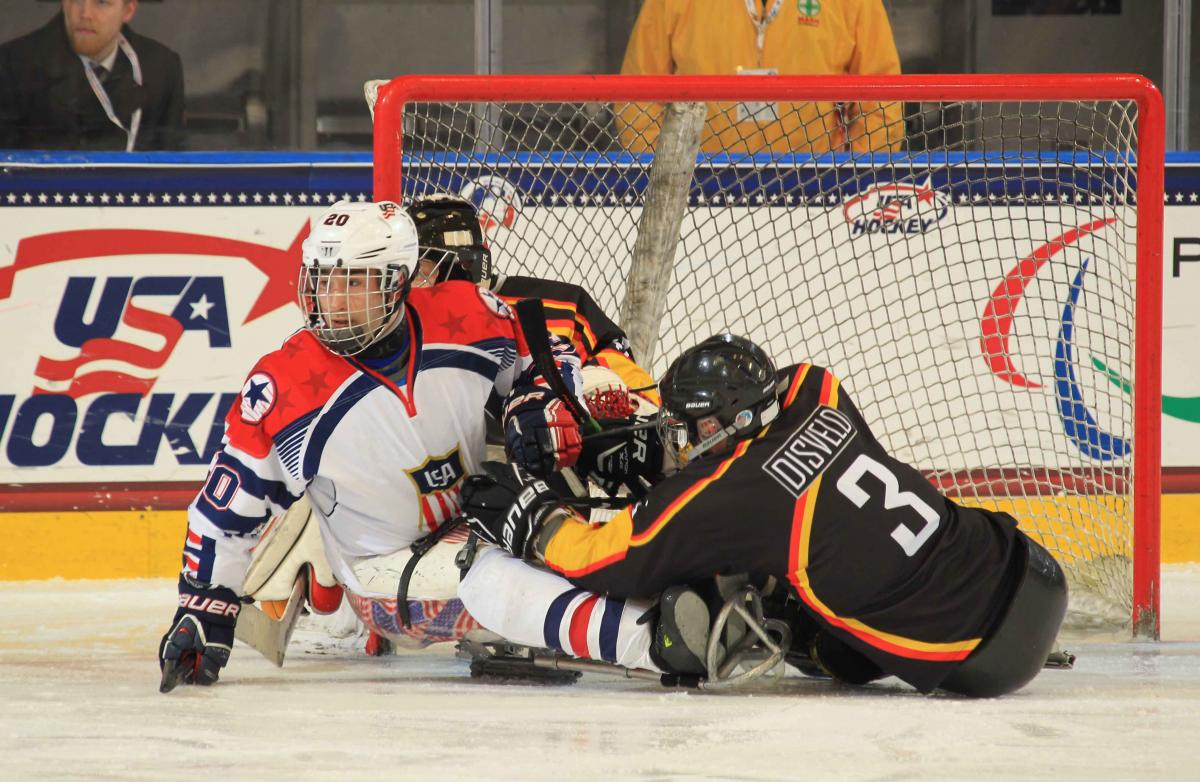 ⒸBill Wippert
"Of course our goal is it to get a medal otherwise you would not enter."
Bas Disveld, the new captain of the German ice sledge hockey team, has spoken of his confidence heading into the 2016 European Championships because of the 'surprising' progress of new players.
Disveld, who has been on the team since the Torino 2006 Winter Paralympics, said that newcomers to the team have integrated well:
"We have some new young team members they are keen to play their first European Championships and with their cleverness, combined with us veterans and our knowledge, this team has a good line up with a healthy self-confidence.
"We have tested new talented athletes and I am surprised how quick they are growing."
The German team have started 2016 by training with their competitors Norway and Sweden. In their first match of the European Championships in Ostersund, Sweden, on 5 April, they will face defending champions Italy.
Disveld believes that the presence of some of the best teams in the world will equal fierce competition.
"Russia, Norway, Czech Republic , Sweden and Italy they are all great opponents," Disveld said.
"This European Championships is a high quality ice sledge hockey international tournament. All the participants are the best in the world and we as a new young team are very well prepared to beat some of them and probably, yes, that is the game, lose.
"But that's the biggest mental barrier to work on as a team. Be prepared at the right time and do not look back, focus on the goal to win the key games," he concluded.
Germany are currently ranked sixth in the world after losing to Italy in the fifth-place game at the World Championships A-Pool in 2015. They retained their place A-Pool, meaning they have a better chance of qualifying for the PyeongChang 2018 Paralympic Winter Games.
For Disveld, the European Championships represent a chance to give the new players experience of competing at a major international tournament with two years to go until the Games.
"I think we have to focus on our goal and the strength that we have in our team," he said. "Then the result will be what we earned for the hard work we did.
"We know the teams, we know the key players, but our team have some new members and the European Championships are the right spot to develop at."
Is a top three finish realistic for Germany in Ostersund? Disveld thinks so.
"Of course our goal is it to get a medal otherwise you would not enter," he said. "Germany was already European champion in ice sledge hockey.
"Maybe this time we can do it again."
The 2016 IPC Ice Sledge Hockey European Championships run until 10 April.
All games will be shown live alongside live results.
Pictures will be available to download from the IPC's Flickr account and updates will be posted to @IPCISH and Facebook.com/IceSledgeHockey.