Great Britain claim wheelchair rugby European crown
Sweden were unable to defend their title, as the British took a one-point victory.
21 Sep 2015
Imagen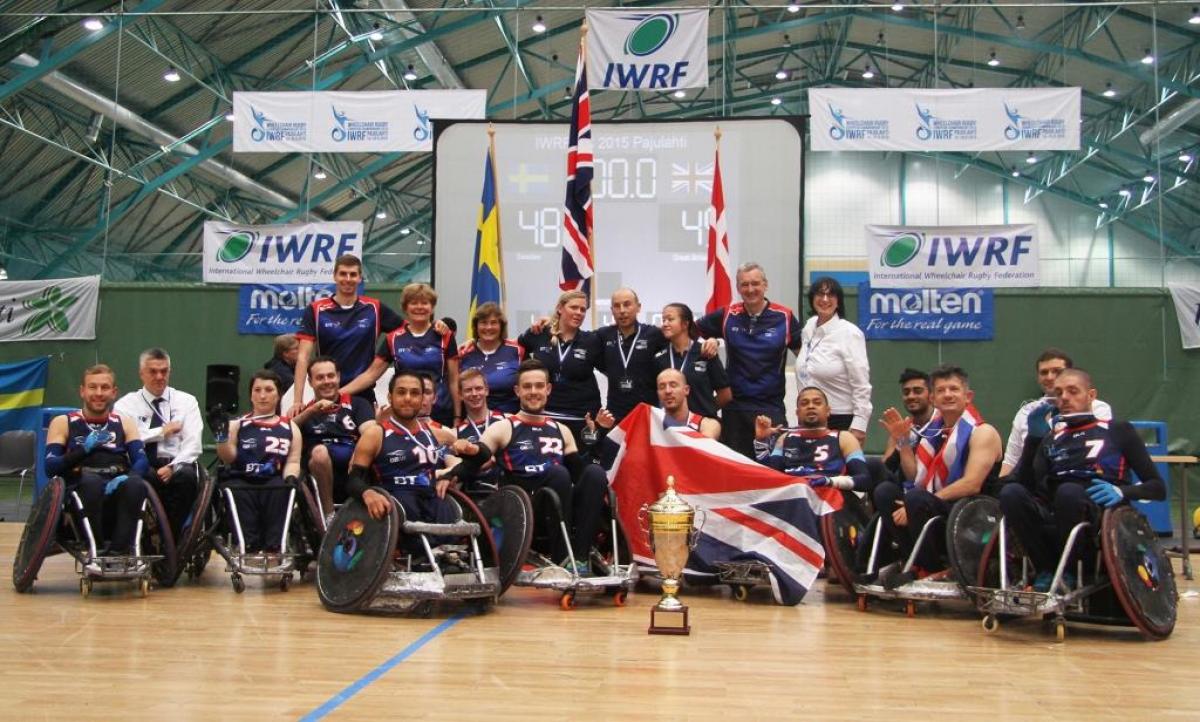 ⒸFinnish Sports Association of Persons with Disabilities
By Beau Greenway | For the IPC
"For Rio, we have to step to the next level again. We must be faster, stronger and more tactically aware."
Great Britain dethroned defending champions Sweden in a thrilling final of the International Wheelchair Rugby Federation (IWRF) 2015 European Championship on Saturday (19 September) in Pajulahti, Finland.
Despite trailing for the majority of the match, Great Britain – who won bronze at the 2013 European Championships – managed to reverse their fortunes for a nail biting 49-48 win.
"We believed in ourselves till the last second," said Paul Shaw, Great Britain's head coach. "We managed the clock very well."
With the victory, Great Britain have qualified for the Rio 2016 Paralympic Games. It is also their first European title in eight years and their fifth overall, one more than Sweden.
Great Britain's Jim Roberts was the standout with 29 goals in the gold medal match. He was supported by Ajaz Bhuta with 13, while Chris Ryan and Gavin Walker contributed with four and three goals, respectively.
"They (Sweden) changed their tactics to the final and we had to adapt to that," Shaw said. "For Rio, we have to step to the next level again. We must be faster, stronger and more tactically aware."
Sweden, who made their way into the gold-medal match after a slim 58-57 double-overtime victory over Denmark in the semi-finals, have also qualified for Rio 2016.
Tobias Sandberg led the way for Sweden with 21 goals, while Stefan Jansson managed 13, and Tomas Hjert scored 11 in a well-rounded performance.
European teams have yet to win a single medal from the Paralympic Games or World Championships in wheelchair rugby.
"It would be nice to change that history," Shaw said.
Denmark took home the bronze medal with a comfortable 56-48 victory against Germany.
Danish youngster Sebastian Frederiksen led all comers with 24 goals in the match, while teammates Leon Jorgensen and Jon Johanneson notched up 13 apiece.
"Our goal was to qualify for Rio, so of course we are disappointed right now," said Torben Nygaard, the Danish head coach. "I think we lost that match [against Sweden] on tactical level, and as a coach I have to take responsibility for that. But even though we lost, that doesn't mean we are not a good team."
"After that huge disappointment [Friday], we were still able to pull ourselves up and performed well against Germans. We knew they would give us a hard time, because for them the bronze medal would have been a huge achievement."
Germany's Maik Baumann had 13 goals, Andrej Leonhardt added 11 and Jens Sauerbier crossed the goal line nine times.
The final finishing order:
1. Great Britain
2. Sweden
3. Denmark
4. Germany
5. France
6. Ireland
7. Finland
8. Belgium
Ireland's 17-year-old star of the future Thomas Moylan was voted the Most Valuable Player (MVP) of the tournament.
Moylan finished with 202 goals in five matches and helped Ireland to sixth place, their best achievement in an IWRF European Championship.
The IWRF 2015 European Championships all-tournament team:
0.5 - Johnny Coggan (GBR)
1.0 - Stefan Jansson (SWE)
1.5 - Thomas Schuwje (GER)
2.0 - Andrew Leonhardt (GER)
2.5 - Tomas Hjert (SWE)
3.0 - James Roberts (GBR)
3.5 - Tobias Sandberg (SWE)
MVP - Thomas Moylan (IRE)
For more complete results of the IWRF 2015 European Championship, visit the event website.