Great Britain's Aled Davies breaks discus world record
With the European Championships under three months away, Aled Davies says he's ready to break the 50m barrier this summer. Italy's Martina Caironi and South Africa's Ilse Hayes are also aiming for round number this season.
02 Jun 2014
Imagen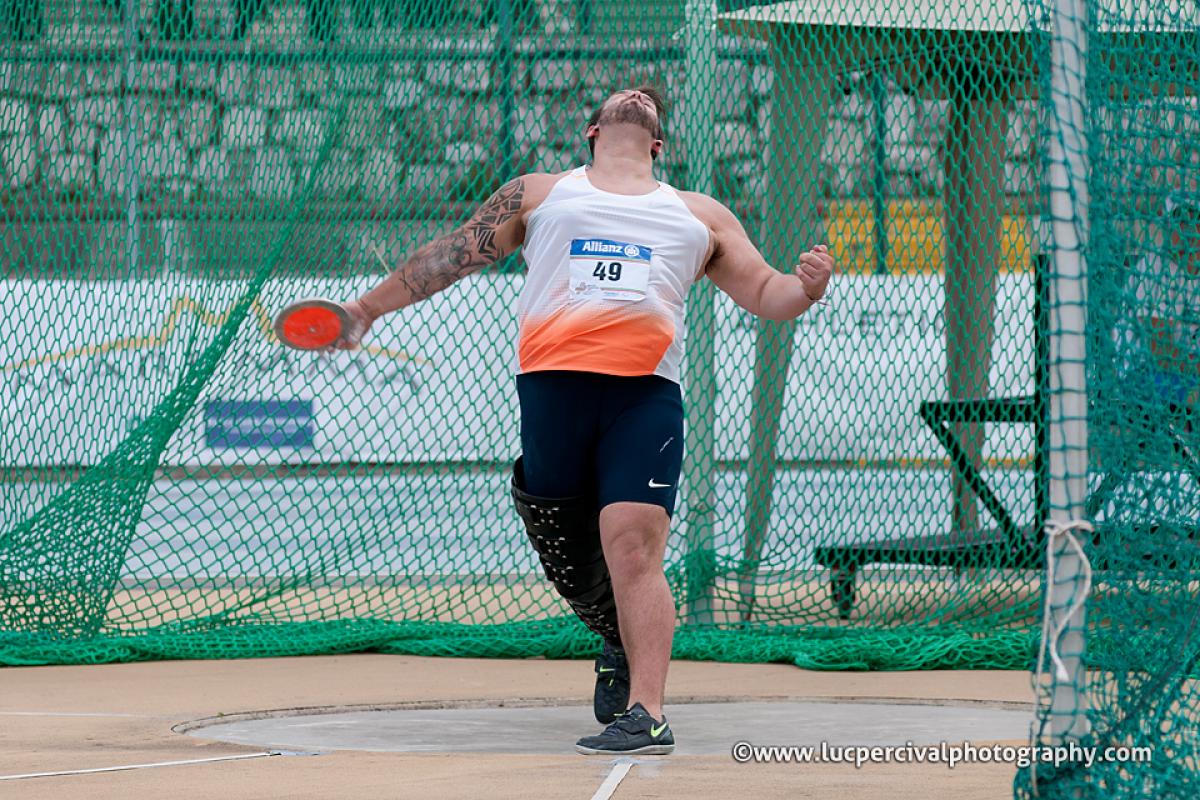 ⒸLuc Percival
"I'm looking forward to beating 50m this year. I know I can do it. I've done it in training. It's just delivering when it matters."
Just 79 days before the 2014 IPC Athletics Grand Prix head to Swansea, Great Britain's Aled Davies (F42) set a new world record in the men's discus F42 on Saturday (31 May) with a throw of 48.69m at the IPC Athletics Grand Prix in Grosseto, Italy, to cap off a memorable week.
On Thursday (29 May), Davies, the world and Paralympic discus champion, had stood top of Mount Snowdon, Wales' highest peak, as part of his involvement with the Queen's Baton Relay in preparation for the Glasgow 2014 Commonwealth Games.
As a result he only made it to Grosseto late on Friday night, yet despite the fatigue was still able to smash Fanie Lombaard of South Africa's 12-year-old world record of 47.85m.
"It's been a long day for me, but I still managed to pull out a world record, so I'm very happy with that. It's nice to know that even with the fatigue, there's a lot more in the bag," said Davies who will also compete at June's IPC Athletics Grand Prix in Berlin, Germany.
"It's nice because we've changed so much over the winter training-wise and technically as well, so we need to keep pushing those barriers.
"I'm looking forward to beating 50m this year. "I know I can do it. I've done it in training. It's just delivering when it matters," added Davies, who will go head-to-head for European gold in Swansea with his Luxemburg rival Tom Habschied.
Italy's Martina Caironi and South Africa's Ilse Hayes also came close to breaking world records on Saturday.
In the women's 100m T42/43/44, Italy's T43 athlete Guiseppina Versage had the fastest time, but her teammate Martina Caironi, the double world and Paralympic champion, ran 15.26. It was just 0.08 seconds outside her own T42 world record set last June in Rome, Italy and her first sub 16 seconds run of the season.
"At the IPC Grand Prix in Beijing, I ran really bad. I thought that I was ready, but I wasn't,"" said Caironi who will look to defend her 100m European title at Swansea 2014.
"I'm happy with my time today. I hope to break my world record next time. My goal for Swansea is to set 15 seconds in the 100m or maybe less. I noticed that it's not so easy. I thought it was easy, but it's not. So I like the challenge."
In winning the 100m in 12.04, Hayes, who set a new African record at the last Grand Prix in Nottwil, Switzerland, was just 0.05 seconds off Cuban Omara Durand's world record. She now hopes to break the world record at June's Grand Prix in the German capital.
"It's always nice for your confidence to be consistent," said Hayes who is the 100m Paralympic and world silver medallist. ""I don't think I've ever been in the position where I've ran four races and all of them are season's bests and personal bests.
"I'm really privileged to have a great season like this. I've been injury free for a while. I had a bad year last year. I hope this is only the beginning of big things."
"We worked out the programme so I'd peak there. [In the next weeks] I'll have high intensity sessions, good recovery and a longer tapering period to be prepared for that race.""
The morning saw a stretch of 1,500m races. Switzerland's Alexandra Helbling (3:47.74) pushed ahead of the pack to win the women's T53/54 version whilst Denmark's Ebbe Blichfeldt (3:15.08) took the men's equivalent in an exciting finish.
Russia's Pavel Sarkeev (4:08.63) had the fastest finish in the men's T20/36/37/38/46, Italy's Matteo Comi (5:22.98) won the men's T11/12/13 race and his teammate Annalisa Minetti (5:00.47) took the women's T11/12/13.
After Finland's Toni Piispanen experienced difficulties with his steering, Italy's Alvise de Vidi (42.41) won the men's 200m T51/52 (42.41). Piispanen came second.
The men's 200m T44 was an absolute thriller with Germany's Felix Streng (22.37) just edging out the USA's world record holder and world champion Jarryd Wallace (22.41).
USA's Jushua Kennison (23.64) won the men's 200m T43.
In the 100m sprints, Russia had a spate of wins in the visually impaired classes with Andrey Koptev (11.76) first in the T11, his teammate Artem Loginov (10.75) in the T12 and Alekey Labzin (11.32) in the T13.
Other winners in the men's 100m races included South Africa's Teboho Mokalagadi (13.19) in the T35/36, teammate Fanie van der Merwe (11.52) in the T37, Canada's Kyle Whitehouse (11.73) in the T20-38 and Switzerland's Mitic Bojan (15.85) in the T33/34 class.
Finland's Leo Pekka Tahti (13.85) continued his successful season so far with a win in the men's 100m T53/54 and Germany's Leon Schaeffer (13.76) had the fastest time in the men's 100m T42.
In the women's 100m classes, Switzerland's Alexandra Helbing (17.48) won the T53/54/34 and
Tunisia's Najah Chouaya (13.56) the T11/12.
In the women's discus events, the winners were UAE's Bani Khaled (10.13m) in the F32-33, Italy's Maria Criscione (8.26m) F34 class and Tunisia's Raoua Tilili (28.30m) in the F40-46 class.
The men's discus wins went to Italy's Antonio Puglisi (10.21m) F32, UAE's Hassan Ali oba Malaleih (17.09m) F33 and Qatar's Abdulraham Abdulrahaman (32.44m) F34.
In the men's shot put, the furthest throws came from Italy's Lauroia Ruggiero (6.08m) F52-53, Serbia's Drazenko Mitrovic (9.01m) F54, Serbia's Milos Zari (10.22m) F55, Hungary's Zsolt Kanyo (8.03m) F56, Kazakhistan's Pavel Sidorchuk (10.67m) F57, Russia's Alexander Alexandrov (14.24m) F11-13/20, Great Britain's Joshua Bain (10.55m) F35-38. The women's victors in shot put were Latvia's Taiga Kantane (9.12m) F35-38, Tunisia's Hania Aidi (6.17m) F52-54, Italy's Carmen Acunto (6.84m) F55, Italy's Assunta Legnante (16.45m) F11-13/20 and USA's Cece Mazyck (5.97m) F57.
Russia's Alexander Sorokin (1.80m) won the men's high jump T12/42/44/46/47.
Competition will continue at the IPC Athletics Grand Prix in Grosseto on Sunday. For the latest updates on the competition which is supported by IPC Athletics international partner Allianz, please follow @IPCAthletics and see the full results page.
Related Videos