Great Britain's Hannah Cockroft targets medal haul at Rio 2016
The 24 year-old is almost a veteran against her teenage rivals at the Paralympic Games.
31 Aug 2016
Imagen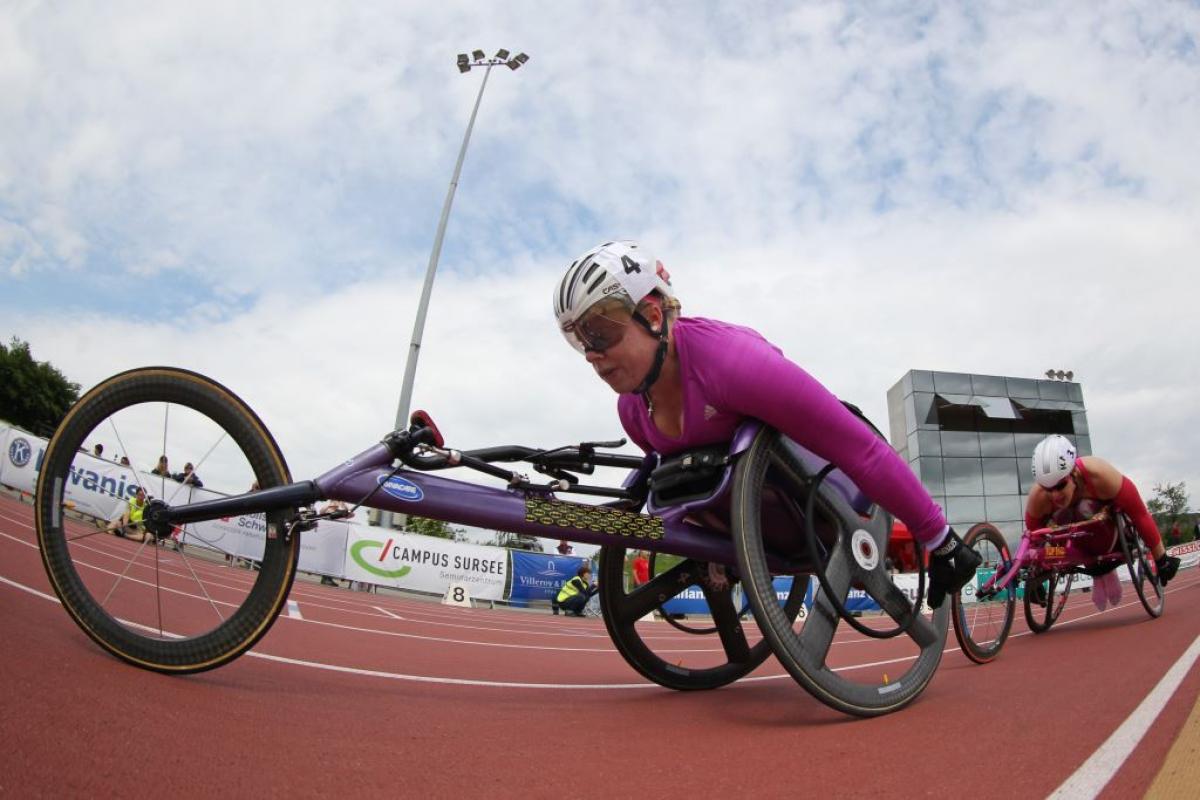 ⒸGetty Images
British wheelchair racer Hannah Cockroft is determined to continue her unbeaten record at major championships with a hat-trick of gold medals at Rio 2016.
Cockroft will race in the 100m, 400m and 800m T34 at the Paralympic Games which start on 7 September.
As the reigning 100m and 200m T34 Paralympic champion and a seven-time world champion, the 24-year-old will undoubtedly start as favourite – and that status brings with it extra expectations.
"It puts loads of pressure on," admitted Cockroft, who added to her gold medal tally at last year's World Championships with three more global titles.
"It's really tough because you go in and it feels like everyone is so judgemental. Everyone's got an opinion on you as a person, as an athlete, on your performance.
"I sit there and think 'Yes but I'm the one who's done the work, I'm the one who's got here.' It hasn't been easy and obviously with my nearest rivals now being 15 and 16-years-old people are like, 'Oh she's lost it now, she's so old, she's got these little young guns coming up.'"
Cockroft's opposition includes fellow Briton Kare Adenegan, who won two bronze medals at the 2015 World Championships, as well as 16-year-old US wheelchair racer Alexa Halko.
Adenegan, 15, ended Cockroft's seven year unbeaten run last September when she beat her to the line over 400m at a meeting in London, Great Britain. Halko won double silver at Doha 2015 and broke Cockroft's 800m world record in July – a record that Cockroft regained just 10 days ago (21 August) when she clocked 1:56.89*.
"Obviously everyone is going to look at me still as the reigning champion but it's just about trying to move it in your own head and make it as unpressurised as it can be because it's scary, carrying everyone else's expectations with you," added Cockroft.
"London was amazing, but I was an unknown – nobody knew who I was. So it was easy. The last four years have been really tough, they've been difficult to get through but they've taught me so much."
But despite the extra pressure that her rivals bring, Cockroft does appreciate the competition.
"It gives me more meaning. For a long time I went to training and felt like I was giving everything to the session, but actually since the younger girls have come in I'm finding so much more.
"It's not fun lining up at the start and thinking 'I might not win this', it's a horrible feeling. But I think that just because for me it's new, it's something that I've never had to worry about before. I hate the feeling of lining up, it makes me feel so ill, but when you win it makes you feel so much better than it did.
"Every single victory every year has just got sweeter because you know that you're holding off that harder competition, you know that you're working harder than ever."
The Halifax-born racer favours the shorter sprints – she has had to adapt to the longer distances since they were introduced to the Paralympic schedule, something she admits has not always been easy.
"I'm still learning just as much as the other girls are. I've never claimed to be good at the longer distances; I've always said I'm a sprinter and that's where I'm comfortable," said Cockroft.
"But I'm also not afraid of a challenge. So this challenge has been put in the way and I'm giving it everything I've got but I'm not making any promises.
"Obviously I feel like if you're not aiming for gold, why are you going to a Paralympics at all? Everyone on that start line should want to win it and should not be looking at any other medal or any other position.
"Three golds is always going to be the aim – I would never go there expecting anything less of myself, but I know that especially in the 800m three or four girls could win it.
"It's down to who is cleverest on the day; who is tactically strongest rather than physically strongest, and I'm going to give it all I've got."
*Record yet to be ratified by IPC Athletics
__
Sport fans from around the world can now buy their Paralympic tickets for Rio 2016 from authorised ticket resellers (ATRs)
The IPC's Global ATR is Jet Set Sports, and Rio 2016 tickets and packages can be purchased on the CoSport website.
Residents of Brazil can buy 2016 Paralympics tickets directly from the Rio 2016 website.
Visa International is the exclusive payment card and the official payment system for the Paralympic Games.