Grosseto 2016 launches invitational programme for spectators
The Mayor of the city, Emilio Bonifazi, is the first person to be formally invited to June's IPC Athletics European Championships.
07 Apr 2016
Imagen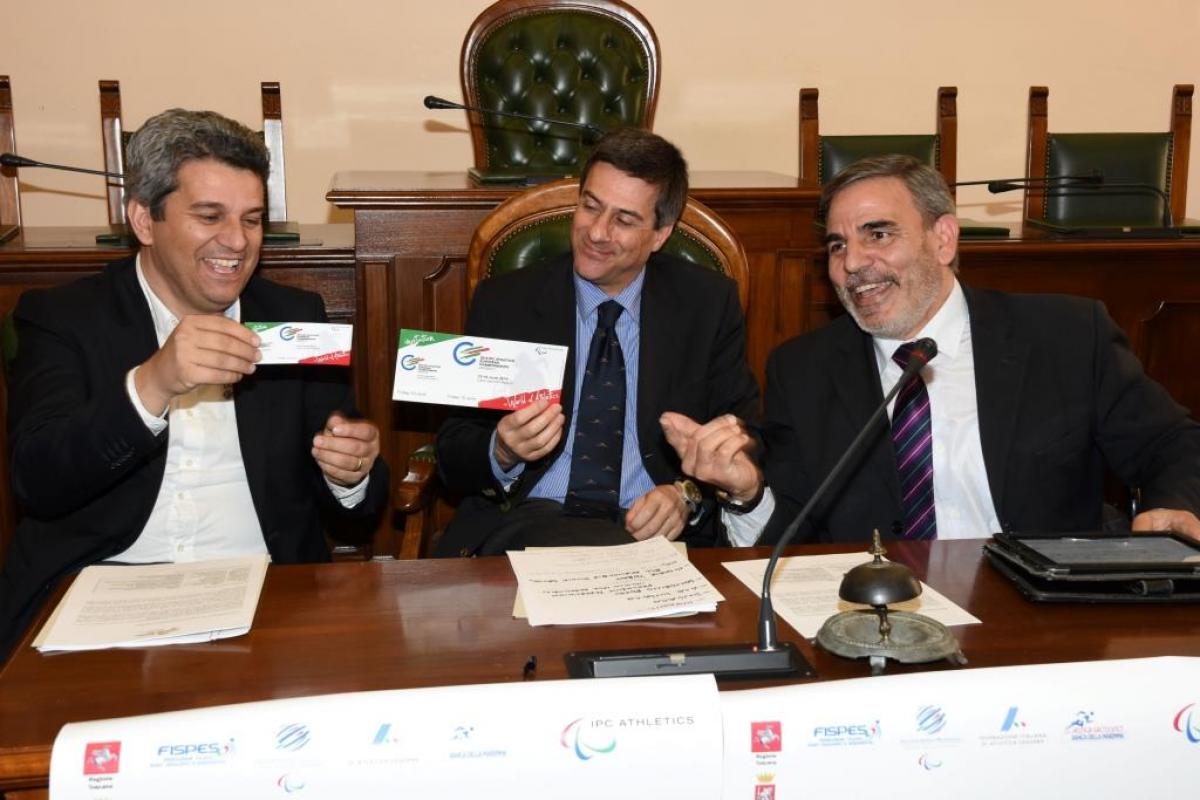 ⒸGrosseto 2016
By Grosseto 2016
The Italian Open Championships 2016 that will take place at the Zecchini Stadium of Grosseto from 8-10 April were presented at the Municipality of the Tuscan city on Wednesday 6 April.
The fourth leg of the IPC Athletics Grand Prix, attracting 237 athletes from 40 NPCs, will serve as test event for the 2016 IPC Athletics European Championships, one of the last events providing qualification opportunities for the Rio 2016 Paralympic Games.
The Championships will be held in the same competition venue from 10-16 June.
During the press conference FISPES President Sandrino Porru introduced the invitational programme for spectators willing to attend June's event.
President Porru delivered the first invitation to the Mayor of Grosseto Emilio Bonifazi in front of 30 young local students who have joined Grosseto 2016's successful 'A World of Athletics' volunteer recruitment campaign.
The invitational programme based on free donations will be officially open on 1 May. Invitations will be mainly distributed through local hotels, shops and FISPES and FIDAL (Italian Olympic Federation) sports clubs.
At the national level all FISPES sports clubs will be involved in the invitations' distribution.
For international spectators interested in coming to Grosseto to support their athletes and teams there will be an opportunity to book their own invitations by sending an official request after 1 May 2016 to the following email: invitation@grosseto2016.it
Spectators and fans will be then invited to pick up their pre-ordered invitations at the Accreditation Centre located within the perimeter of the Zecchini Stadium during the Championships.
President Porru said: "We are working hard to organise the best possible event for spectators hoping that people from all over Europe will come here to enjoy a unique experience. We are proud of what we have achieved so far. We are waiting for you."
Mayor Bonifazi added: "All impaired athletes who will compete this weekend at the Grand Prix and later on at the IPC Athletics European Championships are showing how important sport is for everyone. Over the last four years our Municipality has been strongly committed to support para-athletics with our top-level and accessible sporting venues. We will be happy to offer our best welcome to spectators in our city."