Grosseto 2016: Mixed zone flashquotes from day four
Straight from the mixed zone, here is what the athletes had to say at the IPC Athletics European Championships at the end of their event.
14 Jun 2016
Imagen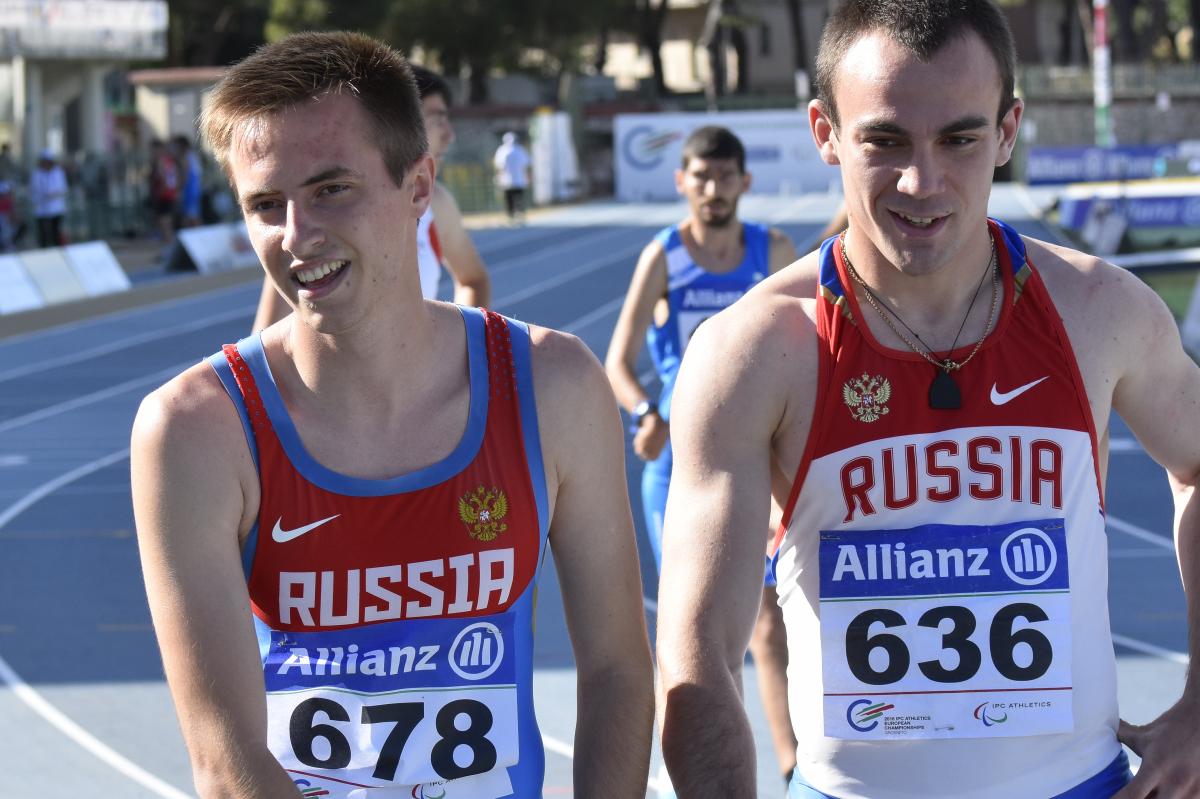 ⒸAgenzia Fotografica BF
By IPC
men's long jump T42
Gold: Daniel Jorgensen, Denmark
"It is my first gold medal at the European Championships so I am very happy for that, that was my goal when I came here. A new world record was just amazing to get here as well."
"Last year when I came here for the Grand Prix in Grosseto I beat the world record so now I am back and I did it again, so great memories from this place."
"It is really good especially because this is only the start of the season for me, I've done only four competitions so far and two world records, it is quite a good start I'd say. But the peak will be in Rio in September. After this European Championships I am gonna slow down a bit, to push more and more and make a peak in Rio. So hopefully we're gonna see some better result in Rio and some more medals."
"There is always some room for improvements. I am not jumping a perfect long jump yet. I don't even know if I am ever gonna do a perfect jump. I'm always looking forward to improving myself and see how far I can jump with this body."
"I am very grateful for the Danish team supporting me and Grosseto here making such a good event and the IPC too, I found such good conditions here and that's why you see world records coming as well."
"My goal when I started long jump was 7 metres. That is the big goal, but we will save it for later. We have to build up."
men's shot put F37
Gold: Mindaugas Bilius, Lithuania
"I'm happy to win the gold but to improve my personal record of 57 centimetres is even better."
"I knew I had to compete in Rio so I've worked hard especially in this last year. I've already been in Brazil lately, in May, I shot 15.39m but those shots weren't that good because the implements were too small compared to what I am used to normally."
"Last year I was already ready to shoot more than 16 metres."
"At the Rio Games I will have to beat myself, then I will have to beat my Chinese competitor. He's very good, he shot 17.52m. But I know him, and I think I can beat him in a few months in Rio."
"In practise I always shoot around 16.50m, so that is why in Rio I hope to shoot over 17 metres."
Women's 400m T44
Gold: Marie-Amelie Le Fur, France
"I'm happy with taking both, the gold and the Euro Champs record, because I tried to get the gold with some good running in there. I will try to improve on the world record which is also my personal one."
"Today I felt really on top form although I did not sleep well last night, but the track was really good here in Grosseto, I like it. It was little windy at the 300m."
"Now it's not over yet, during summertime I will train for Rio with my teammates, because although mine is an individual race you need to practice with a team to perform well all together. I will cheer on them all now. Then I will go through a high-quality training which was planned for this European Championships."
"The crowd here in Grosseto was great, I felt really good and the whole experience was just amazing."
Men's 400m T51
Gold: Peter Genyn, Belgium
"It feels amazing to get another gold and to set another world record. For the 400m I think my biggest competitors are coming from Algeria and Mexico, so I was just aiming for a good time and gave it all I got and apparently it was pretty good."
"To beat the previous world record by half a second is pretty cool, I'm excited and pretty happy with this."
"There is still room to improve on this, the last 100-150 meters are really killing me. But I don't know if I can improve on this, I will give everything I can to do it. We train hard and see what results might come but I guess that's what everybody is doing."
"Over the 400m I have a little bit more space to play in it, if you see Toni in the 100m he was so close, he was just rocketing away at the start. So I hope I have a little bit more play in the 400m. But I really want to do well in the 100m as well, but it's gonna be very difficult to balance both trainings. But we're gonna try."
Women's 400m T13
Gold: Nantenin Keita, France
"Let's say I prepared this 400m race very well, I really wanted to win and I just did it."
"I don't know if I am ready for Rio, but I am on the right way for it. These European Championships just worked well to understand where I am at right now, and I'm pretty happy with how it went. My goal was just to run as much fast as I could. But also to win, of course. But at the Games for sure I will have to run faster than this 56.30 if I want to win."
Men's shot put F36
Gold: Vladimir Sviridov, Russia
"I'm happy with both the results, but I'm more satisfied with the gold rather than with setting a new world record. Still I worked hard to do all this."
"I'll try to set another world record again at the Olympics, and together with it of course winning the gold in Rio."
Men's 100m T36
Gold: Evgenii Torsunov, Russia
"I am not sure but I think Shvetsov slid down from the starting blocks, that is why he was disqualified. It was difficult to recollect the concentration after that, at the second start."
"I did not expect to win because the English guy [BALLARD] was faster than me at the beginning, but at the end I somehow managed to overtake and beat him. I don't really know how I could do that, but I did it and that's all that counts now."
Men's 200m T34
Gold: Henry Manni, Finland
"It feels really good to win one more time here. Three gold medals over 100m, 200m and 400m. That's fantastic."
"In Rio I will win over the 800m I think. Well, at least I hope so, but I feel myself really good at it."
Men's 200m T44
Gold: Johannes Floors, Germany
"Absolutely amazing this whole thing, another gold, the European record, everything. Two weeks ago I ran 21.99, but today [21.82] it's been the most amazing race ever."
"Felix was running in front of me and to be able to catch him it was just perfect."
"The key of our success is just to train hard and give everything I can all the time. At every competition we have to race each other, we're happy about it so we can push each other. That's the main thing."
"A 21.50-time would be really amazing but the next aim is to compete in Rio and to get a medal. That's my goal, but let's see what comes next."
Men's 200m T12
Gold: Artem Loginov, Russia
"I felt like the same I did over the 100m, but I was more tired today."
"Two years ago I ran way faster, I did 22.14. At the start it was too windy, and especially if there's so much wind against you at the starting blocks it's tough."
"I feel more confident over the 100m because I like that time I set more than today's one. My 100m race was better than this 200m."
Women's 800m T54
Gold: Natalia Kocherova, Russia
"Winning always feels good. Tomorrow the 100m will be harder, because my competitors are very strong. The 100m race is not my favourite distance, but I will fight and we will see if I can win again."
"I always feel nervous and tense before the start of my competitions, no matter how many medals I already collected."
Women's 100m T11
Gold: Alina Samigulina Russia
"I didn't know I set the new European Championships record, it's a very good result for me, it's my personal best. I was pretty sure I could do this, I felt ready and fit to get this record, I trained much and very hard."
"My coach will decide my preparation for Rio from now on. I'll just follow his advices."
Men's 400m T51
Silver: Alvise De Vidi, Italy
"I gave all I had inside me: strength, power, experience, rage and will."
"My mum helped me from distance because at the end I had no energy anymore. I dedicate this medal to her, because it is the person who is with me at the training track every single day."
"It's pure class to give it all, to spend 100% of my energy. This silver medal means everything to me and it is a confidence boost during a difficult year, but an important one because the Paralympics are just around the corner."
"Maybe I am not the best one anymore, but I am happy for myself and for the people around me who helped me so far."