Grosseto 2016: Mixed zone flashquotes from day three
Straight from the mixed zone, here is what the athletes had to say at the IPC Athletics European Championships at the end of their event.
13 Jun 2016
Imagen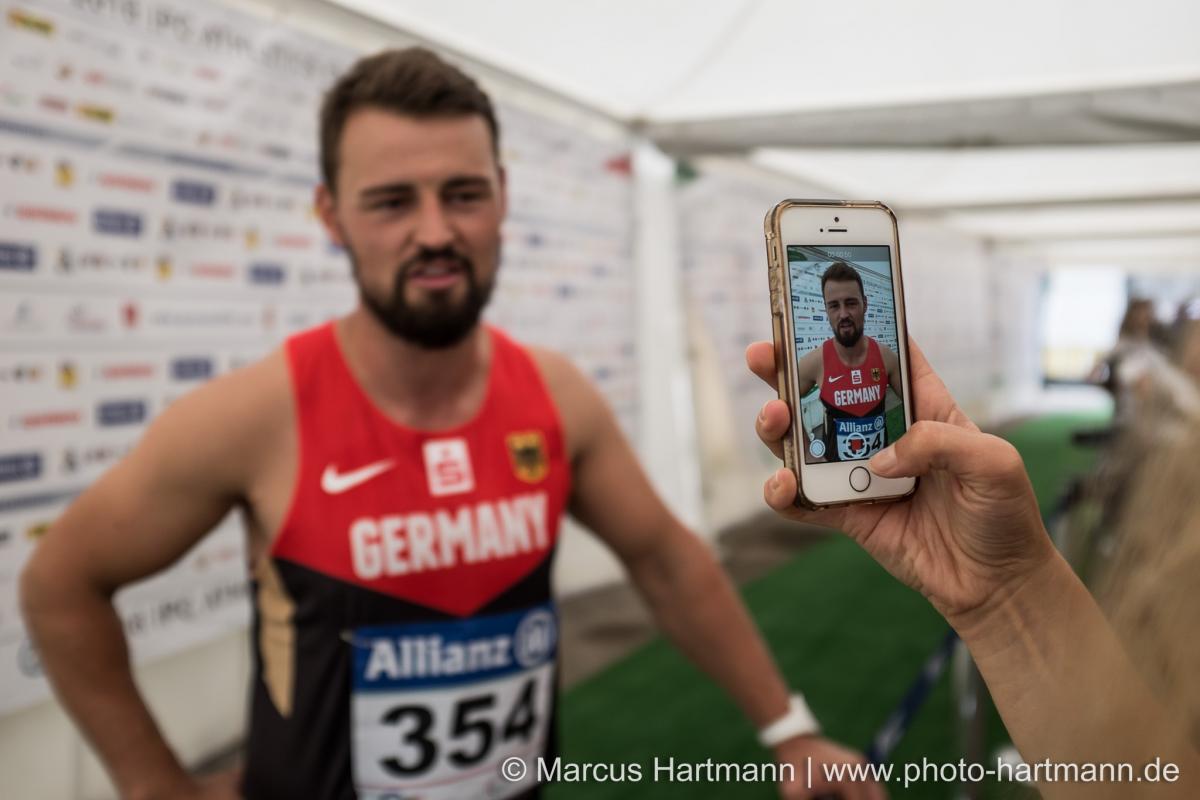 ⒸMarcus Hartmann
By IPC
Men's 400m T52
Gold: Thomas Geierspichler, Austria
"It was a good race, I can't complain. The warm-up is a little bit difficult here, there are so many people on the track, and so under these circumstances I am really happy to get a gold. But the track is super fast, I've been in Tuscany which is a really cool place for a few days now so I can't complain at all."
"I think I am in a good shape, also for Rio, which is still my main goal of this season."
"This year this time is my season best plus it's the Championships record. And I'm really happy because this year I was two seconds slower."
"I also had two good competitors in this race like Beat Boesch who won gold in a sprint race and he's a good sprinter, and I'm happy having kept him at distance. And also there was Trindade [Mario] who can be a good sprinter too. So I am happy and I need a beer now."
Men's 1500m T46
Gold: Aleksandr Iaremchuk, Russia
"With my coach I trained much to get this result and everything went according to the plan."
"For now I am not ready for Rio, but I will surely get in top form for it. I still need to improve here and there though. I can get better."
"I've improved so much [13 seconds less than his previous best] and I set my new personal best thanks to a good training plan with my coach. I also worked a lot on the mental side, and if you put all this together you can get this kind of result."
"I ran to reach a precise time and so that is how I win."
Women's 400m T54
Gold: Natalia Kocherova, Russia
"I feel fantastic, I really like the stadium and the track here in Grosseto. I am very happy because I break my own personal record by one second [55.83 vs 56.95]."
"If I go to Rio, I will race in any distance and do my best. It's difficult to say which distance I prefer."
"Every time I get out there, I feel nervous and much tense, I feel blocked. But I always try not to think negative, and on the contrary to think that I can do that and then I give my best."
Men's 200m T47
Gold: Aleksei KOTLOV, Russia
"I am very happy, this race was definitely better for me than the 400m one. I set my new personal best plus the Championships record, so I couldn't ask for more."
"The 400m race is my main distance, the 200m is just my second one. That is why I am happy that I won both."
Women's discus throw F57
Gold: Orla Barry, Ireland
"I'm delighted to throw a PB, I knew I could do it, there was a good throw in me this week but I didn't really expect a PB out of it so I'm happy with it."
"My previous personal best was done under different rules and I had more movement to my throw, so it's taken a while to get back up to what my PB was now that I'm more restricted. So to be to throw a PB under the new rules was great."
"I feel good for Rio. We'll go home now and we'll pull our plans together for the next couple of weeks and hopefully in Rio I can improve on what I did here today."
Men's shot put F35
Gold: Alexander Elmin, Russia
"I'm overall pleased to get the gold, but more than this I'm very happy to having shot more than 14 metres."
"My main focus is on Rio, so it's good I performed like this here in Grosseto, three months before the Paralympics. It's good to shoot over 14 metres."
"At the Paralympics the level in general will be better than here, there will be more competitors."
Men's long jump T37
Gold: Chermen Kobesov, Russia
"I feel OK, although I'm a bit tired because last evening I did the 200m final."
"I didn't give my best today, because tomorrow I will have the most important event here, the 400m."
"Today my result was not the best one, last year I didn't perform that well, I had too many issues, some of my relatives and people close to me died. Physically I feel ready but psychologically I am not yet. At the Paralympics I will give my best though."
Women's 200m T47
Gold: Alicja Fiodorow, Poland
"I'm very happy because it was my second personal best after my 25.49, this has been the first time of this season for me to get such a good time."
"I'm well trained for Rio and it should go really well in 100m and 200m. I think I will run my personal best in Rio. There are still three months to go, a long time to get a fine-tuned preparation."
Women's 200m T44
Gold: Irmgard Bensusan, Germany
"I was injured just a month ago so I'm pretty much satisfied with what I did here. The time is not that good, but that was only my second competition of this year so I'm pretty happy with that anyway."
"You can't be satisfied because you always wanna do better, but still it's OK for this time of the season."
"Rio is in a while to go, I'll take it day by day."
Men's 100m T34
Gold: Henry Manni, Finland
"Of course I'm happy with the win, but I'm way more happy for my time because it was really good. Everything worked out really well, better than the yesterday when I got my first gold [400m]."
"I don't normally perform well over 100m, but today it went all OK. Still, I need to work much on the start, I need to improve and get much better at it."
Women's 400m T12
Gold: Melani Berges Gamez, Spain
"I managed to recover all that disadvantage and get the win at the end because as the English say 'Never give up'."
"I trained a lot after Doha in 2015 [world championships], I've worked very much until now. That's why I managed to get better with my new personal record, improving it by 4 seconds."
"My guide helps me a lot with getting the right rhythm, it is very different than running alone. At the start I felt a bit tense, I was really afraid, but then he [her guide] helped me a lot and I felt much comfortable and reassured."
Men's 200m T11
Gold: Timothee Adolphe, France
"I agreed with my guide to try to get an under-23-second time, but unfortunately we did not manage to reach that."
"I expected to do a bit better, still I'm very happy because I set the new European Championships record."
"I'm pretty happy with that anywway, still there's something left to work on. We will try to run in less than 23 seconds. The good news is that we are not so far away to get that."
Men's 200m T35
Gold: Dmitrii Safronov, Russia
"I feel fantastic, but it was real hard because it was too hot today.."
"It's a very good result in my preparation for Rio 2016, I'm very pleased with the time I set in this part of the season."