Six golds apiece for Russia and Great Britain at Grosseto 2016
Russia and Great Britain led the medal charge on day two of the IPC Athletics European Championships in Grosseto, Italy, as Margarita Goncharova smashed the 200m T38 world record – one of three world marks to fall on Sunday afternoon (12 June).
12 Jun 2016
Imagen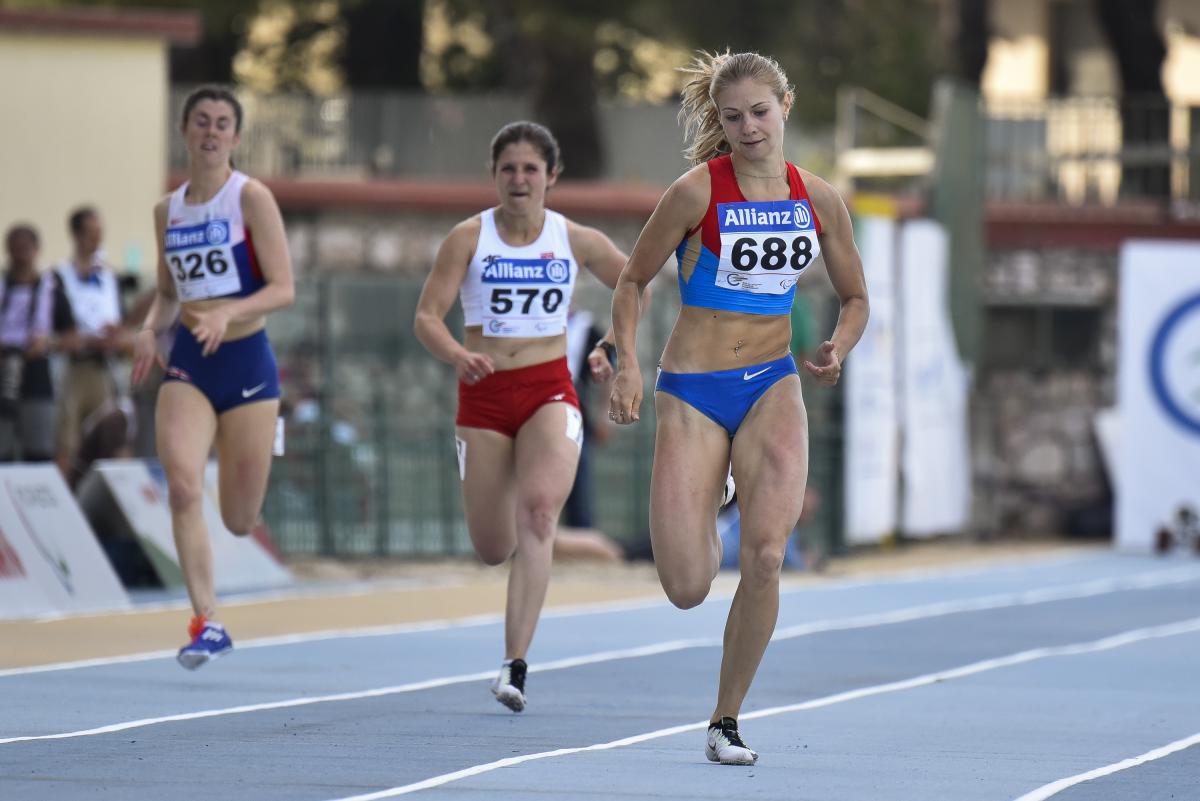 ⒸAgenzia Fotografica BF
By IPC
Six gold medals went Russia's way but it was 25-year-old Goncharova who was in world-recording breaking form, lowering her own previous mark to win the 200m T38.
The triple world champion had to work hard to hold off Great Britain's Sophie Hahn in a terrific battle to the finish line, and she even surprised herself with her performance.
"I am shocked, I did not expect this at all, I can't believe I have won and set the new world record, my last competitions were bad so I am so much happier today," said Goncharova, who knocked 0.15 seconds off the mark she set at Doha 2015, stopping the clock at 26.46.
"There are still some mistakes that I do and I want to correct. I feel like I am missing something, my coach is going to tell me what I do wrong and I will try to correct them and improve," added the Russian who also contests the 100m, 400m and long jump this week.
World silver medallist Noelle Lenihan added 50 centimetres on to the discus F38 world record she set at Doha 2015 with a winning throw of 32.14m.
"Setting the new record with my first attempt means everything in the world to me, it's brilliant," said the 16-year-old.
"It would be huge for me to show this in Rio, it would be brilliant and so I am going to work harder to reach my best at the Paralympics."
Croatia's Branimir Budetic broke the javelin F13 world record, adding two centimetres on to the mark he set on his way to global gold last year, with a throw of 65.74m in the fifth round.
Russia's medal haul continued as world ranked number one Aleksei Kotlov safely defended his European 400m T47 title with a championship record 49.81, while world silver medallist Artem Loginov came through strongly in the men's 100m T12 to take the win in 11.12.
Chermen Kobesov (T37) stormed clear of his rivals – including his compatriot Andrei Vdovin, the reigning 200m T37 world champion - in the men's 200m T38, crossing the line in 23.30. And Natalia Kocherova won the women's 5,000m T54 in a championship record 11:58.04.
World champion Zhanna Fekolina added three centimetres on to her previous European record as she leapt 4.89m in the women's long jump T37.
But it didn't all go Russia's way - Great Britain also picked up six gold medals in a prolific afternoon of Para athletics.
World bronze medallist Moatez Jomni got the better of world number two Vitalii Gritsenko in a thrilling men's 200m T53, one of five Brits to set championship records on Sunday afternoon.
Jomni and Gritsenko were neck-and-neck powering down the home straight but it was the Briton who came through on the line stopping the clock at 26.64.
In the women's 100m T35, 16-year-old Maria Lyle sped out the blocks and sprinted home in 14.45, nearly 0.5 seconds faster than the time she took to win gold two years ago. Home favourite Oxana Corso finished second once again.
Richard Chiassaro continued the British gold rush as he powered home in the men's 200m T54. The 34-year-old took a further 0.16 off the championship record he set in Saturday's semi-finals as he held off Russia's world bronze medallist Aleksei Bychenok (25.29) and Finland's 100m specialist Leo Pekka Tahti (25.45).
British success didn't stop there – Richard Whitehead knocked a further 0.25 seconds off the championship record he set in the semi-finals as he raced through the field to win the 100m T42 in 12.21.
Multiple Paralympic champion David Weir picked up Great Britain's fifth gold on the track with a win in the 5,000m T54 – the first of five events he contests in the city's Carlo Zecchini stadium.
The 37-year-old timed his sprint finish perfectly as he saw off Russia's Aleksei Bychenok and Germany's Alhassane Balde in the final 50m to take the win in 11:15.95.
Not to be out done, world champion Aled Davies added shot put F42 gold out in the field. The Welshman's third round effort of 16.11m was a new championship record and just two centimetres short of the world record mark he set last month.
"I love titles. I took my first European title in Swansea so I wanted to retain it," said a delighted Davies.
"I wouldn't have been happy this evening if I hadn't won. I've shown people what I am capable of doing and I'm excited for the year ahead because I know I am just scratching the surface."
Three gold medals went Germany's way as world, Paralympic and European champion Markus Rehm comfortably won the long jump T44 with 7.98m, while world bronze medallist Johannes Floors got the better of his teammate, world champion David Behre to win the 400m T44 in a championship record 48.67.
There was a championship record too for Germany's Katrin Mueller-Rottgardt in the women's 200m T12 (24.29).
Belgium's world champion Peter Genyn got the better of Paralympic gold medallist Toni Piispanen in the men's 100m T51. The Finn started strongly but Genyn pushed hard and came through in the closing stages to win in 20.78 – a new championship record. Poland's Mateusz Michalski won the men's 100m T13 in 10.98.
Turkish duo Semih Deniz and Hasan Kacar were the key contenders in the men's 1,500m T11 but it was Deniz who raced ahead in the final lap, clocking a championship record 4:11.97.
Back in the field, Croatia added two more golds – Miroslav Petkovic won the discus F57 with a championship record 42.84m, and Ivan Katanusic threw a personal best of 15.69m to take gold in the men's shot put F44 ahead of the reigning world champion Adrian Matusik of Slovakia, who finished 10 centimetres behind.
Greece picked up their first gold medal of Grosseto 2016 thanks to Dimitrios Senikidis in the men's shot put F20. The world silver medallist threw 15.46m with his second attempt to seal the win, and Latvia's Diana Dadzite won the women's shot put F55 thanks to her fourth round personal best of 8.12m.
Live streaming, live results and full schedules are available at www.grosseto2016.com
For broadcast footage from Grosseto 2016 please email IPC Broadcasting Manager sascha.beck@paralympic.org
Rights free images from the event can be downloaded on the IPC's Flickr account.