Grosseto 2016: Mixed zone flashquotes from day one
Straight from the mixed zone, here is what the athletes had to say at the IPC Athletics European Championships at the end of their event.
11 Jun 2016
Imagen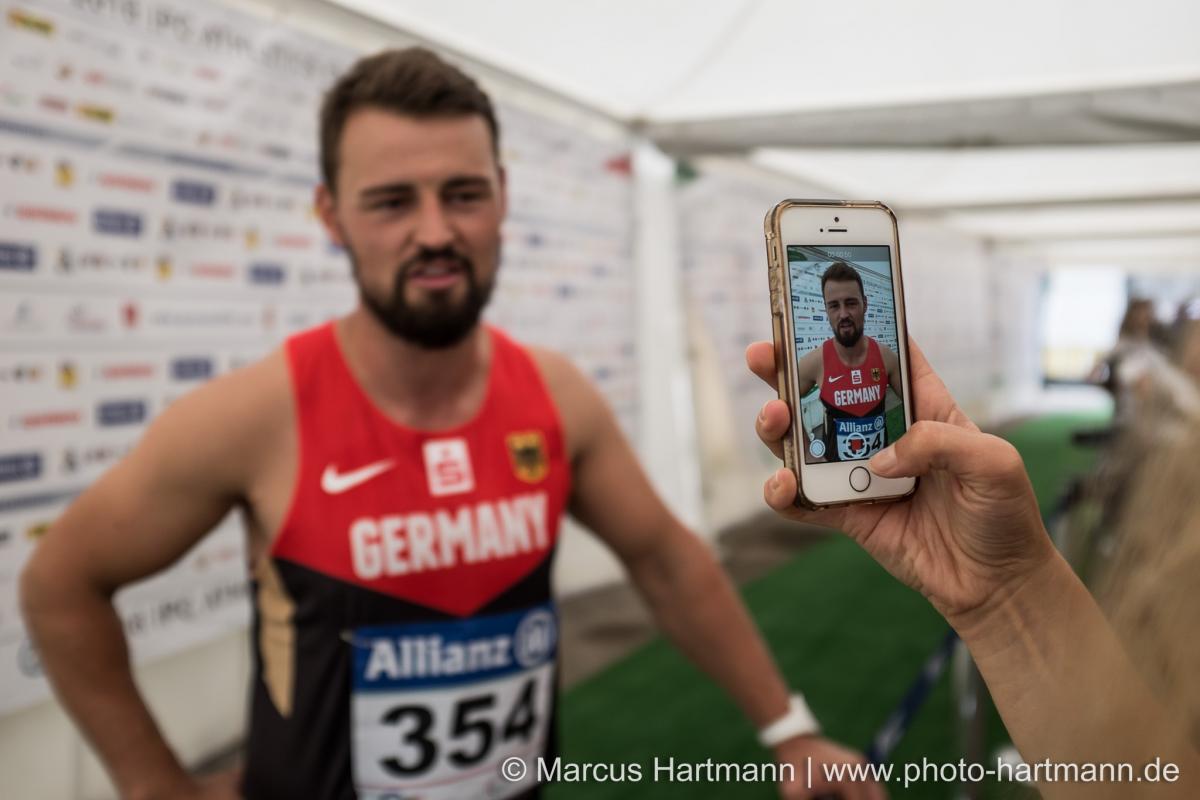 ⒸMarcus Hartmann
By IPC
women's long jump T47 final
Gold: Aleksandra Moguchaia, Russia
"I'm very happy because this is my first title."
"I was really hoping [to win], but I was not too confident, I was not sure that I would make it. Nikol Rodomakina [European record holder] was competing too and I did not think I could beat her."
"I hope this result will give me a chance to make it to the Russian team going to the Paralympics in Rio. This result could give me just the right push. Anyhow, there are still the national championships to go before the squad for Rio is decided."
men's Javelin Throw F37
Gold: Dmitrijs Silovs, Latvia
"My goal was to beat my the European record and right at the start with my first try I managed to do it, so on my other throws I did not have any other goals to reach."
"I trained like I always do, during last winter I improved my physical strength a lot and that is why I got so much better."
"I think I will set the new world record at the next world championships, I can do that."
"In Rio there will not be the men's javelin throw for my class, so unfortunately I will only compete in the shot put which is not really my discipline."
"Still I will try to do my best, but my physical structure [my body] is not fit for shot put. I would need to get bigger and fatter, I would need to stay here longer [in Italy] and eat a lot of macaroni to become more like a shot put athlete [he laughs]."
women's 200m T11
Gold: Joanna Mazur, Poland
"It's a lot of emotions for this win. I had a lot of people clapping their hands and screaming something [during the race], but I focused on the run so I couldn't listen to that, I just focused to be the first on the line."
"This is our result, we are running like this in training, so everything is going fine. My health is in a good condition, so everything is looking good and better and better every day."
"[This result] shows our progress in training and that's good information - and it is a gold medal, so we are happy."
On whether she expected to win:
"It's hard to say who is stronger and weaker than me, everything shows on the track."
Bronze: Arjola Dedaj, Italy
"I'm not happy [with the bronze], but I try to be. I had different goals, after two years I wanted something more, but many things around me have changed since then. We are not going to give up, it is important that I keep in good shape."
women's 200m T13
Gold: Nantenin Keita, France
"It has been a long time now I last ran the 200m. Last time I did it was back in 2010. At the start I thought about winning this race, but then I found myself not running really smoothly, I was quite tense."
"In the end I won, but I didn't really like my technique, it was not that good but still I won so it is OK - it is the result that counts."
"When I ran the 200m in 2008, that time that I set my record [and European record], my goal was to work on the 400m and to win gold. And so it is this time."
"For Rio 2016 I will only concentrate on the 100m and the 400m, because there won't be any 200m in my sport class at the Paralympics. Especially my focus will be on the 400m and then on the 100m, which will be just like an extra thing for me there."
women's 200m T53/54
Gold: Natalia Kocherova, Russia
"I feel really well and really happy. I prepared this race like all the others. The Turk [Zubeyde Supurgeci] was really strong, so I'm particularly satisfied that I beat her. I'm glad I raced against her."
"I will prepare for Rio like I prepare for every other event. It is my coach's job to decide what to do and I will do it. [In Rio] I will do everything possible, and also everything impossible."
Men's 100m T11
Gold: Timothee Adolphe, France
"As a European Championships, this is also good preparation for Rio. Before Grosseto I trained every day, overall 20-25 hours per week, with my guide. There is still a lot to do on the way to Rio."
Men's long jump T36
Gold medallist: Evgenii Torsunov, Russia
"I feel very happy to beat my own record [he improved his previous personal and world record by 12cm]. I trained a lot to reach this."
"From on now I'll be focussed on the Paralympics in Rio and I will train more and more."
"I am not too confident to be doing well in Rio, I don't really know how I will perform there because there will be more opponents and more experts than me. That is why it is very difficult to say if I can win in Rio or not, I don't have any idea."
Women's shot put F12
Gold: Sofia Oksem, Russia
"It was difficult to beat my own record [she improved by 8cm her previous world record of 13.60]. But since October 2015 [Doha World Championships] I have been trained a lot and that is why I improved it. I always try to get better and better all the time."
"I'm happy with what I did although it was really hot and sultry."
"At the Olympics in Rio it is going to be tougher to win because there are more competitors and the sensations and feelings during the competition will be more intense."
Women's shot put F34
Gold: Lucyna Kornobys, Poland
"This is my first gold medal. In Swansea in 2014 I won silver, in Doha in 2015 I won bronze. To win gold today makes me feel happy, happy, happy, because I'm going to Rio."
Women's shot put F53/54
Gold: Mariia Bogacheva, Russia
"I didn't expect this result because I wasn't sure who my opponents would be."
On today's result being almost 70 cm less than her personal best, which is also the European record:
"It went this way, I'm not sure why."
"This competition is a step in my preparation for Rio, it gives me experience to compete in Rio."
On her personal best being only 7 cm away from the world record set by Yang Liwan from the People's Republic of China:
"She has improved quite a lot recently and this gives me motivation to train more and even harder."
Women's long jump T42-44
Gold: Vanessa Low, Germany, women's long jump T42-44 final
"I'm really satisfied with what happened today, I'm dealing with some injuries in my back so I'm still more than happy that I can jump at all."
"There's still plenty of time before Rio. You aim for your best at every competition, but on the way to Rio at this time of the season it was a really decent result for me. Still I wish I could have gone a little bit farther but I think I'm still competitive."
"For now I feel like I have to get some competitions in, just to shake off my legs a little from the long season and a long preparation. I'm still in a preparation process, like at the German nationals, then I would just go towards 100% training in competitions again in mid of July and then everything will just be focussed on Rio obviously."
Silver: Martina Caironi, Italy
"I thought I was going for the bronze, instead of being second. Considering my injury, one only real training since February, and since it was only my very first race of this season, I did not feel prepared. But during the competition, the lion hidden in me came out roaring."
"I'm happy the pain [from the injury] is over, from now on my focus is just on Rio."
"Coming back on track was really easy so I'm happy with that, I didn't forget how it feels."
"I'm back now, I did my best jump when I saw a person who brings me luck [giggling]."
Bronze medallist: Marie-Amelie Le Fur, France
"I am pretty happy with what I did, competition went well for me because I went really close to my personal and world record that I set in Doha [she went 5cm away from it]. So today it was a good quality competition for me."
"I've progressed much since last year, still I'll try to improve a bit more for the Paralympics in Rio."
"My preparation for Rio 2016 is just the same as of last year, with pleasure, will and a smile on my face. I will try to work as hard as I can as always but also I'll try to have fun because these are going to be my last Olympic Games."
"I'll try to win another Paralympic title both in long jump and in 400m but it also will depend on what happens there."
"I hope to get a gold at least in one of my events."
Men's shot put F40/F41
Gold: Bartosz Tyszkowski, Poland
"I feel very good, I was expecting to set a new world record because of my hard training."
"I'm happy with my gold, and I also expected it either because I trained a lot and hard every day."
Bronze: Dmitry Dushkin, Russia
"I really did want to perform my best today, and I was expecting such a result [setting his personal best and world record]. I could have done even better than that, but I kept my very best for the Olympics in Rio."
"I am going to prepare for Rio 2016 with training, training and training, again and again."
"I have my own program of training and I feel like I can even go for 11 meters. I'm training just to reach this result."
"My first thought after getting this new record was about my coach and now I am going to cheer and root and for my teammates. They need our support."