Two world records kick start day one at Grosseto 2016
Two world records fell out in the field on the first morning of competition (Saturday 11 June) at the IPC Athletics European Championships in Grosseto, Italy.
11 Jun 2016
Imagen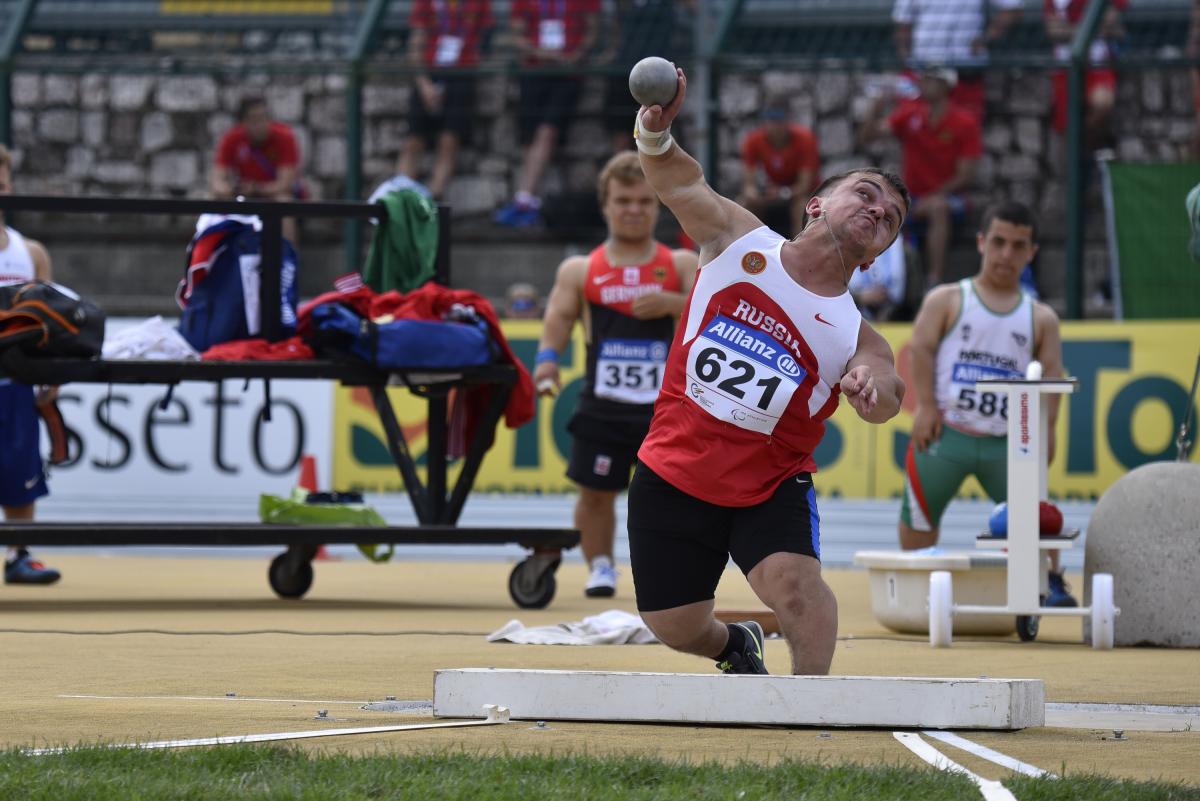 ⒸAgenzia Fotografica BF
By IPC
Poland's shot put F41 world champion Bartosz Tyszkowski has shown terrific form this year, and the 22-year-old continued to impress at the Carlo Zecchini Olympic stadium, adding 21 centimetres on to the world record he set at last year's World Championships.
"I feel very good, I was expecting to set a new world record because of my hard training," said Tyszowski, who threw a massive 13.64m to secure his second consecutive European title with victory in the men's shot put F40/41.
"I'm happy with my gold, and I also expected it because I trained a lot - and hard - every day."
World silver medallist Niko Kappel of Germany had to settle for silver once again (13.23m, 1016 points), while bronze went to Russia's Dmitry Dushkin (10.83m, 980 points), who set a new F40 world record in the same event, adding 17 centimetres on to the previous mark set by Iraq's Garrah Tnaiash at Doha 2015.
"I really did want to perform my best today, and I was expecting such a result [setting his personal best and a new world record]," said Dushkin.
"I could have done even better than that, but I kept my very best for the Paralympics in Rio. I have my own program of training and I feel like I can even go for 11 metres."
Germany's world champion Vanessa Low set a new championship record as she leapt an impressive 4.71m (1080 points) to take gold in the women's long jump T42-44.
"I'm really satisfied with what happened today, I'm dealing with some injuries in my back so I'm still more than happy that I can jump at all," admitted Low, who smashed the previous world record with a leap of 4.79m in Doha last year.
"There's still plenty of time before Rio. You aim for your best at every competition, but on the way to Rio at this time of the season it was a really decent result for me. Still I wish I could have gone a little bit farther but I think I'm still competitive," she added.
Home favourite Martina Caironi made a promising return from injury, finishing second with a best of 4.48m (1024 points) – just 12 centimetres shy of her personal best.
"I thought I was going for the bronze, instead of being second. Considering my injury, one only real training since February, and since it was only my very first race of this season, I did not feel prepared. But during the competition, the lion hidden in me came out roaring," said a relieved Caironi.
"I'm happy the pain [from the injury] is over, from now on my focus is just on Rio."
Bronze went to French T44 world champion Marie-Amelie Le Fur with a T44 championship record of 5.69m (1021 points).
Belarussia's world champion Siarhei Burdukou continued his domination of the men's high jump T12 as he safely defended his European title clearing a personal best 1.90m.
Poland's Lucyna Kornobys (8.33m) took gold in the women's shot put F34 with a new personal best to reinforce her second place in the world rankings, and the women's shot put T53/54 title went to world silver medallist Mariia Bogacheva (F54) with a championship record 7.14m (938 points).
Out on the track, the women's 1,500m T20 went to form as Poland's triple world champion Barbara Niewiedzial took to the front with 300m to go, quickly stretching the field as she took the tape in 4:34.62 – the fastest in the world this year.
The women's 100m T34 was won by Russia's Veronika Doronina who started strongly and held on for gold in 20.10, and Austria's Thomas Geierspichler (4:06.13) set a new championship record as he crossed the line first in the men's 1,500m T52.
In the morning's semi-finals, Frenchman Timothee Adolphe (11.62) leads the way to the 100m T11 final as the fastest out on the track and the top ranked European; Russia's world bronze medallist Alexei Kotlov (52.07) and Cypriot Andonis Aresti (53.77) won the two men's 400m T47 heats.
Great Britain's Richard Chiassaro (25.30) made his intentions clear as he powered home ahead of Finland's 100m Paralympic champion Leo Pekka Tahti (25.64) in the first semi-final of the men's 200m T54, setting a new championship record; world bronze medallist Aleksei Bychenok (25.51) of Russia won the second semi-final.
Poland's Joanna Mazur (28.00) was the fastest of the semi-finalists in the women's 200m T11, while rounding off the first morning on the track was the men's 100m T42 semi-finals.
Denmark's in-form Daniel Jorgensen (12.55) won the first heat, with Great Britain's Richard Whitehead (12.46) storming through to win the second semi-final in championship record time.