Piispanen versus Genyn Grosseto 2016 head-to-head
The two T51 wheelchair racers answer questions on each other ahead of their 100m and 400m showdowns at the IPC Athletics European Championships.
10 Jun 2016
Imagen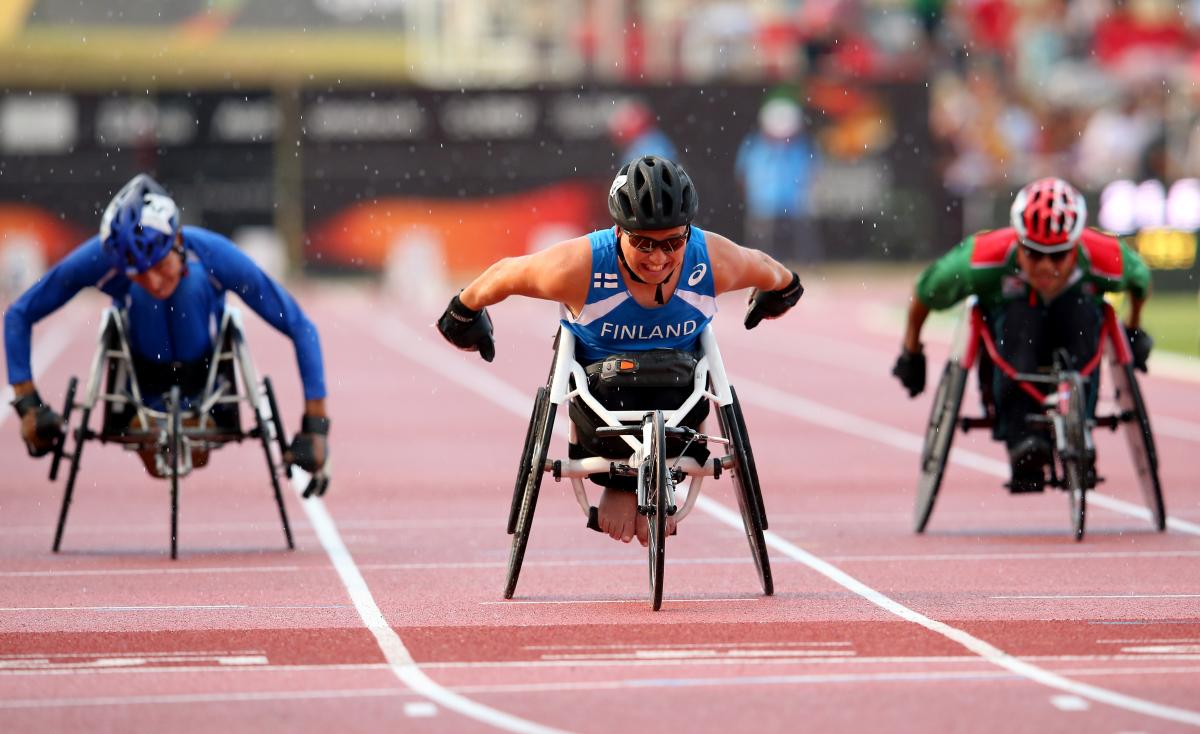 ⒸGetty Images
By IPC
The rivalry between Finnish Paralympic champion Toni Piispanen and Belgium's current world champion Peter Genyn is set to rekindle once more at the IPC Athletics European Championships in Grosseto, Italy, which get underway on Friday 10 June.
The pair will go head-to-head in the 100m and 400m T51 – and if past performances are anything to go by, two more thrilling races are on the cards.
Piispanen, 39, won the 100m T51 world title in 2013 and is the current world record holder. That same year Genyn – also 39-years-old – switched from playing wheelchair rugby to Para athletics.
At the 2014 European Championships, Piispanen won the 100m and 400m gold ahead of Genyn, who had fast become a contender on the world stage.
By 2015 the Belgian was in superb form, winning double gold at the Doha World Championships as Piispanen had to settle for silver and bronze.
Genyn currently tops the 100m T51 world rankings, and won their recent contest at the Nottwil Grand Prix in Switzerland with the Finn just 0.11 seconds behind.
Here's what they had to say about their aims for the year – and about each other.
What do you make of your rival?
Peter Genyn (PG): I know he's very strong. He's still the favourite so I'm very anxious to see – well, we were looking forward to this because the world rankings show the times but it's different weather and a different track. I know he is good –it's going to be very close.
Toni Piispanen (TP): Peter is a good racer and I think I'm going stronger all the time – I had a six month rehab period and I have plans for Rio – and I think I'm on schedule right now.
Why are the European Championships important to you?
PG: Just to see where everybody's at. You want to see the top of the world – at the Europeans I will see Toni and Steve [Stephen Osborne], so I think it's a good chance to see where I am for Rio.
TP: It is important, I will meet Peter again and we can race again. I think Peter also had plans for Rio as I do. Rio is number one but the Europeans are important as well.
What are your aims for Rio?
PG: I hope to do very well – of course I am aiming for a medal, but I guess there are eight others doing that too. I'm doing the 100m and the 400m – I'm a little bit better at the 400m but I don't like it! I think it will take a little bit of luck and a lot of hard work – and just form on the day because I'm sure Toni is as fast as me. Everybody will prepare as hard as they can, so we will see.
TP: I'm hoping to get a medal - it would be my second medal so that's my goal. I have a training camp in Finland still to come and hopefully two or three races. The weather is probably the best in the world in summertime in Finland so it is a good place to train.
What are your expectations of Grosseto?
PG: I hope to do well and bring home a medal – and see how I do against Toni and Steve.
TP: I'm hoping I will be better in the 100m – I am so close with Peter so I guess we will be close thare too! I have rehab sessions behind me now so I'm getting stronger all the time.
More than 600 athletes from 36 countries will be in Grosseto for the 2016 IPC Athletics European Championships which take place between 10-16 June. Athletes will contest over 171 medal events at the Carlo Zecchni Stadium and every minute of live action, together with live results, will be available at the Grosseto 2016 website.