Grosseto 2016: Mixed zone flashquotes from day two
Straight from the mixed zone, here is what the athletes had to say at the IPC Athletics European Championships at the end of their event.
12 Jun 2016
Imagen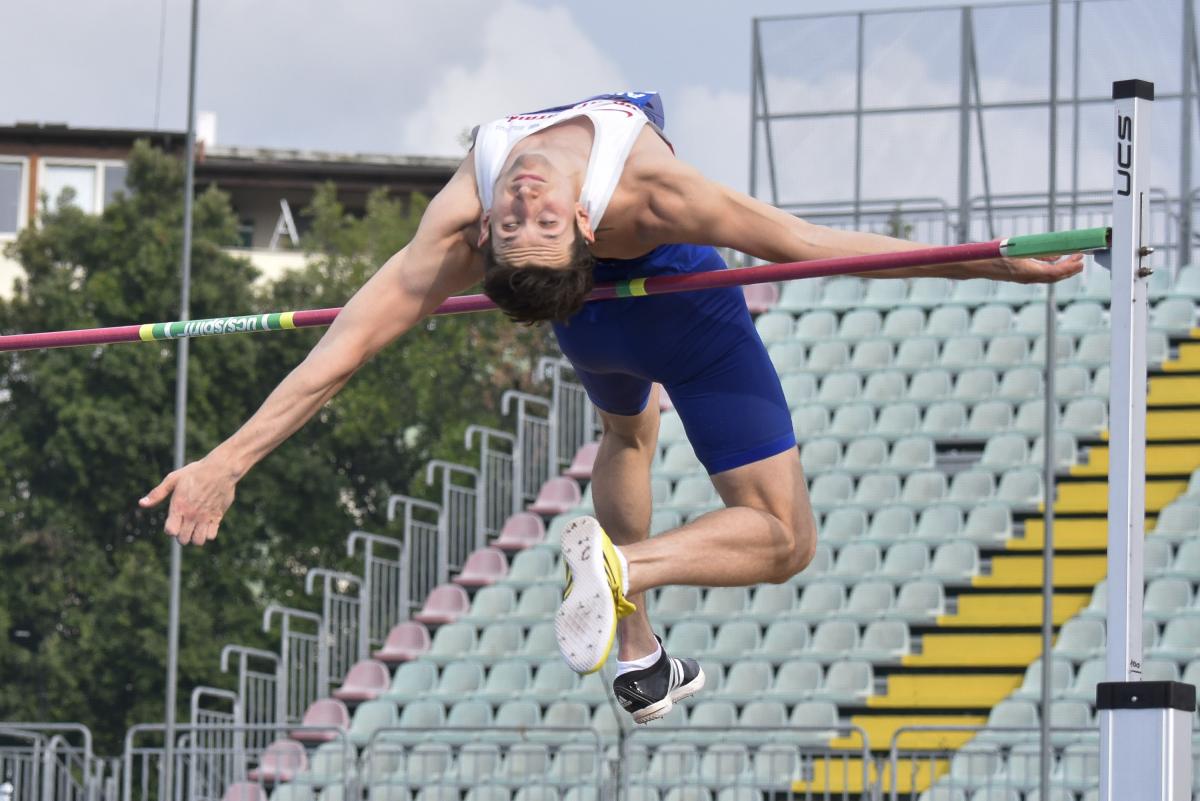 ⒸAgenzia Fotografica BF
Women's discus throw F38
Gold: Noelle Lenihan, Ireland
"It was a really good day, can't really complain, I threw consistently, I'm really happy with it."
"I was delighted by beating my own previous record [setting new world record], it was just kind of getting a PB for me."
"The thing that I set the new record with my first attempt means everything in the world to me, it's brilliant. I trained so hard to reach this since the world championships in Doha, it kinda shows off the amount of training I had it just paid off."
"I improved it by half a metre, I was surprised by that actually, to bring it on that form on the day it's quite tricky. So I just tried to keep a cool head and deliver what I supposed to do."
"I was just hoping just to get a PB, I didn't know what the others in the field could do, but you just need to do your best and see what happens."
"It would be huge for me to show this in Rio, it would be brilliant and so I am going to work harder to reach my best at the Paralympics."
Women's 200m T36/38
Gold: Margarita Goncharova, Russia
"I am shocked, I did not expect this at all, I can't believe I have won and set the new world record, my last competitions were bad so I am so much happy today."
"I totally did not expect to beat the world record."
"Until Rio Games there is much time left, so I am going to prepare even more. There are still some mistakes that I do and I want to correct. I feel like I am missing something, my coach is going to tell me what I do wrong and I will try to correct them and improve."
"It is always important to win and to be first, no matter if I beat her [Sophie Hahn] or any other name. What's important is just to win."
"It's unfortunate the 200m are not on Rio's Paralympics program, because it's my favourite distance."
Men's 100m T42
Gold: Richard Whitehead, Great Britain
"I'm a 200m-athlete working on a 100m speed, it's important that me and David are doing our thing, we proved double legs amputees can be competitive in this event."
"At one point it was about getting the 200m gold, and now the 100m looks open to me what we've done over the winter. It was about what I was able to do and then we built on that. We built a team around me now of people who want to be successful, as I want. I am competitive, I want a world class performance, I'm trying to do it in the 100m too and in the 200m."
"Athletically this is probably about my sixth season, on the track about four or five years, about grooving the technical side and now as you can see it's starting to come together. Today was a great try for me."
Men's 100m T51
Gold: Peter Genyn, Belgium
"It felt good, it was a hard race, I think Toni [Piispanen] had a better start but he was better off the line, it wasn't a comfortable win, but a win is a win."
"I set a good time [20.78], my best this season was 20.70. It's still below the world record from last year, so I'm quite happy with that."
"More than a boost of confidence, I think this is going to hurt Toni's confidence. I've beaten him three times in a row now so it got to hurt him."
"We already had a good preparation, you can see times are going according to plans so I hope to continue this way."
women's 100m T35
Gold: Maria Lyle, Great Britain
"I'm pleased I developed and got stronger, this win helps in the lead up to Rio."
"My start was all right, I could have probably applied more power to the ground but I'm pleased with the time. I've got another comp on Wednesday, I can always improve on this."
"I'm just looking for to run well, and if two golds come out then I'd be pleased but I'm really happy with my gold now."
Silver: Oxana Corso, Italy
"This is my 10th international medal of my career. Tonight I'd like to toast it with everyone, and I hope all Italians will celebrate this medal."
"Before the race I was really nervous, I thought I could fall from the starting blocks, I found them very slippery and so I took them off just to be safe."
"This was a test for Rio, I'm happy of this result, especially in this part of the season."
Men's 200m T53
Gold: Moatez Jomni, Great Britain
"Today's gold a confidence boost for Rio and definitely this is a great warm-up for the Paralympics. I'm also thinking ahead of the next World Champs back in London. Obviously I took these European Championships seriously but Rio is a big picture."
men's 400m T47
Gold: Aleksei Kotlov, Russia
"I won but I think it was not my best race because my time was bad. Especially I did a mistake at the start, I was too slow. Plus I almost fell at my starting block, I wish I could have done it better. I almost slid down."
"My start should have definitely been better, I need to improve on that and on some other things I still have to get better on."
"I will train for the whole summer, focussing on Rio Games."
men's 100m T12
Gold: Artem Loginov, Russia
"I feel tired but of course good, because I won."
"With my coach we planned and trained focussing on Rio Paralympics, in this stage of the season I do not feel I am performing my best. My very best will be in September for the Games."
"Somebody are used to training 100% right from the start, I am more used to getting better and better as I train."
"Until July I will train to get stronger, then from July to September the whole focus will be just on Rio's performance."
men's discus throw F43-46 final
Gold: Dan Greaves, Great Britain
"It was a tough competition out there today so I knew it was going to be a hard-fought battle between me and Ivan [Katanusic, Croatia]."
"To get the first gold for Britain, you know there's been great performances so far, but hopefully as a team we are going to get many more throughout the week."
"To throw 58 today was really good, it shows that we are in shape and are on course to Rio. When we start doing a lot of stuff, which is the next couple of months, hopefully we can see a big jumping distance."
"[My coach and I] have been working on our foot work and our technique and I'm just trying to implement a few new factors into the throw. Today it felt really really good."
"There is still loads to work on. We'll go over the videos and see where we can make some improvements, but I'm really happy with that."
On winning his Paralympic gold medal a long time ago in Athens 2004:
"I don't like putting pressure on myself, I'll just go out there and I don't look at what the competitors are doing, I'm very self-occupied. I know that if get it right on the day we can be right in the mix for a medal."
"I want the gold medal [in Rio], obviously. I want to be on top of the roaster and hear the anthem. It's been a long while, but we've worked so hard to get there."
Men's high jump T47
Gold: Alexandre Dipoko-Ewane, France
"I have had a good physical preparation, I feel fit and I had time enough to get ready for this competition even if I did not expect to compete in this hot weather."
"I still don't know if I'll go to Rio, but hopefully I will and I'll give my best there."
"I've just set my new record [1.88m - old one 1.85m], but I tried to go for a new one at 1.90m. I didn't success in it, but I'll go for it again soon."
"I'd say I did not commit so many mistakes since I got my new personal record. I'm pretty happy with it."
"Since the start of the competition I saw myself improving and getting better step by step."
Men's high jump T47 final
Silver: Reinhold Boetzel, Germany
"The feeling was good but I lost luck, the jump was not so good, I was too slow in the jump. That was problem to reach 1.83m, but jumping 1.80m was still good."
"I hope the season goes to 1.85m to a little bit higher, 1.90m, I want to, I hope I can do that in Rio too. I hope to jump 188 or 190 in Rio, I want to do that."
"I congratulate the French athlete. I won the silver medal and it was very good, it was a hard competition for me, but I'm very very lucky."
"This result is giving me confidence for Rio. The feeling is right, I'm on the right way to jump how I want."
"In the lead up to Rio, I have five to seven days of training per week, two or three hours every day, so I train very hard for that."
Women's shot put F32/33 final
Gold: Svetlana Krivenok
"I felt good today. I didn't sleep last night though. It happens."
"I prepared carefully, but I was sick over the last two weeks, so I had to take medicines. I'm OK now."
"I will prepare much more carefully for the Paralympics in Rio, because you never know who could be competing there. I'm quite worried because we won't just be five there, and new contenders can always pop up. But I'm used to it, everything will be fine."
Men's 800m T13
Gold: Egor Sharov, Russia
"I feel really good and fit, but unfortunately today the weather is not so nice and so I couldn't set a good time. It was raining at the start, and on the finish line there was strong wind, so it was really difficult for me to perform my best."
"This season this is my favourite discipline, but unfortunately two laps [800m] is not a Paralympic event plus it is really sad that there are not so many competitors here in the two-lap race."
"I do not know if now I am stronger over 800m or 400m, it is going to be interesting to check my body and to see what I can do over 400m in three days here in Grosseto. I will tell you after the 400m race if I feel OK, and I will be happy then if I win the Paralympics, but as for now I don't know if it's better for me 800m or 400m."
Men's 400m T34
Gold: Henry Manni, Finland
"It was a very good start of the competition. I have four competitions here and I want to win every one of them. I won in Swansea and I want to win here."
"I was feeling very energetic today, and ready."
"I trained one week only for this, but of course my biggest competition is in Rio. That is the biggest competition in my life."
"Now I have really good feelings about it [Rio]. This was the first big competition of the summer, Rio will be the second one. It was great to start with this medal, I feel I have the chance to do well there."
Women's 400m T34
Gold: Veronika Doronina, Russia
"I feel super, I set my new personal record, three seconds less than the previous one so I am really satisfied with this."
"I saw the English [Carly Tait] very close to me towards to finish line and to beat her I gave my best with all my strength right at the end of the race."
"Now I will have two weeks of break, then I will try to prepare Rio the best as I can."
"Here in Grosseto I will compete in the 800m, and surely I will go for the hat trick after my gold in 100m and today's 400m. I feel stronger in 800m, it's my favourite. These two gold medals [100m and 400m] were just a warm-up."
Men's 1500m T38
Gold: Louis Radius, France
"The track was fairly good, a little bit hard. After the first 500m it felt better, even if it was hot. It was a bit heavy mentally, because I knew this was about Rio."
"I have a lot of respect for my opponents, I came here knowing that I have won [silver at] the World championship and that I have the European record, but in the 1500m we are all levelled at the start."
"My training is a continuous one that should allow me to reach my peak for Rio. This week I am in my resting time, I did not train, I did the 1500m like that."
"For Rio, I hope to break the European record and I will try to break the world record too. I would like to leave with a medal."
Men's 100m T52
Gold: Beat Boesch, Switzerland
"To get another gold again after two years is very good for me, of course to win is always nice but I'm not that happy with my performance because the time I set is too slow."
"I was too slow at the start and then I tried to be faster especially in the last part which was OK, but the wind was just too strong to recover all that time lost at the start. But it's OK, this was another good step in my preparation which is focussed on Rio Paralympics. Now the level of my preparation is that not high, it is going to get more and more as I will approach Rio."
"I will train in Switzerland in June and July, then we'll come back here in Grosseto and practise on this same track during the training camp for two weeks in August. There's still some time, three months, before Rio so I hope I won't crash and won't get injured again like I did when I broke my leg before the Paralympics in London."