Hannah Cockroft adds Birmingham 2022 gold medal to her CV
Wheelchair racer leads England podium sweep as first evening of track events at the Commonwealth Games sees another English triumph and win for Wales
03 Aug 2022
Imagen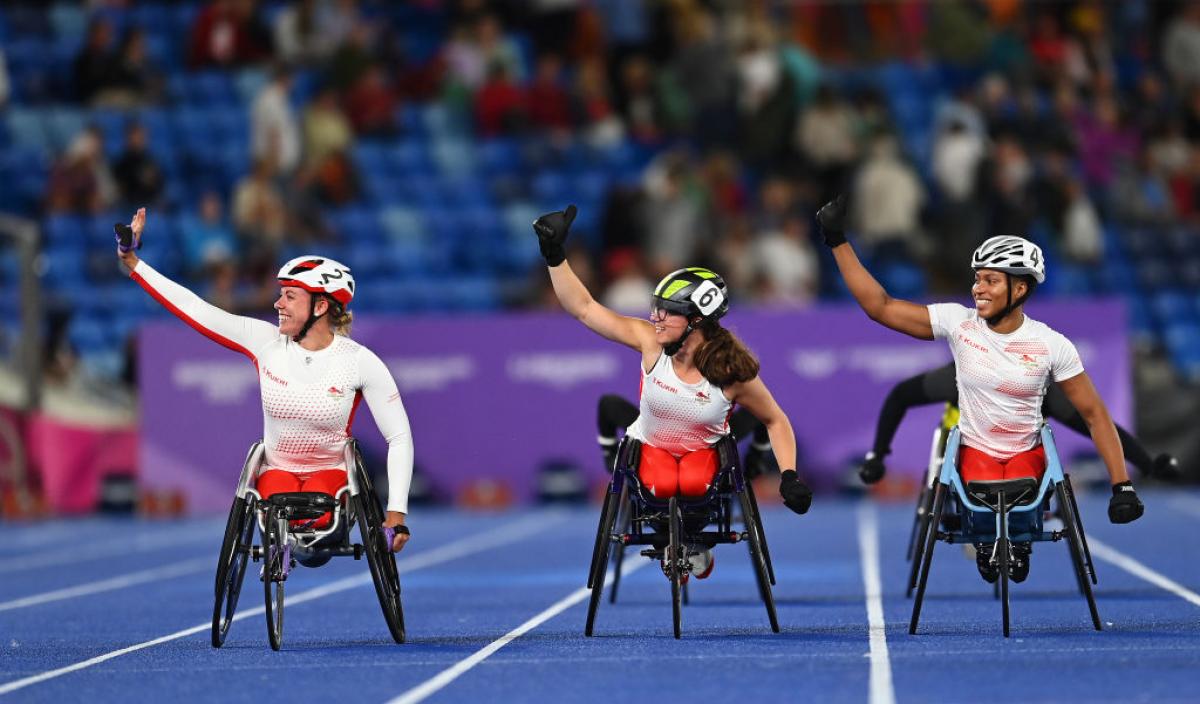 Ⓒ David Ramos/Getty Images
By Mary Barber| For World Para Athletics
It has been a long wait for England's Hannah Cockcroft, but she is finally a Commonwealth Games champion after storming to victory in the women's 100m T33/34 with her teammates alongside her in silver and bronze.
The seven-time Paralympic, 11-time Worlds and three-time European champion secured the one title that was missing from her collection: the Commonwealth Games, which she won on the first day of the track and field competition at Birmingham 2022 on Tuesday (2 August).
The wheelchair racer dominated from the start of the race to finish in a new Games record of 16.84. It was a clean sweep of the medals for England, to the delight of the home crowd at the Alexander Stadium, with Kare Adenegan in silver and Fabienne Andre bronze. 
Cockcroft has waited for many years to make her debut at the Commonwealth Games since her events were not part of the programme in previous editions. The 30-year-old said before the race that she cried when she heard that it had been included in Birmingham.
"It is finally my chance on this stage, and I'm so thrilled that I've now got all four titles," she said. "I've been waiting 15 years, with 11 of them international, and I am so thrilled that I did it.
"The competition is getting harder and harder every year and to come out on that stage and you hear all these people cheering for you and your team, you have just got to soak up the moment.
"My race went to plan. I knew I had to get a good start as Kare's a fantastic starter. I just accelerated all the way through, and I did a quicker time than I thought I would, so I am so thrilled."
Competing in front of spectators at the major international event with an integrated Para sports and non-Para sports programme also had an impact.
"I think because there were no spectators at the Tokyo 2020 Paralympics it has made this event even more important, even bigger," she said.
"We have a massive opportunity here to leave a legacy and to show not just England, and not just Great Britain, but the whole world that Para sport is enjoyable and is for everybody. Everyone can watch it and enjoy it and there is a sport for everyone to get involved with. 
"Hopefully, there will be people watching at home today, at either me or Kare or Fabienne, or watching the other Para sports, and they'll come through in four years' time. I'm so proud to be a Paralympian."
Brilliant Breen 
At the Commonwealth Games athletes with and without disabilities from the same country compete alongside each other with their medals combined in the same tally. At Birmingham 2022 there are 4,500 athletes from 72 nations and territories competing in 19 sports, with eight Para sports – the most ever.
Earlier in the evening, Olivia Breen earned a gold in the women's 100m T3738 to win Wales' first track and field medal at Birmingham 2022.
The Gold Coast 2018 Commonwealth Games champion in the long jump, Breen led from the front to finish in a personal best time of 12.83. Paralympic champion Sophie Hahn from England took silver with Australia's Rhiannon Clarke bronze.
"It's taken nine years and I've waited for this day. I feel absolutely on top of the world. This is the best day of my life," Breen said.
England's Emmanuel Oyinbo-Coker also claimed a stunning victory in his debut Commonwealth Games in the men's 100m T45-47. He crossed the line in 10.94 to set a Games record and a career best time. 
The 20-year-old held off his teammate Ola Abidogun, who took bronze and a seasons' best in 11.13, with Australia's Jaydon Page claiming silver.
There were jubilant scenes from the stands as Oyinbo-Coker raced over to celebrate with the 20 members of his family who had travelled from London to the West Midlands city to watch him compete. His emotional nine-year-old brother charged towards him to give him a hug.
"It's been amazing, the race went perfectly to plan, and I just loved the atmosphere with everyone cheering and screaming, it was really motivating," said the athlete. 
"I'm just so happy that I could put on a good show here and especially for my family who came from London. I am studying at Loughborough [University] so I don't get to see them very much, so when my little brother sees me, it is very emotional. He was in tears. 
"I am his motivation, and he is my motivation. In school he is always talking about me; he wants me to be the best and he wants to aspire to be like me.
"I want to make him proud. I want him to be able to look up to me and think, yeah, I want to be like my brother."
Schedule, results and all medallists from this year's Commonwealth Games can be found here.