Hayes targets sub-12 second 100m in Sao Paulo
The South African visually impaired sprinter is hoping to run the perfect race at the IPC Athletics Grand Prix later this month.
21 Apr 2015
Imagen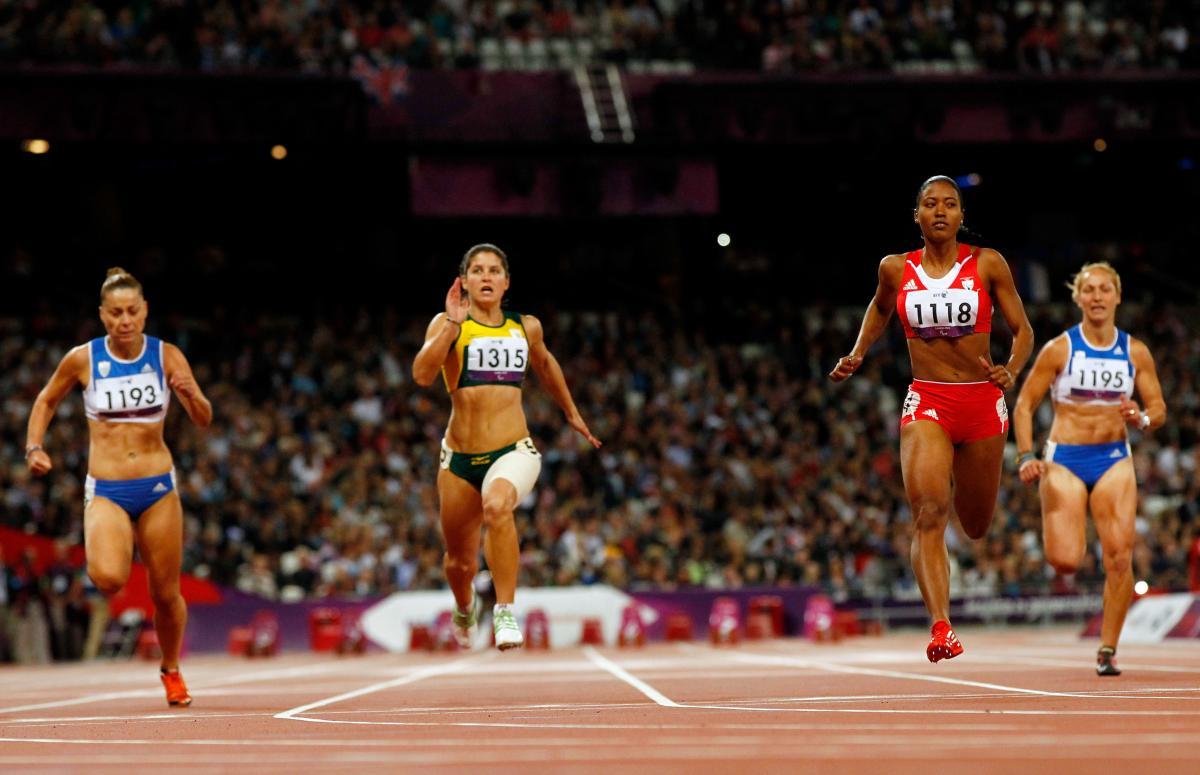 ⒸGetty Images
By IPC
"I wanted to step out of athletics as a top achiever but I realised that I didn't want to look back thinking I should have gone further, so I decided to give it a try."
Already 2015 has seen a whole host of world records and incredible performances in IPC Athletics' Grand Prix events. But there is one para-athlete who has been reaching new marks away from the international spotlight.
South Africa's five-time Paralympic medallist Ilse Hayes has already enjoyed a terrific start to the year, bettering her personal best in the 200m.
In fact just 22 days ago (31 March) she set a new African record in the 200m T13, clocking 24.79 to finish more than two seconds clear of the field at the National Championships for Physically Disabled in Johannesburg, South Africa.
Now the 29-year-old heads to the IPC Athletics Grand Prix in Sao Paulo, Brazil, (23-25 April) with the belief that it is her turn to shine on the world stage.
Clocking a 100m T13 personal best of 12.01 in Nottwil, Switzerland, last year, Hayes is aware that a sub-12 second race – and thus the world record mark of 11.99 – is tantalisingly close. And it is a mark she feels is well within her reach; more so after running 12.22 at the Johannesburg meeting.
"I was a bit disappointed but I can't be too hard on myself as it's my second fastest time this season," she explained a few days after the race. "So I just have to go back and work on some fine tuning and I believe the perfect sub-12 race is around the corner."
That time could well come in Brazil this month when Hayes takes to the Sao Paulo track for the III Caixa Loterias Athletics Open Championships – the fifth in the 2015 series of IPC Athletics Grand Prix events.
"For the first four months of the year this is what we've been working towards," she explained. "Sao Paulo is one of the main competitions that everything culminates in; hopefully I'll have a perfect race there.
"I hope for the best – hopefully my sub-12 will happen there. If all the conditions are perfect I'm definitely aiming for that. I've been focussing on doing well in Sao Paulo so I'm hoping my times reflect that and all my hard work pays off there."
The reigning world and Paralympic long jump T13 champion will be only too aware of the conditions she might face – the South African is no stranger to the Sao Paulo track, having raced there for the first time last year – setting new personal bests in the 100m and 200m in the process.
"I really enjoyed the track there, it's definitely a nice hard solid track and the bend in the 200m also suits my style of running," she added.
Of course Hayes is not just thinking about the here and now. World records are one thing; Paralympic and world medals are another. Silver medallist in the 100m T13 in both Beijing 2008 and London 2012, her thoughts are now on reaching the top of the podium. Returning for her second visit to Brazil, Hayes is already planning ahead, using the trip as a valuable rehearsal for Rio 2016.
"It's nice to have the flight there and [experience] the preparations for Rio with the time zone and stuff like that," she explained.
But before that there is the small matter of October's IPC Athletics World Championships in Doha, Qatar. World champion in both the long jump and 100m T13 four years ago in New Zealand, Hayes successfully retained her long jump title in Lyon, France in 2013 – but missed out on sprint gold to Ukraine's Olena Gliebova.
"After silver in 2013, it's definitely a big target to get to the top of the podium," she added. "I'm going to improve my times and obviously set a benchmark for myself to work towards for next year. I'm definitely aiming to improve on the 2013 World Championships."
At 29, Hayes may be one of the older athletes in the field, but she believes her experience – which includes three Paralympic Games and four World Championships – stands her in great stead. She had planned to retire after the London Games in 2012, but quickly realised that there was even more she could achieve.
"I wanted to step out of athletics as a top achiever but I realised that I didn't want to look back thinking I should have gone further, so I decided to give it a try.
"I started at a young age on the international circuit so I think that's to my advantage. As I'm getting older my times are getting better. I don't want to look back and think I should have done this or that. I'm just using the opportunity to give everything while I can."
Hayes will be one of 350 athletes from 19 countries who will compete at the IPC Athletics Grand Prix in Sao Paulo, Brazil, between 23-25 April 2015.