Imagen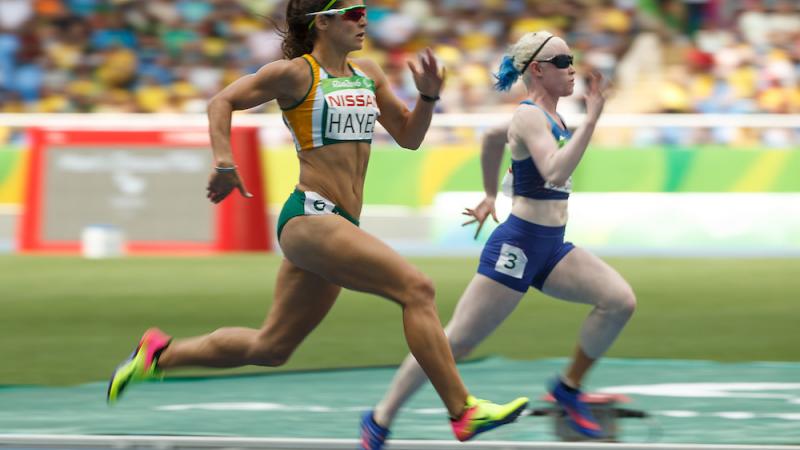 For a number of months in 2015, Hayes was the world's fastest Para athlete after clocking 11.89 seconds for the 100m T13 at the Grand Prix in Sao Paulo, Brazil.
Although Cuban T12 sprinter Omara Durand took Hayes' title later that same year, her world record stood until May 2016 when it was broken by Ukrainian newcomer Leila Adzhametova.
At her fourth Paralympic Games in Rio, Hayes won her second successive silver medal in the 100m T13 (11.91), missing out on top spot to Adzhametova. The South African also won silver in the 400m T13 (56.49) behind France's Nantenin Keita.
At her first Paralympic Games in Athens in 2004, the South African took 400m T13 (1:00.17) bronze. Four years later, she won her first Paralympic gold in the long jump T13 (5.68m) at the Beijing 2008 Paralympic Games and also won 100m T13 (12.45) silver.
She defended her long jump (5.70m) title at London 2012 and also claimed another Paralympic silver in the 100m T13 (12.41m).
Away from the Paralympic Games, Hayes has competed at five World Championships, making her debut in 2002. During this time she has won 11 medals, including six world titles. Most recently she won 100m and 200m gold at the 2015 edition in Doha, Qatar.
Aged seven, Hayes was diagnosed with Stargardt's disease - a condition which affects the central vision and the ability to see basic detail.
After getting her first taste for the sport at school, she took up Para athletics in 2001 and a year later won her first world title – over 400m – at age 15.
In 2013 she was awarded the Order of Ikhamanga by the President of South Africa Jacob Zuma for her sporting achievements and was named Sportswoman of the Year with a Disability at the 2013 Western Cape Sports Awards.
Off the track, Hayes has completed a Sports Science degree and then her honours in Pediatric Sciences.
Photo Gallery
Imagen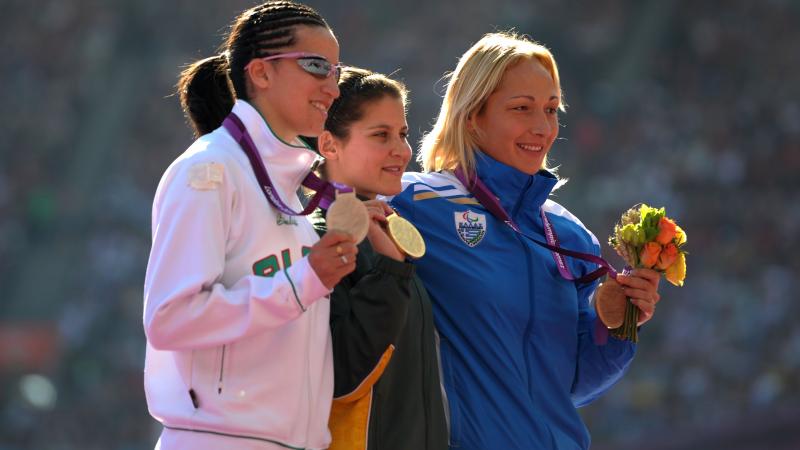 Imagen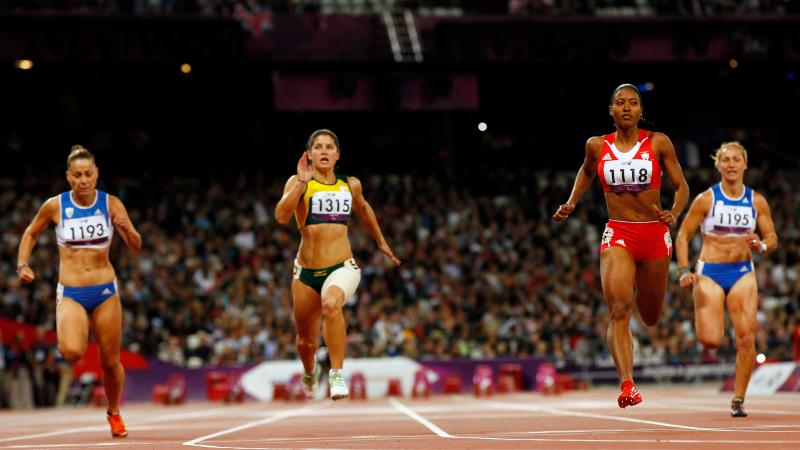 Results
IPC Athletics World Championships Villeneuve d'Ascq 2002 (Villeneuve d'Ascq, France)

| Event | Medal | Unit | Date | Rank |
| --- | --- | --- | --- | --- |
| Women's 100 m T13 | | Heat 1 | | 2 |
| Women's 100 m T13 | | Final Round | | 3 |
| Women's 400 m T13 | | Final Round | | 1 |
| Women's Long Jump F13 | | Final Round | | 4 |
IPC Athletics World Championships Assen 2006 (Assen, Netherlands)

| Event | Medal | Unit | Date | Rank |
| --- | --- | --- | --- | --- |
| Women's Long Jump F13 | | Final Round | | 5 |
| Women's 400 m T13 | | Final Round | | 3 |
| Women's 400 m T13 | | Heat 2 | | 2 |
| Women's 200 m T13 | | Final Round | | 3 |
| Women's 200 m T13 | | Heat 1 | | 2 |
| Women's 100 m T13 | | Heat 2 | | 2 |
| Women's 100 m T13 | | Final Round | | 9999 |
2011 IPC Athletics World Championships (Christchurch, New Zealand)

| Event | Medal | Unit | Date | Rank |
| --- | --- | --- | --- | --- |
| Women's 100 m T13 | | Final | 2011-01-22 | 1 |
| Women's 200 m T13 | | Final | 2011-01-26 | 3 |
| Women's Long Jump F12/13 | | Final | 2011-01-27 | 1 |
IPC Athletics World Championships (Lyon, France)

| Event | Medal | Unit | Date | Rank |
| --- | --- | --- | --- | --- |
| Women's 100 m T13 | | Final 1 | 2013-07-24 | 2 |
| Women's Long Jump T13 | | Final 1 | 2013-07-25 | 1 |
IPC Athletics 2015 World Championships (Doha, Qatar)

| Event | Medal | Unit | Date | Rank |
| --- | --- | --- | --- | --- |
| Women's 200 m T13 | | Final 1 | 2015-10-27 | 1 |
| Women's 100 m T13 | | Heat 1 | 2015-10-29 | 1 |
| Women's 100 m T13 | | Final 1 | 2015-10-29 | 1 |
World Para Athletics Championships London 2017 (London, Great Britain)

| Event | Medal | Unit | Date | Rank |
| --- | --- | --- | --- | --- |
| Women's 200 m T13 | | Final 1 | 2017-07-16 | 2 |
| Women's 100 m T13 | | Final 1 | 2017-07-17 | 2 |