World's fastest para-athlete Hayes prepares for Grosseto Grand Prix
The South African Paralympian became the world's fastest female para-athlete earlier this year and is now aiming to go even faster.
09 Jun 2015
Imagen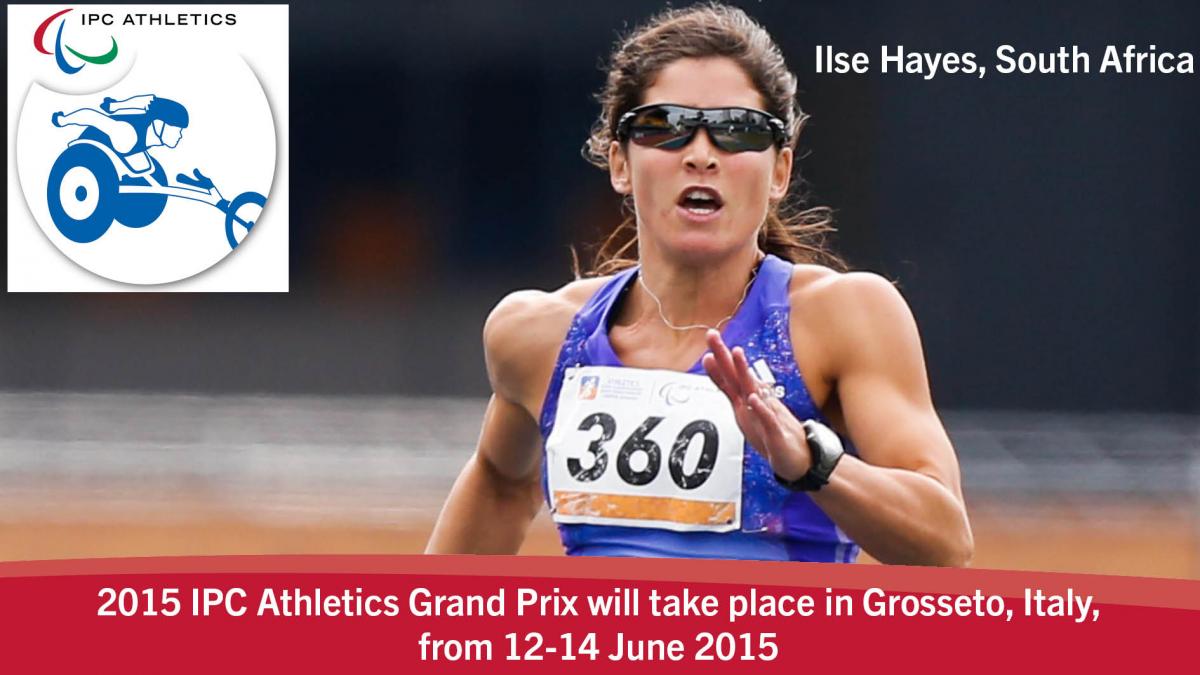 ⒸGetty Images
By IPC
It took just 11.89 seconds. In that short space of time, South Africa's visually impaired sprinter Ilse Hayes became the fastest female para-athlete of all time.
Quite an accolade for someone whose most recent major achievements have centred around the long jump, but a vindication of the old-fashioned quality of sheer hard work – and plenty of it.
Hayes became the world's fastest when she sprinted to victory at the IPC Athletics Grand Prix in Sao Paulo, Brazil, less than two months ago.
The 29-year-old clocked 11.89 seconds in the 100m T13, 0.02 faster than the previous global best set by China's T12 world record holder Guohua Zhou. Suddenly Hayes was the world's number one as well as the Paralympic and world champion in the long jump T13.
The South African now heads to Grosseto, Italy, for this week's IPC Athletics Grand Prix (12-14 June) determined to use the self-belief and extra confidence she feels after that memorable race in Brazil to help her go even quicker.
"Getting the record in Brazil motivated me to train even harder," she explained. "Records are there to be broken, so I'm not going to stay the fastest female forever, other people will hopefully challenge that. So it's a motivation to keep at the top.
"There's nothing stopping me from doing it again. I just want to train harder, and maybe do it at an even bigger event – like the World Championships or the Paralympic Games in Rio."
Hayes believes the reason behind her new found speed is simple – all the hard work she put in during training sessions in South Africa paid off. There was no magic formula – but what did help her was her belief in her abilities.
With the South African summer season behind her, the plan had always been to peak at the Sao Paulo Grand Prix. In fact the build up to the meeting had been going so well, Hayes knew that it was not going to be long before she ran under 12 seconds.
In 2012 and 2013 injuries hampered the amount of training she could do; likewise in 2014 a hamstring strain meant she was never able to feel at her absolute best. Now, everything was falling in to place at just the right time.
"Mentally I was in a really good place for it," she explained. "I've been working really hard every session. This whole season has been going so well, it's like a different confidence. I knew I was capable of doing it - I was really confident about it and that is where the difference came in; I had a lot of belief.
"This is the longest period I've managed to continuously train without any major injuries that keep you off the track or out of the gym," admitted Hayes.
"I've also been working hard – like all athletes – on stuff like nutrition and recovery. I've always done it, but it was really specific about all that kind of stuff and it kind of paid off.
"My belief also gave me momentum. As the season got better I started believing and thinking 'Well, this is awesome, this can be done'. It was fantastic, I'm chuffed that I managed to peak there. I was really surprised about the time. All my hard work paid off."
The magnitude of Hayes' achievements did not sink in immediately – going over the line she was unable to see the time on the board. It was only later that evening when she had time to think about her new status as the world's fastest female.
"I just thought 'Wow', I felt really privileged and satisfied because of all the time we've been putting in, all the sacrifices and early nights. It was a feeling of gratitude," she said.
Returning to South Africa from Brazil, Hayes was inundated with messages of congratulations and support. Television and newspaper interviews followed, as well as the need to sit down with her coach and revise her targets; to keep challenging herself.
So now Hayes is ready to start the next phase of her preparations for this year's World Championships as she takes on the 100m and 200m in Grosseto.
"Obviously I am going to go and give it my all," she added. "It is important for me to get things right that we've been working on in past months in a competition set up.
"I want to give hope to people, that if you really believe you can do anything then it's possible. Hopefully that message came through. I'm just excited to see what the future holds."
Talent and hard work are prerequisites of almost every athlete's make up, but as Hayes has demonstrated already this year, a little confidence goes a long way.
Hayes will be one of 475 athletes from 38 countries lining up in Grosseto for the eighth in the series of nine Grand Prix taking place around the world this year, culminating with the IPC Athletics Grand Prix Final in London, Great Britain in July.
For accreditation to the Grosseto Grand Prix please contact Luca Cassai at [email protected]