Healthy McGrory ready to close gap
US racer looks to defend Tokyo Marathon title amid stiff competition from Schar and McFadden
19 Feb 2018
Imagen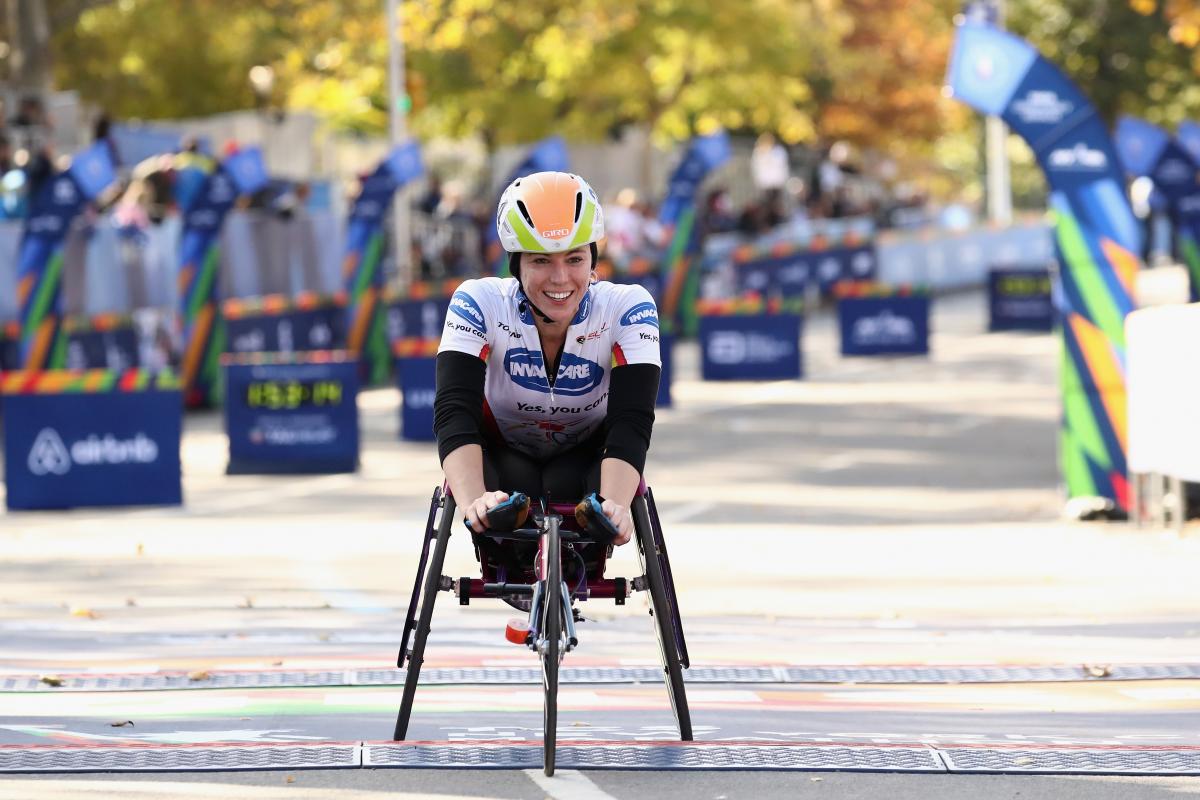 ⒸGetty Images
"It's on my goal sheet to finish top three in all of them, to win more than one this year"
US wheelchair racer Amanda McGrory believes she is enjoying the best form of her life as she looks to defend her Tokyo Marathon title in Japan on Sunday (25 February).
McGrory saw off Swiss racer Manuela Schär in a sprint finish 12 months ago to seal her first marathon win since 2011, and she is determined to repeat that feat once again.
"I started off my career really strong in my first few years on the international circuit and kind of had a little bit of a dip around London 2012," explained McGrory, who won 5,000m T54 Paralympic gold back in 2008, but failed to medal at the Games four years later.
"That was super challenging for me. It took me a long time to figure out what was working and what wasn't and to come back from that.
"I do feel like I'm really riding a high now from the past couple of years and I hope I can carry it into Tokyo."
Before the Rio Paralympic Games, McGrory sat down with her coach Adam Bleakney and had "a big long talk about the way things were going and how I was performing versus how I wanted to be performing."
In a bid to become a serious medal contender again, McGrory decided to "scrap everything," which included altering her seating position, her stroke and her diet.
It was a difficult decision that fortunately paid off – McGrory won one silver and two bronze medals at Rio 2016, then after winning in Tokyo last year, she went on to finish second in the Boston, London and Chicago Marathons as well as third in New York. In between marathon racing, she claimed three more medals at the London 2017 World Championships.
Schär and US racer Tatyana McFadden also clinched marathon wins in 2017. While bets are on the same trio filling the podium in Tokyo, the order in which they finish is less predictable.
"I definitely think that we've been getting closer and closer together over the past few years," agreed McGrory.
"There used to be a pretty big spread between first, second and third and I think it's one of those things where the competition drives it. Nobody wants to be getting dropped two or three miles in to a marathon to push the whole thing themselves, so all three of us - and my other teammates, Susannah (Scaroni) and Chelsea (McClammer) - have been working really, really hard to be able to hang in there and close those gaps."
Health issues forced McFadden – who has 17 major marathon wins to her name - to withdraw from last year's Tokyo marathon; 2017 was also the first time the course was altered.
However, McGrory does not believe that McFadden's lack of experience on the new route will provide her with any notable advantage.
"Tatyana is such a strong competitor, I'm not sure that that would be an advantage for me," admitted McGrory.
"She definitely does her homework and she will be ready for the course. She's been looking at maps and elevation, and we've been talking a little bit about it.
"At the end of the day we are teammates; it definitely comes down to every woman for themselves at the end but she's an incredibly strong competitor and she's also an incredibly strong teammate so if I can work with her and use that to my advantage, it's just going to be better for both of us."
Meanwhile Schär's victories in London, Berlin and New York in 2017 means she currently sits top of the Abbott World Marathon Majors Series XI with 84 points, with McGrory second (41 points) and McFadden third (41 points).
Victory for McGrory would keep her hopes of a series win alive, with Boston and London still to come. But at the moment the focus is purely on Japan.
"I'm hanging on tight to my second place spot in the Majors, and I'd love to come out of it with a win and keep myself in the running for that as well," acknowledged the 31-year-old.
"But I know that when I get too caught up on what I need to do looking out too far, it diverts my focus from what I need to be doing at the time.
"I want to run the best race in Tokyo that I can. I want to go for that win if I can get it. Then we will look at Boston and London. It's on my goal sheet to finish top three in all of them, to win more than one this year. Those are the big goals sitting out there in the distance and I've got to follow the right steps to get to them before I can really focus on them too much."