Holt aims to lay down a marker at Canberra Grand Prix
The 14-year-old double world champion is aiming to make a big impression at the first IPC Athletics Grand Prix of Paralympic year.
04 Feb 2016
Imagen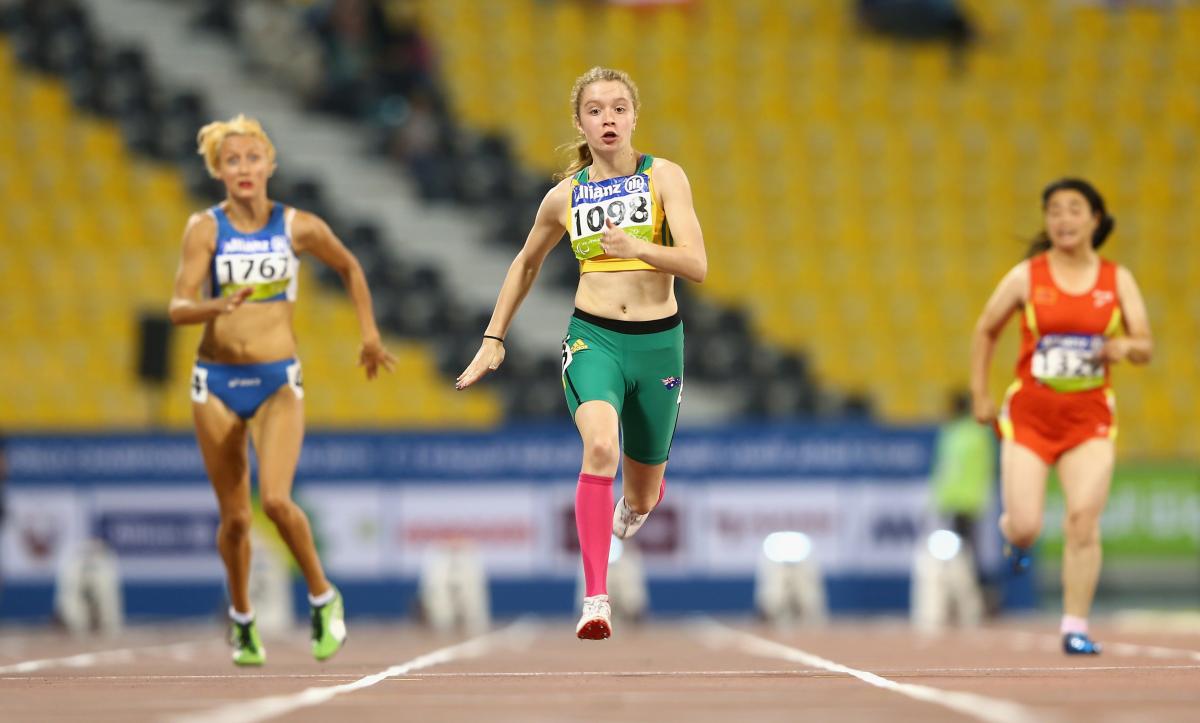 ⒸGetty Images
By IPC
When Isis Holt returned home to Australia after the 2015 IPC Athletics World Championships she was not empty handed. The 14-year-old not only had two gold medals in her suitcase, she also had her homework assignments.
Holt clinched 100m and 200m T35 gold in Qatar, Doha – both in world record time. It was the first time she had raced against her biggest rivals – it was also the first time she had left Australian soil.
That may seem more than enough for anyone to deal with, let alone a young athlete representing her country for the first time. Still, remaining grounded – and maintaining some semblance of normality – is what Holt does best.
"It was quite scary, the idea of competing overseas in a country I'd never heard of against athletes that were potentially years older than me," admitted the Year Nine student from Melbourne, Australia.
"Then as I got closer and closer to the start of the competition it just became really exciting. When I went away my teachers made sure that I knew what I needed to do homework-wise. They also made sure that I was comfortable with the amount of work that I had and that I was confident that I would get it all done.
"My teachers said if you don't get it all done that's absolutely fine, just do your best. I think that was really good to know - that I didn't have to have the pressure of school as well as running at a World Championships. And I loved the idea of being able to keep up my school work while I was away."
This weekend (6-7 February) Holt takes to the track at the IPC Athletics Grand Prix in Canberra, her first major event of what will undoubtedly be her biggest year of para-athletics yet. Laying down a marker early in the season is a key target.
"That's one thing I want to go in to Canberra and be able to achieve," she explained.
"I want to be able to go in and be confident with what I run there. I want to be able to leave there and say I'm happy with that and I'm set for the year. I don't want to be uncertain at all about what could happen next."
With youth on her side, and two global titles already under her belt, there is no reason Holt should feel uncertain. The confidence she gained from winning in Qatar has certainly helped.
"Now it feels like I almost can do anything and I have confidence in myself that I will do well - whether it be a personal best or just maintaining the speed I'm at," she added.
Holt may have only started competing seriously in 2014, having previously taken part in athletics at school, but when she stepped out on to the Doha track and stormed home to gold, she looked every bit the seasoned athlete.
"It was before the start that I was nervous – in the call room, where there wasn't much to do except sit and wait. But once I got out to the start line I got into the mind set of looking at it from above; thinking of it as something really small, like a school event. I was confident too that all I'd done leading up to then was enough."
There had been signs earlier in the year that the young sprinter was one to watch. In March she smashed the 100m and 200m T35 world records – an achievement which provided some reassurance, given how little she knew about her rivals.
Holt did take the chance to speak to Great Britain's Maria Lyle, the 15-year-old European champion who won double silver in Qatar, as the pair waited for their medal ceremony.
"Hopefully we are able to relate to each other in some way. Our lifestyles, our competition with each other could go on for a while and that's really exciting. It's nice having people your own age - especially around international competitions like that. It makes it feel a little less daunting.
"We talked about snow and how cold the weather gets for her compared to Australia; about how much we like Oreos (biscuits). It wasn't about athletics, or times, or personal
bests - it was just very normal."
Indeed, Holt's quest for normality continued when she returned home.
"Coming back to friends who still treated you exactly the same was everything I wanted. I didn't want everything to be different, I wanted everything to stay the same and as normal as could be."
She may be like any other schoolgirl, enjoying the company of friends and getting her homework done on time. But Holt breaks the mould when she gets on the track.
Live results from Canberra can be found at athletics.com.au
Sport fans from around the world can now buy their Paralympic tickets for Rio 2016 from authorised ticket resellers (ATRs).
The IPC's Global ATR is Jet Set Sports, and Rio 2016 tickets and packages can be purchased on the CoSport website.
Residents of Brazil can buy 2016 Paralympics tickets directly from the Rio 2016 website.