#ThrowbackThursday with Australia's Louise Sauvage
The Australian wheelchair racing great looks back at the Sydney 2000 Paralympics and talks about her career now as a coach
04 Feb 2016
Imagen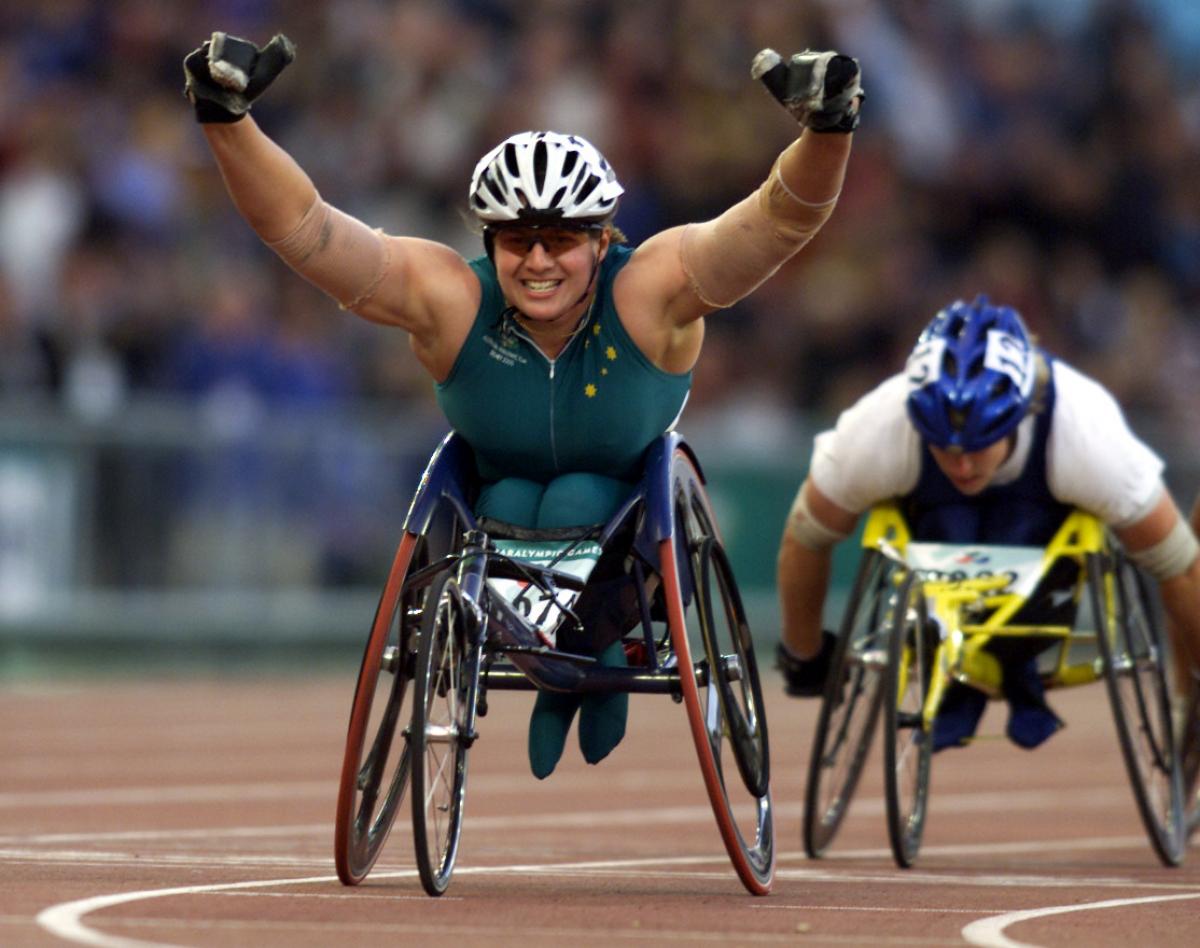 ⒸGetty Images
By IPC
It's 2016, it's Paralympic Games year and it's time to take a look back at the memorable moments from Games gone by as we count down to Rio 2016 with our new monthly series, #Throwback Thursday.
Each month we will dig around the archives for an image from a previous Paralympic Games, and reveal a little more about what happened then…and what the athletes in question are doing now.
Australia's multiple Paralympic champion-turned top wheelchair coach Louise Sauvage starts off our series.
The 42-year-old topped the podium at the 1992, 1996 and 2000 Paralympic Games, winning nine gold medals. She is regarded as one of Australia's greatest ever athletes, with numerous accolades to her name, including 'World Sportsperson of the Year with a Disability' at the inaugural Laureus Sports Awards in 2000. She was also inducted into the Visa Paralympic Hall of Fame in 2012.
Sauvage is undoubtedly an inspiration to many and she continues to put her phenomenal talent and experience to great use, coaching the likes of Australia's Angie Ballard and Madison de Rozario. Both won gold at the 2015 IPC Athletics World Championships and will be out to impress again this weekend (6 and 7 February) at the season-opening IPC Athletics Grand Prix in Canberra, Australia.
Sauvage winning gold at the Sydney Games in 2000
"It's any athlete's dream to have a home Games at the pinnacle of your career, so it was fantastic and the first time my family had gone to a Paralympics to see me, even though I had gone to two Games prior to that.
There was a lot of pressure, but I was just so proud to be Australian. I think it was one of the first Games to have big crowds and sell-outs for certain events, like basketball, rugby and tennis. It was pretty unheard of at that time for Paralympic sport, so I was very proud to be Australian and to know that we hosted such a fantastic Games.
I had a lot of pressure to do well and to win, but I was overwhelmed with the support. I wanted to win gold in front of my home crowd. It was unheard of, the amount of support we got from the general public and the media.
In my first race at the Games I won silver and I think everyone was a little stunned but I backed it up and got two golds, one in the 1500m and one in the 5,000m. I knew I was on track, but it was a big relief to a certain extent. I was pretty sure I knew I could do it but you just never know. All that work paid off.
After Sydney I wasn't sure about my future plans, but I kept going although I was pretty sure I was going to have to retire because of injuries and ongoing problems. So in 2003 I started a coaching course. Through the Sports Commission I got invited to do a certificate course there, and in 2004 they asked me to continue my studies. But I decided to make that my last competitive year and went back to coaching straight after I retired in Athens.
Over the last 10 to 15 years there have been small changes in my sport: with the chairs and gloves they use. The seating position and push technique has changed a little too. They are all getting a lot faster and it's fantastic.
The kind of support the athletes have now – certainly in my country – is phenomenal and fantastic. There are a lot more specialists on board now to try and get the most out of each athlete – and to help their longevity in the sport too. Even the way I coach now as opposed to the way I was coached is very different - I want to see the athletes compete for as long as they possibly can and be smart about our training.
Both my girls have qualified with an Australian standard so I'm hoping to go to Rio as one of the team coaches. That would be my seventh Games – I've done four as an athlete and two as a coach.
My first Games as a coach (in Beijing) was quite tough, I probably wasn't quite ready for it because a lot of the girls that I raced against were still racing and it was difficult mentally.
Now we travel overseas at least twice a year and I get to see a lot of international races, and it reinvigorates my love of the sport. I still want to be involved at this high level, so it doesn't make me want to get out there anymore but I want to see what I can do to help my athletes get to the top - and stay on top."
Sport fans from around the world can now buy their Paralympic tickets for Rio 2016 from authorised ticket resellers (ATRs).
The IPC's Global ATR is Jet Set Sports, and Rio 2016 tickets and packages can be purchased on the CoSport website.
Residents of Brazil can buy 2016 Paralympics tickets directly from the Rio 2016 website.