Horrie, Bolshakova cap off Rowing Worlds with gold
Australia's Erik Horrie and Russia's Natalia Bolsakova won the men's and women's singles sculls events at the World Rowing Championships.
28 Aug 2013
Imagen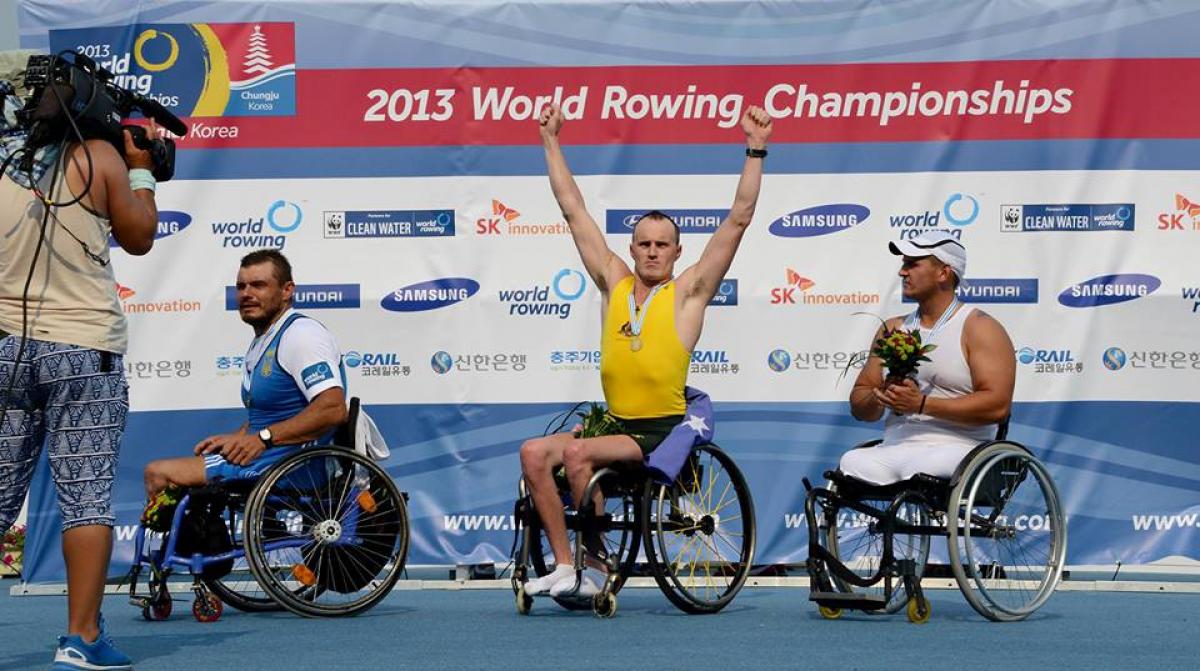 ⒸWorld Rowing
By World Rowing
There was little doubt that Australia's Erik Horrie had the favourite label around his neck. Horrie won his heat two days ago clocking a time that nearly set a new world best.
The finalists in the five para-rowing events at the World Rowing Championships had to replan their schedules, as their finals were pushed forward a day after weather forecasts predicted storms to arrive in Chungju, South Korea on Thursday (29 August).
On Wednesday (28 August), these athletes raced in temperatures reaching 30 degrees Celsius under cloudy skies with almost flat calm conditions with Natalia Bolshakova of Russia annihilating the world-best time in the AS women's single sculls by nearly 12 seconds. Australia's Erik Horrie did the same, knocking 10 seconds off the world-best time in the AS men's single sculls.
AS women's singles sculls (ASW1x)
In the heats two days ago, 2013 newcomer Birgit Skarstein of Norway recorded the fastest time with Natalia Bolshakova of Russia looking to be Skarstein's stiffest competition. This is also Bolshakova's first year rowing and these two athletes have burst onto the scene both with wins during the season against Paralympic champion Alla Lysenko of Ukraine.
Lysenko, who is having a rather inconsistent season, needed the repechage to make it through to the final.
Skarstein shot out of the start but Bolshakova had the leading edge. Through the middle of the race, Skarstein still had the edge as these two boats battled it out at the head of the field.
Coming into the final sprint both of these scullers took their stroke rate to 43 with Bolshakova using a more rounded stroke style. The pressure was intense as Brazil's Claudia Santos came through to overtake Lysenko and move into the bronze medal spot. In a field where the standards keep on rising Bolshakova had upped the bar.
The Russian had set a new world-best time by 12 seconds and become a world champion. The new world-best time had become 5:13.95 breaking the former time, set in 2009 by Lysenko in 5:25.17.
At the finish, in a mark of true sportsmanship, Bolshakova handed an emotional Skarstein a Russian doll.
Results: RUS, NOR, BRA, UKR, ISR, RSA
AS men's singles sculls (ASM1x)
There was little doubt that Australia's Erik Horrie had the favourite label around his neck. Horrie won his heat two days ago clocking a time that nearly set a new world best.
But Horrie, who was second at last year's Paralympic Games, was yet to meet Paralympic bronze medallist, Alexey Chuvashev of Russia. Chuvashev won his heat, also in a very good time, to qualify for the final.
A powerful start by Igor Bondar of Ukraine got him into the lead over his more seasoned competition. Could Bondar sustain it? Bondar has been competing internationally since 2012 and was giving it his all in this race.
Coming through at the 500m mark, though, Horrie pushed into the lead. Bondar, meanwhile, was holding his own and remained ahead of Chuvashev in third and reigning world champion Tom Aggar of Great Britain in fourth.
Now easily at the head of the field Horrie, 31, looked smooth, relaxed and together. Crossing the line in a time of 4:35.98, Horrie had smashed the world-best time.
Behind Horrie, Bondar had pulled off a stunner to finish second. Chuvashev held off Aggar to take third. Horrie's time had been 10 seconds faster than the former world best of 4:45.02 set by Huang Cheng last year at the Paralympic Games.
Bonder's time of 4:42.62 was also below the Cheng's time.
Results: AUS, UKR, RUS, GBR, KOR, ITA
TA mixed doubles sculls (TAMi2x)
France and the USA both won their heats giving them a direct path to the final. All of the other crews had to do an extra repechage race.
What would that mean for energy levels today? A tightly packed field at the start showed the talent in this race. Australia's Gavin Bellis and Kathryn Ross then got their nose in front.
Bellis and Ross had gone through a very tight heat two days ago against France and it looked to be happening again today with the USA and Ukraine also very much on the pace.
Ukraine and Australia both had gone through an extra race by competing in the repechage, but it was doing them no harm.
Then Bellis and Ross began to inch away from the pack with France's Perle Bouge and Stephane Tardieu working hard to hold on. Meanwhile, Paralympic bronze medallists Robert Jones and Oksana Masters of the USA were going stroke for stroke against Iryna Kyrychenko and Dmytro Ivanov of Ukraine.
At the line Bellis and Ross had earned the world title, France were in second and Ukraine had just passed the USA to become 2013 bronze medallists.
Results: AUS, FRA, UKR, USA, NED, ISR
LTA mixed double sculls (LTAMix2x)
This is the first time that the LTA mixed double sculls has been raced at the World Rowing Championships and the five countries entered raced in a preliminary race.
In that race, Ukraine proved to be the fastest boat. In the final, Kateryna Morozova and Dmytro Aleksieiev of Ukraine followed the same pattern. By the middle of the race the duo had built up enough of a lead to feel a little bit of comfort. Morozova has competed previously in the LTA mixed coxed four while this is Aleksieiev's first year.
Turning the race into a procession Ukraine remained in the lead with Germany's Anke Molkenthin and Marcus Klemp following in second and the USA in third. Ukraine now claim rights to being the inaugural winners of this event.
Results: UKR, GER, USA, KOR
LTA mixed coxed four (LTAMix4+)
In the preliminary race, the reigning Paralympic champions Great Britain showed their pedigree when they won by a handy margin. The British boat contained 2012 Paralympic champions Pamela Relph and Naomi Riches. Riches has not lost a major race since the 2008 Paralympic Games. Joining Relph and Riches in the boat were Oliver Hester and James Fox with coxswain Oliver James.
By the middle of the race Great Britain had slotted into first with Italy in second and South Africa a little way back in third. The Italian crew included celebrated coxswain Giuseppe Di Capua. Di Capua won Olympic gold at the Seoul Olympics on the nearby Han River in 1988. At this time Di Capua was coxing the men's coxed pair. Di Capua just returned to coxing this year after a 17-year break.
In the closing sprint Great Britain kept the pressure on to finish first and less than one second outside of the world-best time. The Italians took second and South Africa held on to the bronze.
Results: GBR, ITA, RSA, USA, KOR, UKR