How I got into para-athletics: Brent Lakatos
The Canadian world champion athletes gives us the lowdown on how he first got into the sport of para-athletics.
25 Feb 2015
Imagen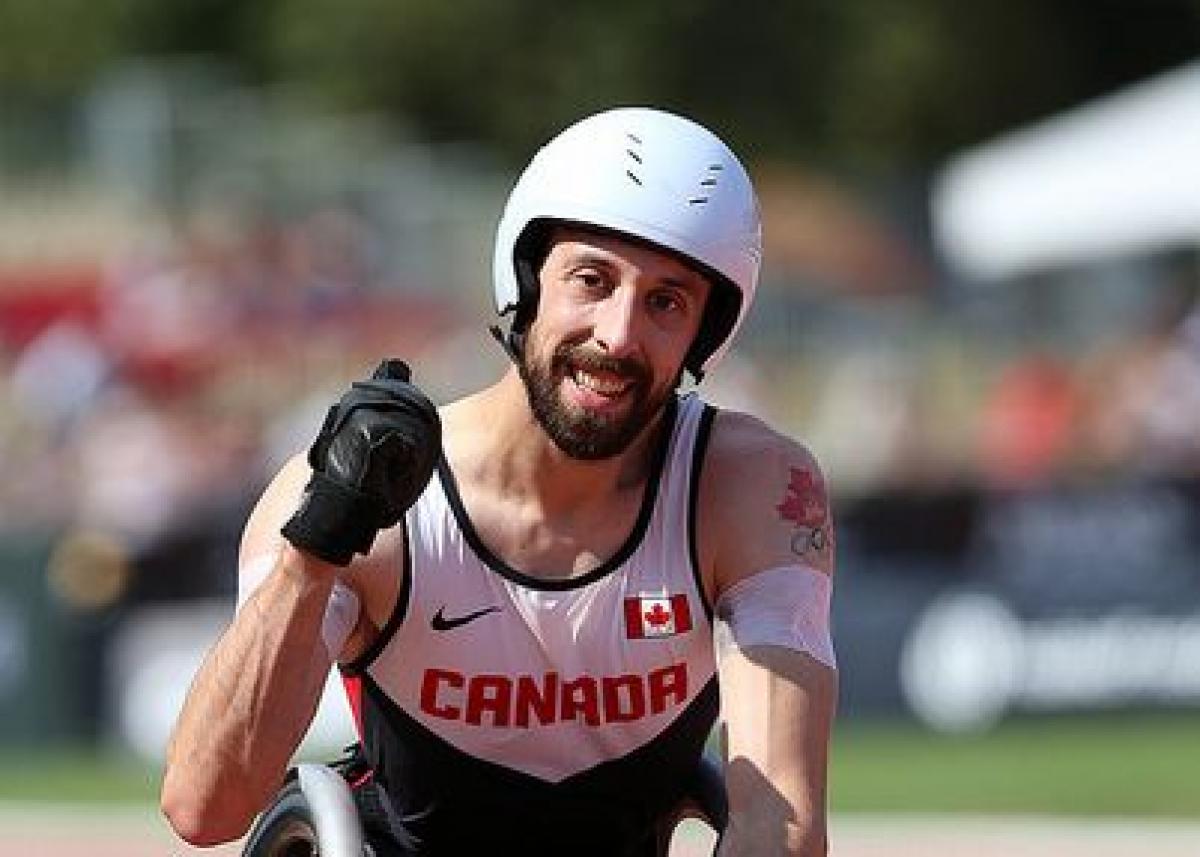 ⒸLyon 2013
By IPC
I'll never forget being on the street and I even had no idea how to get in [the chair]. It felt really weird just putting on the gloves - but just one push and you were off.
With the 2015 IPC Athletics World Championships set to take place in Doha, Qatar in just eight months' time, IPC Athletics continues to delve in to the lives of our global stars and reveal more about what makes them tick.
Here Canada's T53 wheelchair racer Brent Lakatos – a newcomer this year to the IPC Athletics 'Ones to Watch' list – explains what led him in to the sport of para-athletics.
Lakatos clinched three Paralympic silver medals at London 2012, and four gold and one silver at the 2013 IPC Athletics World Championships in Lyon, France. Last May he broke his own world record in the 100m T53 at the IPC Athletics Grand Prix in Nottwil, Switzerland, clocking 14.17.
Here Brent describes how he got into sport.
I was injured in an accident when I was just six-years-old but I was lucky that my family was always pushing me to get involved in sports – even from a young age I loved swimming and downhill skiing.
My parents were involved in sport – my mum played golf, badminton, swimming and my dad played basketball and American Football among other sports. My sister was a really good athlete and went to the University of Illinois on a full swimming scholarship so sport was all around me when I was growing up.
But the one sport that I loved more than most when I was young was wheelchair basketball.
I started playing basketball when I was around 12 and loved it straight away. I loved the feeling of playing a game for fun, playing with your friends and team-mates.
Through basketball I got to know different people – and one of them was Andre Viger. I guess things changed for me when I met Andre – one of the best Canadian wheelchair racers of all time; a superstar.
Andre competed in five Paralympic Games and won 10 medals, including three golds. He was a massive influence for Paralympic sport all over the world but especially in Canada.
Andre owned a wheelchair shop at the time, and I used to go there to buy my basketball tyres. Then he was contacted by a foundation who wanted to bring people in to wheelchair racing – and he thought of me.
He contacted me and I was interested right away – I really liked Andre, he was a great guy, always happy to see you, always interested in what you were doing. I couldn't be happier that my first chair came from him.
The best thing was that the chair that I got happened to be a hand me down from another Canadian legend, Chantal Petitclerc! When I got to know racing and got to know how good she was, it was even better.
When I first got the chair, when I was about 15-years-old, I'll never forget being on the street and I even had no idea how to get in. It felt really weird just putting on the gloves - but just one push and you were off.
That feeling of going faster than ever before – I thought no-one could go faster than this! I had no experience at all of just how fast anyone could go in a chair like this.
A week later, I entered my first race – a local five kilometre event against six or seven other racers. I thought I would win easily…It didn't quite turn out that way. I finished dead last, behind even all the girls!
But from that first race onwards, I was hooked. I would play wheelchair basketball during the winter and race during the summer.
That situation continued until the Canadian Championships in 2003 – where I won the 100m. I was really shocked and surprised as I was racing against people I knew when I was growing up – I never expected to beat them.
Earlier that year, I had tried out for the senior Canadian wheelchair basketball team. I got close but didn't make it so I thought that I really couldn't do any better in that sport.
Having just won the 100m at the national championships, I thought I'd give wheelchair racing a real shot.
In that year of 2004, I tried to qualify for the Athens Paralympics in the 100m. The time that I had to make was way faster than I'd ever gone before, so I was trying all year. It was really important to me as my mum had been diagnosed with cancer earlier that year and said that if I made the team for Athens, she'd be over there to watch me.
In the last qualifying competition, I had two chances to make the team. I was close on the first occasion but just managed to get the time needed to qualify on my last chance.
I had made the team and my mum came to see me compete in the Paralympic Games. From then on, it's been wheelchair racing for me.
Lakatos will be one of around 1,300 athletes from 90 countries competing at the 2015 IPC Athletics World Championships in Doha, Qatar, between 22-31 October.