Invictus Games showcase Para ice hockey
First taste of the sport at tournament for wounded servicemen and women
05 Oct 2017
Imagen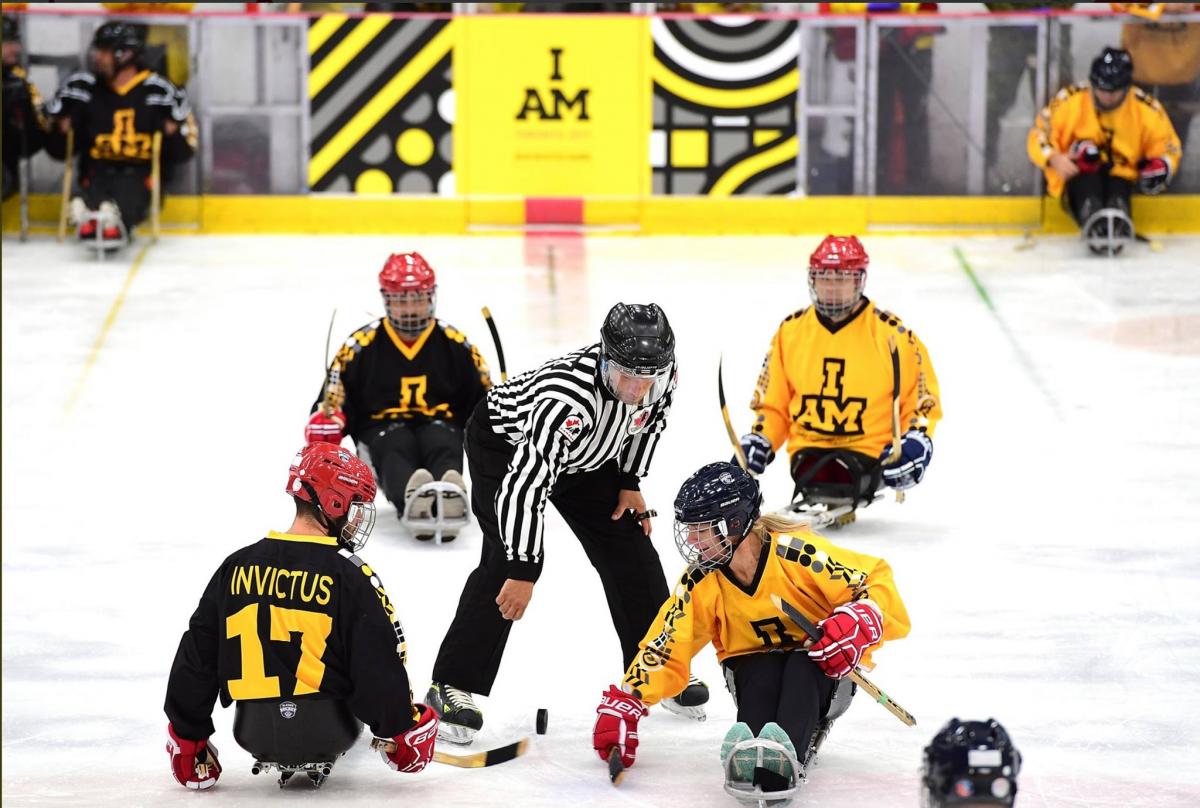 ⒸInvictus Games
By Invictus Games and IPC
"If we can get more people involved, whether they're able-bodied or people with disabilities, in an opportunity like this, where most have not been exposed to the sport — that's what it was all about, letting people know more."
Canadian Kevin Rempel's bronze medal from the Sochi 2014 Paralympic Winter Games sat proudly on display as a symbol of what can be achieved in Para sport as he led a Para ice hockey demonstration at the third edition of the Invictus Games in Toronto, Canada.
As part of the Invictus Games Toronto 2017 Organising Committee, and having recently transitioned from player to advocate, Kevin led two members from each of the 17 nations participating in the Games in a demonstration of the sport.
Paralysed in 2006 after a motocross crash, Kevin used Para ice hockey to help in his rehabilitation. The 2013 World Champion and 2014 Sochi Paralympic bronze medallist hoped to introduce Invictus Games fans to what the sport is all about.
"My main goal now that I'm retired is to grow the sport," Kevin said. "If we can get more people involved, whether they're able-bodied or people with disabilities, in an opportunity like this, where most have not been exposed to the sport — that's what it was all about, letting people know more."
The Invictus Games use the power of adaptive sport to help wounded warriors on their journey to recovery. Established by Prince Harry, the inaugural Invictus Games took place in London, England, in September 2014; the second, and equally successful, Games took place in Orlando, Florida, in May 2016. The Invictus Games Toronto 2017 Organizing Committee was tasked with planning and executing a Games that featured more than 550 competitors from 17 nations participating in 12 adaptive sports.
Last year, it was anticipated that Para ice hockey would be a medal sport at the 2017 Invictus Games. However, even though the Games took place in Canada, most participating nations were not familiar enough with the sport to compose a team.
Rempel hopes that one day it will be a medal sport at the Games, making it the first time a winter sport is introduced. Until then, however, there were plenty of memories made on the ice, as the match ended in a 3–3 tie, and Team Afghanistan experienced ice for the very first time.