IPC staff take on Bonn marathon
Record-number of employees showcase inclusion in hometown
09 Apr 2019
Imagen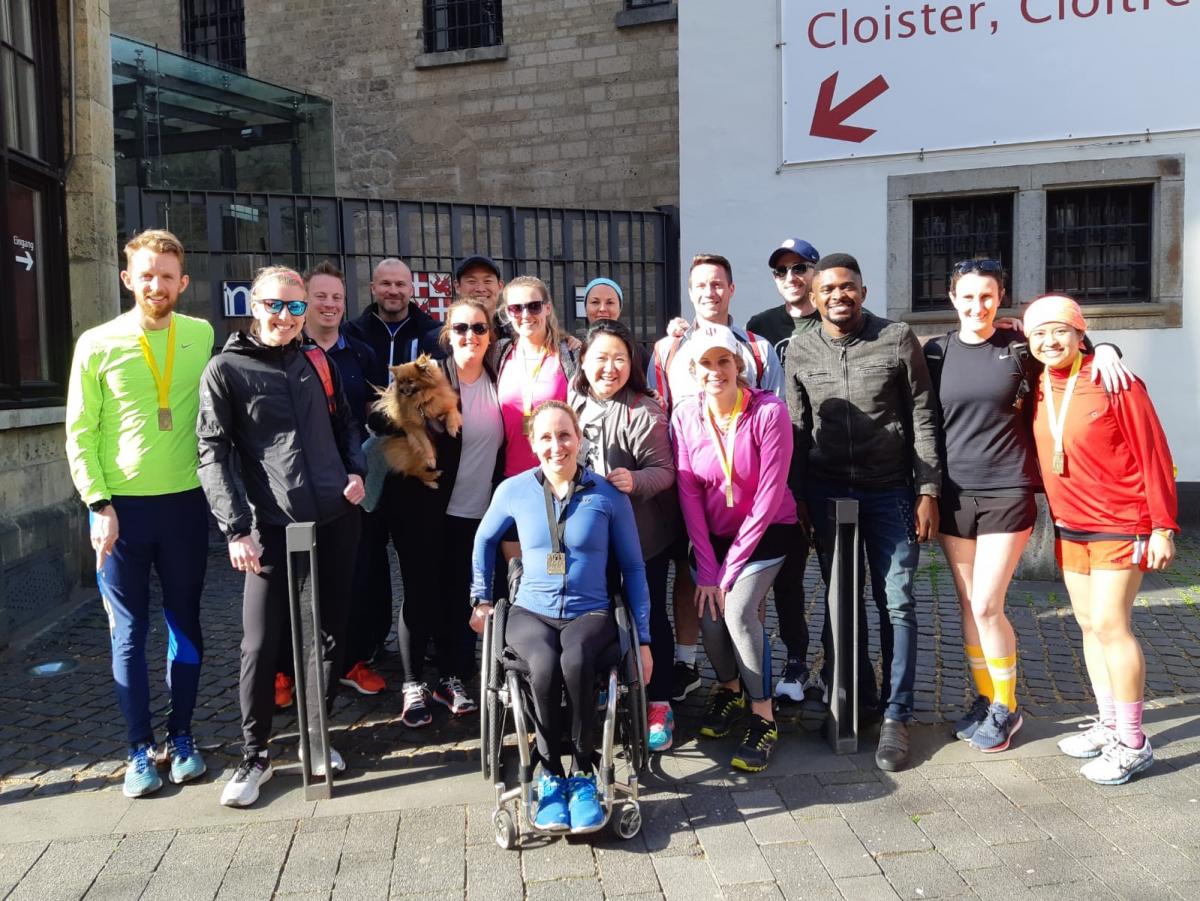 ⒸIPC
By IPC
"I wish we could motivate more people with an impairment to participate because there are quite a few people with an impairment"
The roles were flipped for staff of the International Paralympic Committee (IPC) who took part in Sunday's Deutsche Post Marathon Bonn.
At the German city's most popular event, 19 employees became the athletes.
They shut down their computers, turned off their work emails and hit the pavement (and cobblestones) of Bonn, running under a lively atmosphere that mimicked the Paralympic Games and World Championships they themselves organise on a day-to-day basis.
"As a sports organisation, we got to show that we're taking part in sport and being active," said Richard Fox, IPC digital media assistant and Beijing 2008 Paralympian.
"In my experience, I deal with athletes and their stories in social media every day, and I see their training, and it inspires me to do my own training too. It inspires me to go and run and do sport."
This year's 19th edition drew a record 13,912 runners from nearly 50 countries.
Team IPC consisted of four marathon relay teams, two handcyclists and two inline skaters – as well as one with a baby stroller.
"That is what I noticed on Sunday, people of all abilities, all ages, all backgrounds taking part in that marathon," Fox said. "When you see that, when you see that harmony and everyone cheering each other on, that's a great feeling."
The race-day conditions were ideal: sunshine with temperatures nearing 20 degrees Celsius, that drew spectators, strangers and fellow IPC colleagues who lined the routes to cheer runners on.
It was the IPC's biggest participation at the biggest sporting event in Bonn, the place the IPC have called home since 1999.
Twelve countries across America, Africa, Asia and Europe were represented, reflecting the organisation's diversity and push for inclusion.
Sport to drive inclusion, locally
The half-marathon handcycle portion saw six participants that included local Paralympic champion Annika Zeyen and Zimbabwean wheelchair tennis Paralympian Nyasha Mharakurwa, who was racing for the first time in Bonn.
"I wish we could motivate more people with an impairment to participate because there are quite a few people with an impairment," said Zeyen, World Para Sport brand manager.
"We have a local Bonn wheelchair basketball team here in Bonn, and I'm sure we could get a lot more people motivated.
"I wish we could find a way of getting more people with an impairment to do it. Even if they don't have to do it on a competitive level, but just be part of such big event, which is the biggest sport event in Bonn."
In her third Bonn marathon, Zeyen was going for the course record (which she holds unofficially) and the win. It was not meant to be on Sunday due to an unfortunate 5km detour that pushed her to second place overall.
Home sweet home
The IPC is one of many international organisations headquartered in Bonn, neighbouring the United Nations and international broadcaster Deutsche Welle among others.
On Sunday, 195 company marathon relay teams participated, with Team IPC's best finish being fifth overall (3:25:21), followed by 47th (3:56:32), 59th (4:00:30) and 90th (4:06:56). That was up from one IPC relay team in 2018.
As World Para Athletics competition manager, Laura Danning put her work to practice.
The six-star major marathon runner led efforts in organising the relay teams, and communicating and rallying support internally.
"I love to run, but I really miss being part of a team," said Danning, who ran the last leg of the winning IPC relay team. "So to have the opportunity to run in a team and participate not only for yourself but also for others was one of the reasons to organise an IPC Team.
"It was also a chance to share my love of running with my colleagues; for them to experience the emotions that come with race day: nerves, excitement, and a sense of achievement."
Fox said the IPC participation numbers will rise in 2020.
"We've got people who believe in the power of sport at the IPC and that's good to have," he said.