Iris Pruysen wants return to form in Berlin
The long jump world champion is hoping to recapture the form that won her a world title last year when she lines up against Britain's Stef Reid.
18 Jun 2014
Imagen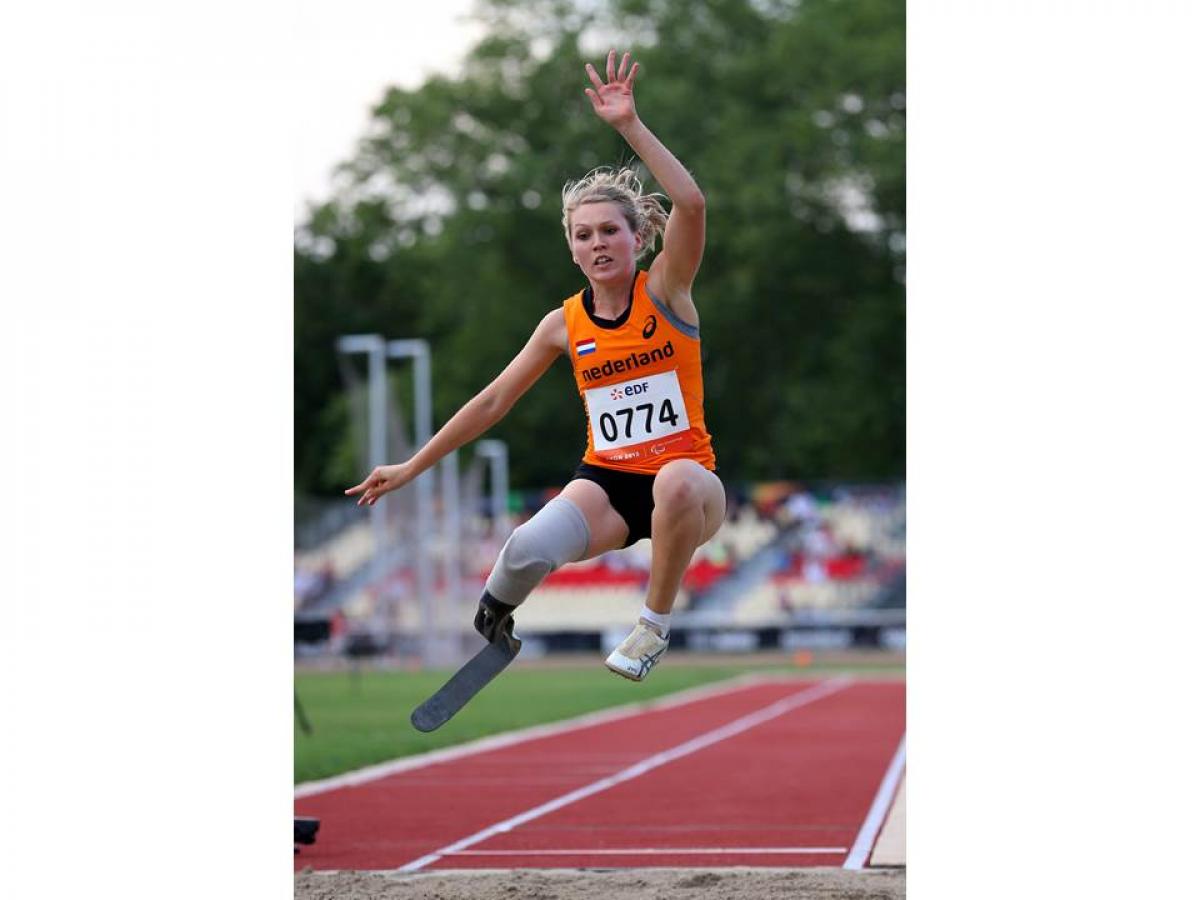 ⒸGetty Images
By IPC
I hope in Berlin I jump over 5m again, that is my aim.
Dutch world long jump T44 champion Iris Pruysen is relishing the opportunity to compete in this week's Berlin Open, the eighth and final IPC Athletics Grand Prix before August's European Championships, as she sets her sights on a return to the form that brought her world gold last year.
It was in the German capital 12 months ago that Pruysen set a new personal best in the long jump T44, reaching 5.21m, before going on to clinch the world title in Lyon, France, five weeks later.
Now the 26-year-old is hopeful that a return to the same track for the meeting on 20-22 June will inspire her to jump further once again, having reached a season's best of 4.89m in Tilberg earlier this month.
"I have a good feeling at that competition, so I want to go back. I hope in Berlin I jump over 5m again, that is my aim because that is the last competition I will do before the Europeans," she said.
Pruysen, who finished fourth at the Paralympic Games two years ago, is well aware of the tough competition she will face in Swansea, made all the more apparent last month when Great Britain's Paralympic silver medallist Stef Reid leapt to a new unofficial world record mark of 5.45m, beating the record previously set by France's world silver medallist Marie Amelie Le Fur by 2cm.
With the likes of Reid and Le Fur also set to line up in Swansea, Pruysen knows she will need to be at her very best come August – and she is keen to keep track of her rivals' progress, if only to spur her on further.
"I pay attention to my rivals. I'm so curious, in London and in Lyon I looked at every jump of my competitors. When Stef jumped 5.45m my first thought was that it was really far, then after that I thought I want to do it too. It was a really good motivation."
Despite the setback of a hamstring injury suffered over the winter, Pruysen remains undaunted, and is instead focussed on the confidence boost she felt after winning the world long jump title last summer.
"Winning gold in Lyon gave me a lot of confidence," she said. "The whole year was amazing for me as I had the feeling I couldn't do anything wrong. Then the beginning of the winter went really well and I had a lot of confidence that I would go further in the long jump, so I still believe I can.
"It doesn't scare me if people say 'here comes the world champion' - I get confidence from that. I've had a few competitions now in the Netherlands and elsewhere where I've been introduced as the reigning world champion and that gives me extra energy. I want to have that feeling again, it was such a great feeling in Lyon."
Pruysen, who finished fifth at the European Championships two years ago, believes she will have to jump over 5m to remain in contention for the European title this year, and it is that mark that she is chasing this weekend as she lines up in Berlin against a strong field including Reid.
"I don't know if [my personal best] will get me a medal in Swansea. I think it is possible, because the world record is 5.45m, but Stef doesn't jump it every week - in Switzerland she jumped 5.16m, so I think it will be very close.
"But I first want to get over 5m in Berlin. In the beginning of the winter it went very well and I thought I'm going to jump a PB. I'll still go for that but first I need to reach 5.20m again."
Iris Pruysen will be one of more than 570 athletes from 34 countries competing at the IPC Athletics Grand Prix in Berlin, Germany, between 20 and 22 June. Other big names to feature include the Netherlands' Marlou van Rhijn, Great Britain's Richard Whitehead, Brazil's Terezinha Guilhermina and Finland's Leo Pekka Tahti.
The event in Berlin is supported by Allianz, IPC Athletics' international partner and will be streamed live via the event homepage.