Italian team for Grosseto 2016 named
The home team for Junes's IPC Athletics European Championships will feature 26 athletes.
26 May 2016
Imagen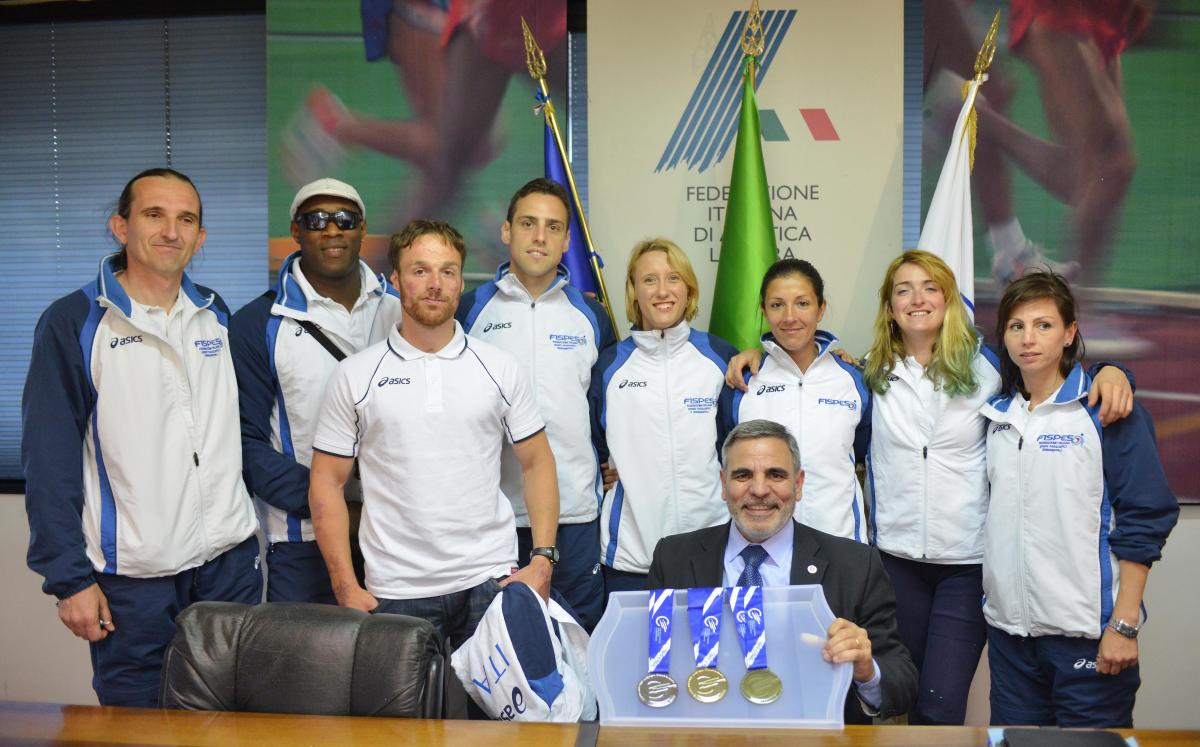 ⒸAbility Channel
The Italian squad set to compete on home turf at the IPC Athletics European Championships in Grosseto, Italy, from 10-16 June has been announced.
At the same time, the medals for the Championships have also been unveiled, 193 gold medals are at stake during the week long event.
A team of 26 athletes – including eight making their international debut – will go for gold at the Tuscan city's Carlo Zecchini Olympic Stadium.
World champion Martina Caironi is one of a number of experienced stars set to take to the track. The 26-year-old won World Championship gold in the 100m T42 last year, setting a new world record in the process.
Sprinter Oxana Corso won double silver at the European Championships two years ago – she goes in the 100m and 200m T35 once again.
Arjola Dedaj also picked up multiple medals at Swansea 2014, winning two silvers and a bronze. The 34-year-old now runs with a new guide in the T11 class.
Alvise de Vidi has won a remarkable 34 major medals in his lengthy career, including six Paralympic titles across six Games. He takes on the 100m and 400m T51 in Grosseto. Ruud Koutiki meanwhile has been competing internationally for the last five years, and won 400m T20 at the last European Championships.
Visually impaired thrower Oney Tapia takes on the shot put and discus F11 in Grosseto – he currently tops the global rankings in both events.
The full team is as follows:
Women
• Carmen Acunto (shot put, javelin, discus F55)
• Carlotta Bertoli (100m, 200m T13)
• Martina Caironi (100m T42)
• Francesca Cipelli (100m and long jump T37)
• Oxana Corso (100m and 200m T35)
• Monica Contrafatto (100m T42)
• Arjola Dedaj + guide Elisa Bettini (100m, 200m and long jump T11)
• Federica Maspero (100m, 200m and 400m T43)
• Giusy Versace (100m, 200m and 400m T43)
Men
• Antonio Acciarino (shot put F42)
• Riccardo Bagaini (200m and 400m T47)
• Davide Dalla Palma (1,500m T46)
• René De Silvestro (javelin F55)
• Alvise De Vidi (100m and 400m T51)
• Spartak Doci (800m and 1,500m T37)
• Emanuele Di Marino (100m, 200m and 400m T44)
• Simone Giovarruscio (shot put and discus F37)
• Ruud Koutiki (400m T20)
• Roberto La Barbera (long jump T44)
• Marco Pentagoni (100m and long jump T42)
• Andrea Lanfri (100m and 200m T43)
• Simone Manigrasso (100m and 200m T44)
• Ivan Messina (100m, 200m, 400m and 800 T53)
• Ismail Sadfi (100m, 200m T47)
• Riccardo Scendoni (long jump T44)
• Oney Tapia + guide Guido Sgherzi (shot put and discus F11)
On Friday 27 May, the Italians added a further 10 athletes to their team, bringing the total number to 36. The new athletes are:
- Giacomo Poli - javelin F44
- Alessandro Straser - javelin F54
- Bashar Madjid Mekkalaf - discus F55
- Augusto Ravasio - 100m and 200m T12
- Michele Camozzi - 100m T13
- Emanuele Muratorio - 400m T38)
- Luca Campeotto - 400 T43
- Giovanni Mazzette - 200m nad 400m T47
- Riccardo Cavallini - 100m and 400m T51
-Alessia Donizetti -100m T44