Italy announce team for home international
Coach Massimo Da Rin reflects on the team's chance of impressing their home crowds from 7-12 December.
06 Dec 2015
Imagen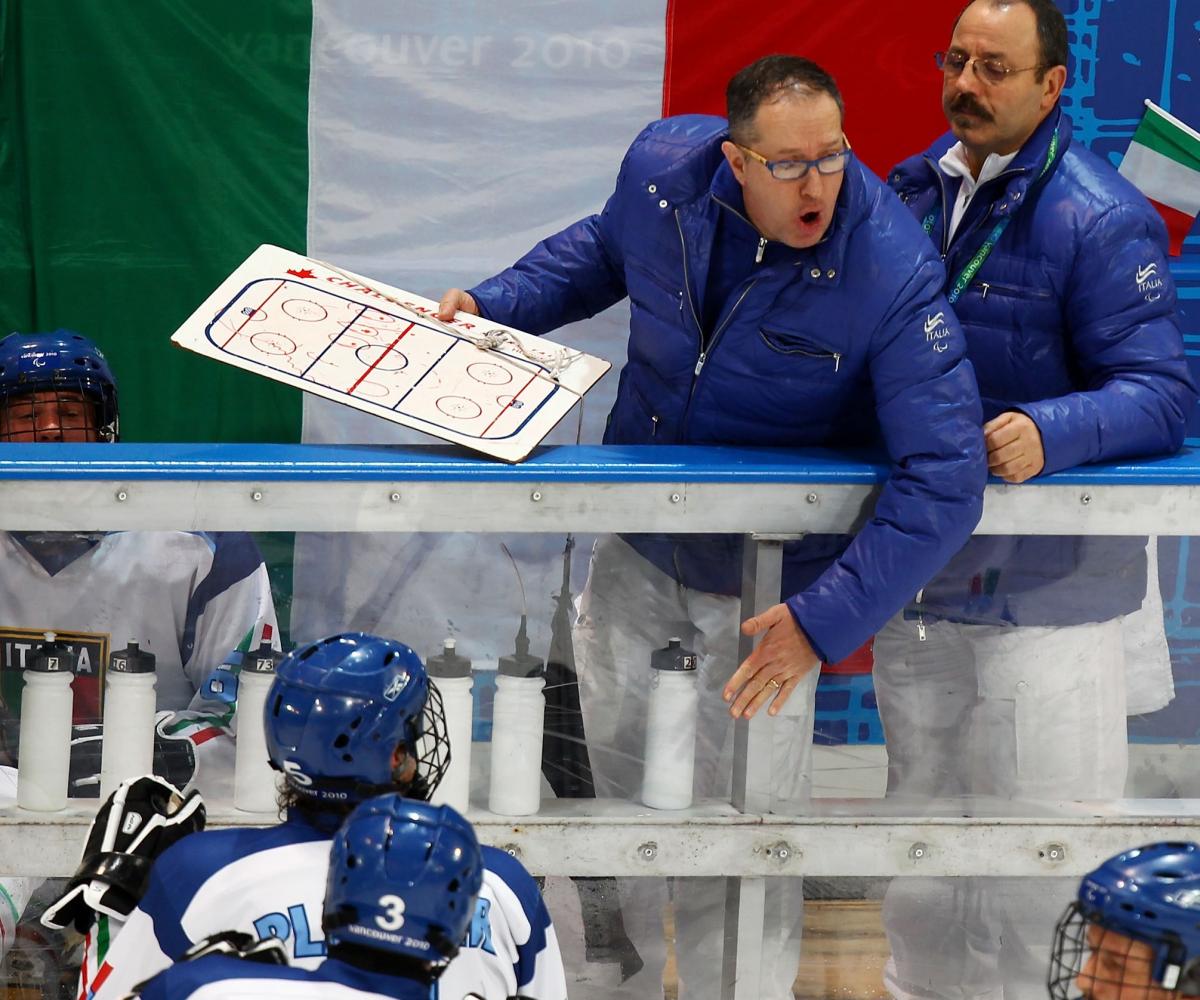 ⒸGetty Images
By Torino 2015
Italy have announced the team they will be fielding for the fifth international ice sledge hockey tournament in Torino, Italy, which gets underway on Monday (7 December).
The national team, led by coach Massimo Da Rin, views the first international event of the season with understated expectations compared to other seasons.
Bruno Balossetti and Andrea Macri cannot play in Torino. And Greg Leperdi, a fixture of the Italian team, is suffering from a broken finger.
"The absence of two to three key players allowed us to call some younger guys still unaccustomed to wearing the shirt of the national team," Da Rin said, referring to Parolin Emanuele and Alessandro Andreoni. "This tournament will help them gain experience and the whole team to get better acquainted with the inclusion of these players."
The opponents
"The main goal is just to find the right blend within the group" continued Da Rin. "And then we'll try to make trouble for our opponents, who surely belong to the elite of the sledge hockey world."
The hosts will face Canada, Norway and South Korea, all of which had successful 2014-15 seasons. Canada won silver at the 2015 World Championships A-Pool whilst Norway only just missed out on bronze to Russia. South Korea were promoted to the A-Pool after their gold medal win at the B-Pool Worlds.
"The technical level of the participants gives great importance to this tournament, which in previous years has also been able to draw some of the best teams in the world to Torino," said Da Rin.
"I remember with particular pleasure the battles against Russia, but I do not forget the glance of the stands, packed with students arrived at the palace to support us [at the Palatazzoli ice rink]."
The season
The international tournament in Torino will be the first international event of the season and the team will introduce some fresh faces.
"We looked at new players to expand the base," said Da Rin. "After Torino we will play in February in Japan against Czech Republic, South Korea and Japan."
Italian national squad
Goalkeepers: Santino Stillitano (Armata Brancaleone Varese); Gabriele Araudo (Sportdipiù Bulls Sitting Turin).
Defenders: Gianluigi Rosa (South Tyrol Eagles), Roberto Radice (Armata Brancaleone Varese), Gianluca Knight (South Tyrol Eagles), Emanuele Parolin (Armata Brancaleone Varese).
Forwards: Florian Planker (South Tyrol Eagles), Nils Larch (South Tyrol Eagles), Christoph De Paoli (South Tyrol Eagles), Werner Winkler (South Tyrol Eagles), Valerio Corvino (Sportdipiù Bulls Sitting Torino), Andrea Chiarotti (Sportdipiù Sitting Bulls Torino, captain), Eusebiu Antochi (Sportdipiù Bulls Sitting Turin), Gregory Leperdi (Sportdipiù Bulls Sitting Turin) Alessandro Andreoni (Armata Brancaleone Varese).
Coach: Massimo Da Rin.
Notes to editors: Not all athletes listed are currently licensed by IPC Ice Sledge Hockey.
Coverage of all games will be shown at IPC Ice Sledge Hockey's website, courtesy of Italian broadcaster Rai.
Entrance to all games, which conclude with the medal matches on Saturday (12 December), is free to spectators, and a full schedule can be viewed at Sportdipiu's website.