Jamaica's Cunningham switches from throwing to sprint events for Rio 2016
The two-time Paralympic champion is hoping training alongside Usain Bolt will inspire him to track gold at September's Paralympics.
19 May 2016
Imagen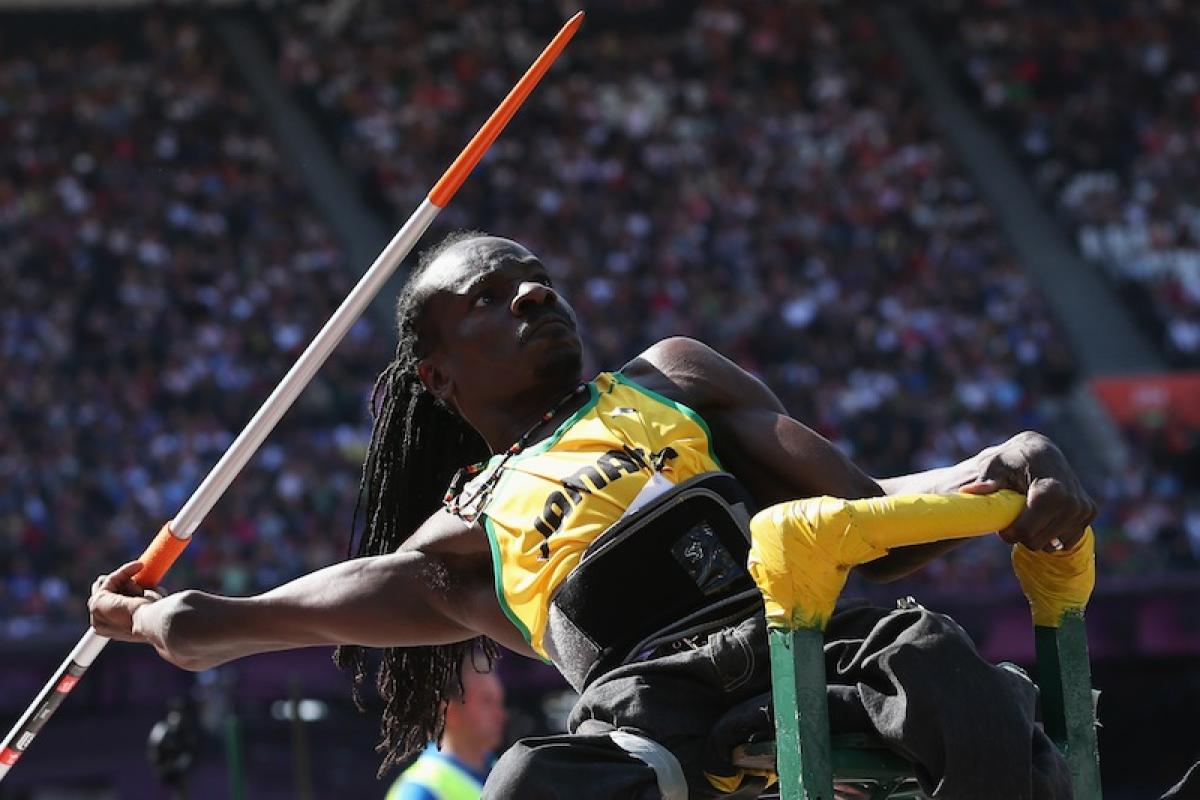 ⒸGetty
By IPC
"Bolt is my hero. He encourages me to improve and is the greatest inspiration for me."
Jamaica's Alphonso Cunningham, a two-time Paralympic champion in throwing events, has set his sights on making his fourth Paralympic Games this September by qualifying for wheelchair racing events in Rio.
Cunningham, 35, made his Paralympic debut in Athens in 2004 wining gold in the discus F53. Although he did not medal at Beijing 2008, he was back at the top of the podium at London 2012 with victory in the javelin F53 event.
Now, with his favoured javelin and discus F53 throwing events not featuring on the Rio 2016 programme, Cunningham has switched his attention from field event to the track.
"The F53 and F54 classes will be merged into one at Rio 2016, which means that even if I break a world record, I will not win a medal," the 35-year-old said.
Cunningham's current javelin F53 world record stands at 24.30m, more than three metres less than the distance Russia's Alexey Kuznetsov threw to win bronze in the F54 class at last year's World Championships.
"I do not feel motivated if I know I cannot win a medal," said Cunningham, who won the javelin F52/53 world title in 2013.
"There is no discus F53 in Rio as well, and shot put is not my event, so I had no other option but to try something different since I did not want to quit."
Cunningham has always been fast on the track, which is why his coach Neville Sinclair encouraged him to switch to T53 wheelchair racing events over 100m and 400m.
"It is not so bad if I qualify for the Rio Paralympics and do not win a medal in the sprint events. It would be much worse if I did not win a medal in an event for which I have trained my whole life."
The Jamaican 2016 Paralympic Trials will be in June, and Cunningham is already working hard towards them.
"I have already clocked Paralympic qualifying times during my trainings, which are getting very intense. We will give it a try," he said.
"It is not easy, though, since I do not have a proper helmet, gloves or racing chair."
Cunningham trains on the campus of The University of the West Indies in Kingston, Jamaica, the same place where Olympic legend Usain Bolt is preparing for his third Olympic Games.
"Bolt is my hero. He encourages me to improve and is the greatest inspiration for me," Cunningham said.
"Bolt is a great person, who is always with a smile. I watch his videos. To have the best athlete in the world training next to you is sufficient motivation for practicing harder."
With renewed hope and the fastest athlete in the world by his side, Cunningham aims high.
"My biggest goal is to win a Paralympic gold on the track. It would be such a great accomplishment. A silver or a bronze medal would be welcome too. Just making it to the podium and watching the Jamaican flag waving is big enough."
__
Sport fans from around the world can now buy their Paralympic tickets for Rio 2016 from authorised ticket resellers (ATRs).
The IPC's Global ATR is Jet Set Sports, and Rio 2016 tickets and packages can be purchased on the CoSport website.
Residents of Brazil can buy 2016 Paralympics tickets directly from the Rio 2016 website.