Japanese wheelchair duo racing toward Rio 2016
Marathon racers Soejima, Tsuchida are keeping their competitors on the edge.
23 May 2015
Imagen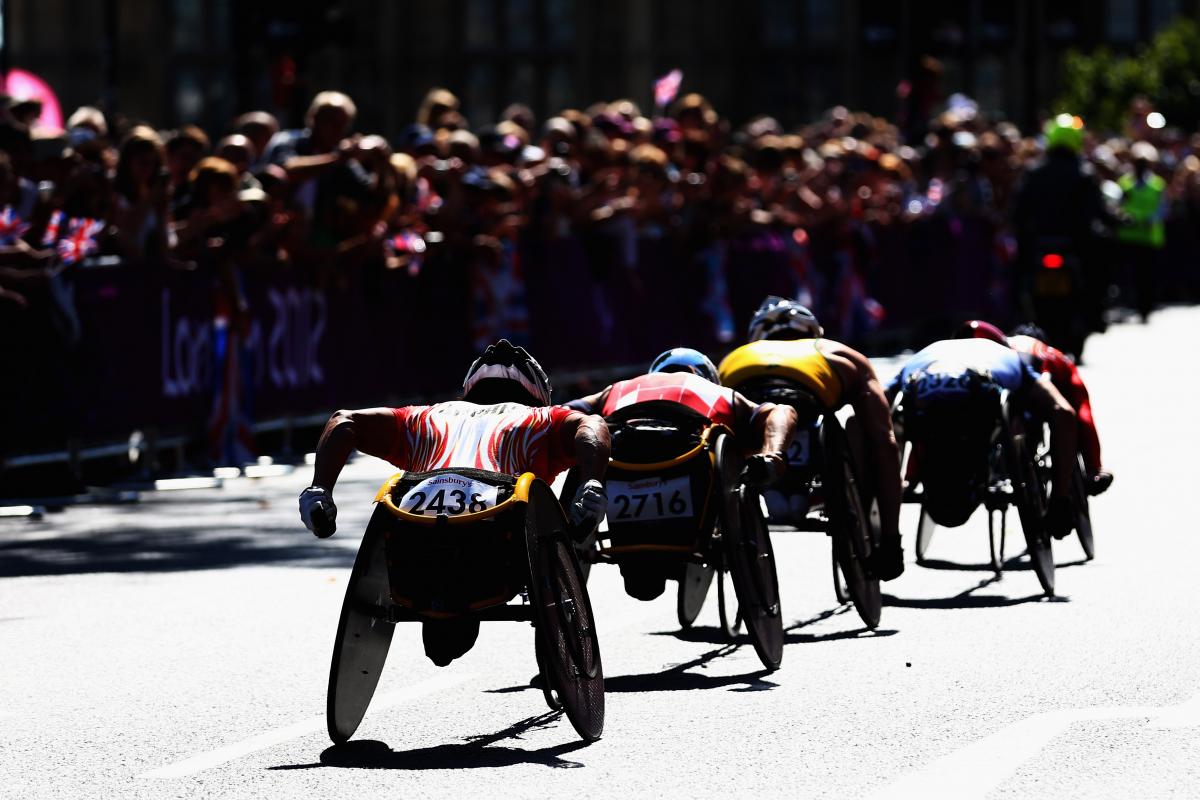 ⒸGetty Images
By Yuta Tanaka | For the IPC
"I think after the announcement, people started to get interested in Paralympic sports."
The Japanese duo of Masazumi Soejima and Wakako Tsuchida have made it clear that the marathon field will have to keep checking their backs in the coming seasons, after some convincing performances at recent major events.
Soejima finished third in both the IPC Athletics World Championships, run as part of the London Marathon, and Boston Marathon in April, but sounded a note of disappointment.
"I wanted to win the London Marathon," Soejima said. "Because of the qualifications of Rio 2016 Paralympics, I felt pressure."
Soejima has been competing for 19 years and is leading the Japanese divisions.
"Twenty years ago when I got injured, I thought I couldn't do anything anymore," Soejima said. "But after playing wheelchair basketball, I felt incredibly thankful that I could move my body. After that, I changed the sport to track and field and racing in marathons. I kept racing because I want to do my best for people who are supporting me and for the sport that gave me a place that I can shine. I was able to achieve a new identity as a wheelchair athlete."
Of the five times Tsuchida raced in the Boston Marathon, she finished in second place. Last month, she finished one minute behind USA's Tatyana McFadden with a time of 1:53:48. Tsuchida had a chance for redemption the following week in London, Great Britain, but finished seventh due to a flat tire. McFadden took home the world title.
"Boston has many up and downs while London has more curves that require more technical skills to run," Tsuchida said.
But Tsuchida and Soejima know they are in the mix of leaders and working toward their goals of reaching Rio 2016.
"I am looking forward for the track season and breaking the A standards for the Rio Paralympics," said Tsuchida, who picked up wheelchair marathon racing 21 years ago after a car accident. "I want to be No. 1."
"I believe dreams will come true if you don't give up, even if you have an impairment," she said. "Wheelchair sports made me grow as a person throughout various experiences."
But Tsuchida and Soejima are hoping their recent achievements build excitement beyond Rio 2016, especially in their home country, which will host the Tokyo 2020 Paralympics.
"I think after the announcement, people started to get interested in Paralympic sports," Soejima said. "The Disabled Person's Employment act was amended, and now some Paralympic athletes can be hired by Japanese companies and focus on their athletic careers. I could not have imagined this 10 years ago."
Soejima founded a wheelchair athlete club – Socio Soejima, which he said is to help kids "by providing opportunities and supporting their dreams."
"Wheelchair sports cost a lot of money," Soejima said. "Equipment and traveling nationally, internationally for competitions are just some examples. … I hope this movement, which can expand grassroots, can help the development of Paralympic sports in Japan."
Soejima will race in the Chicago Marathon in October and New York City Marathon in November, both in the USA. Tsuchida is targeting the IPC Athletics World Championships in Doha, Qatar in October.
"Only some of athletes have a good environment to train in and compete at a high level, I hope those environments will be given to more athletes." Tsuchida said.