Caironi launches countdown to Grosseto Grand Prix
Italian Paralympic and world champion Martina Caironi talks to students about her impairment and life as a track and field star.
21 May 2015
Imagen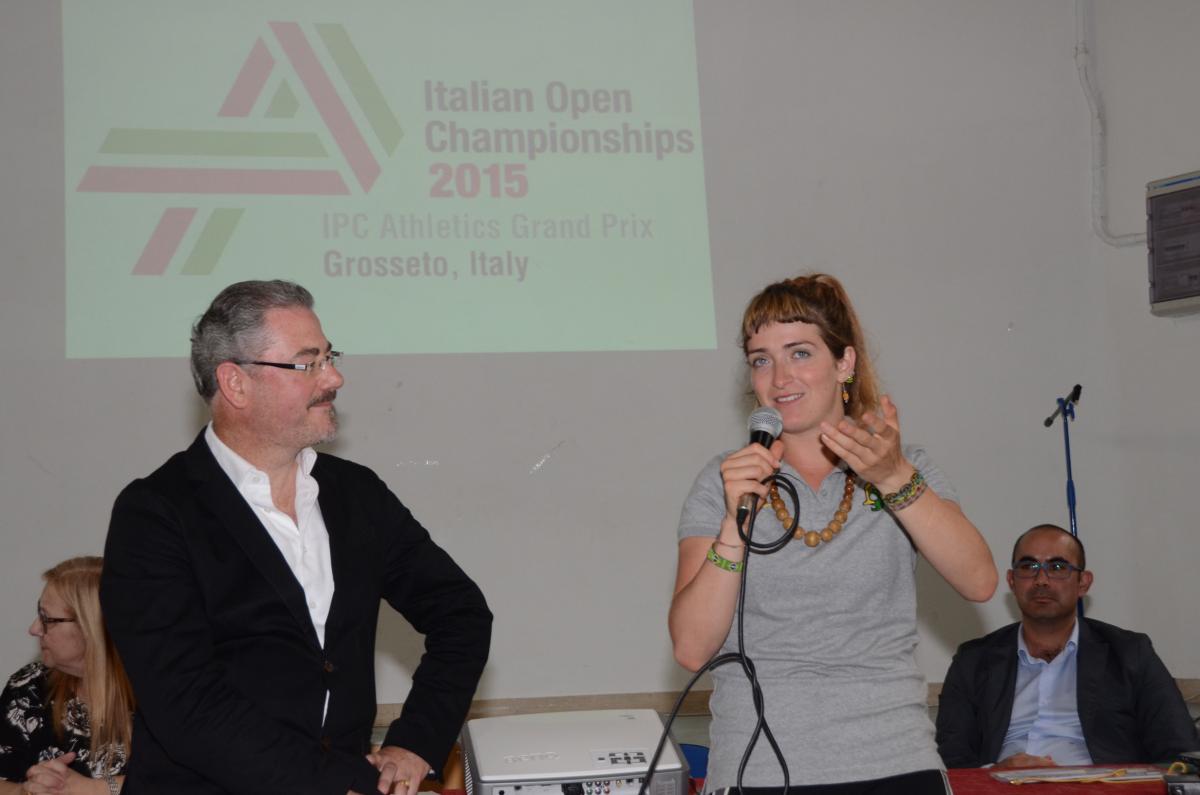 ⒸAgenzia Fotografica BF
By IPC
"After my motorcycle accident, they gave me a prosthesis to run and I started feeling the wind blowing through my hair again."
Paralympic and world 100m T42 champion Martina Caironi was on hand in Grosseto, Italy, on Wednesday (20 May) to officially launch the countdown to the eighth IPC Athletics Grand Prix for 2015, which doubles as the Italian Open Championships.
The meeting takes place at the Carlo Zecchini Olympic Stadium in the Tuscan city from 12-14 June, with around 250 athletes from 45 countries set to take part.
The venue will also play host to next year's IPC Athletics European Championships, which take place from 10-16 June 2016 – less than three months before the Rio 2016 Paralympic Games.
Caironi, who equalled the world record mark in the long jump T42 when she leapt 4.60m at an IPC sanctioned event in Spain last weekend, met with over 250 high school students in Grosseto as part of the Italian National Paralympic Committee (FISPES) campaign "At school with a Para-star", and she was quick to capture the students' attention.
"Follow your dreams and passions, each of us is unique. Your strength and mind will enable you to achieve what you want. Never surrender if you find hurdles in your way. Willingness is the key, even in combining sport and studies," she told the assembled audience.
The Italian track and field star – who won European 100m T42 gold and long jump T42 silver in Swansea, Great Britain last year, then explained what led her to take up para-athletics:
"After my motorcycle accident, they gave me a prosthesis to run and I started feeling the wind blowing through my hair again.
"This wind gave me a big boost because I understood that I was still able to do the same things as before, but in a different way. If I still had a leg, maybe I would not become so open. My tragedy is the source of my happiness and my life today is full of beautiful things."
Caironi has a strong affinity to the Grosseto track – in 2013, the first time the meeting was recognised as a Grand Prix event - she smashed both the 100m and 200m T42 world records, before going on to clinch gold in the shorter sprint and the long jump at the World Championships just weeks later.
In 2014 she lowered her 200m world mark even further on the Grosseto track, clocking 32.64. This year the 25-year-old has already shown great form having equalled German Vanessa Low's long jump T42 world record in Barcelona, Spain. She described to the students exactly what she loved about the sport:
"The start from the blocks is pure pressure and adrenaline. The 100m is an explosive event where each hundredth of a second counts. When I run, my mind is free, and my mind and body are joined. It's a healthy drug because when I cross the finish line, I would like to run another 100m. The long jump is more technical, there you need to keep focus over six jumps."
Caironi called upon the people of Grosseto to come and enjoy the competition: "Curiosity in life is vital, it's the world's engine. If you are curious, come and see us at the Zecchini Stadium for the Italian Open Championships, it will be a unique experience," she said.
The IPC Athletics Grand Prix in Grosseto, Italy, is the eighth in a series of nine Grand Prix in 2015, with further events to take place in Berlin, Germany, and at the Grand Prix Final in London, Great Britain, this summer, in addition to next week's Grand Prix in Nottwil, Switzerland on the 29-31 May.