Wallace storms to victory at Grand Prix
US sprinter Jarryd Wallace beats two of his main rivals – David Prince and Jerome Singleton – in Tempe, Arizona, USA.
17 May 2015
Imagen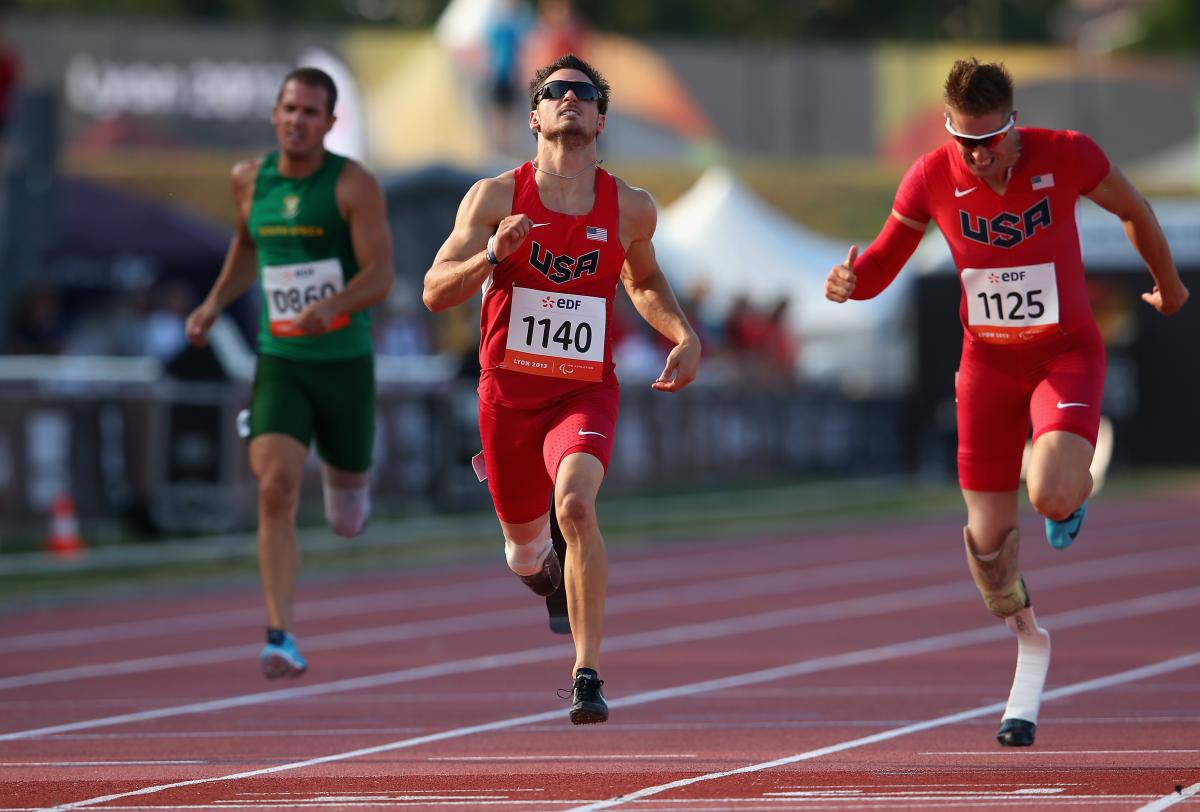 ⒸGetty
US double world champion Jarryd Wallace raced to victory in the men's 100m T43/44 on the second and final day of competition (Saturday, 16 May) at the IPC Athletics Grand Prix in Tempe, USA.
The 25-year-old clocked an impressive 10.92 to get the better of a stellar field which included two of his main rivals, teammates David Prince and Jerome Singleton.
Prince, winner over 200m a day earlier, finished second in 11.38 with Singleton third in 11.52.
There was no surprise as US multiple Paralympic and world champion Raymond Martin (T52) won the men's 100m T34/51/52 (17.10), with Mexico's Salvador Hernandez Mondragon in second place (17.47). Later in the day Martin clocked 58.02 over 400m, the first T52 racer across the line behind T34 competitor Troy Pruitt (55.80).
Martin, who topped the podium at the IPC Athletics Marathon World Championships last month, then rounded off a highly successful Grand Prix with victory in the 1,500m T51/52, finishing in 3:44.33 - nearly seven seconds ahead of world bronze medallist and compatriot Steven Toyoji.
The USA's experienced sprinter April Holmes made amends for her 200m defeat on day one in Arizona as she clinched victory in the women's 100m T43/44. The former world and Paralympic champion clocked 13.53 to turn the tables on Canada's 200m Grand Prix champion Marissa Papaconstantinou (14.24).
And enjoying success as she starts out on her para-athletics career is the USA's talented teenager Alexa Halko, who continued to impress at the Sun Angel Stadium, racing to victory in the women's 100m T33/34/51/52 in 19.25. At just 14-years-old Halko shows plenty of promise for the future. Canada's Michelle Stilwell was second in 20.09, but the triple world champion enjoyed her moment of glory in the 400m T34/51/52, winning in 1:11.13.
The USA's Kym Crosby, Cheri Madsen and Brian Siemann notched up three wins over the two days of competition in their respective events. Crosby (T13) won the women's 100m T11/12/13 (12.81) as well as the 400m (59.01) to add to her 200m victory the day before.
It was a similar success story for Madsen, who secured her third Grand Prix victory with wins in the 100m T54 (17.68) and 400m T54 (1:01.22) on day two. The 800m Grand Prix champion Siemann triumphed in the men's 100m T53 (15.73) and 400m T53 (52.44).
A number of other US athletes also enjoyed multiple successes over the two days of track and field action. There was a straightforward victory for world silver medallist David Brown in the men's 400m T11/12 (54.85), while Shirley Reilly also secured her second victory of the meeting with a win in the women's 400m T53 (1:01.10).
Kyle Whitehouse (T38) added to his 200m victory on day one with a win in the men's 100m T37/38 (11.83). Erik Hightower won the men's 100m T54 (14.35) as well as the 400m T54 (49.31); Michael Murray (T20) clocked 51.20 to win the men's 400m T13/20.
There was further glory for the USA as Roderick Townsend (T46) won the 100m T45/46/47 in 11.39, and Michael Magin (T36) won the 100m T35/36 (14.06). In the men's 100m T42 Earle Connor (12.91) pipped Denmark's Daniel Jorgensen to the post with just 0.02 seconds separating the two.
European 100m T42 silver medallist Vanessa Low notched up a win on the track for Germany as she stopped the clock at 16.34 in the women's 100m T42/46, while Mexico's Lucero Anahi Vazquez Olvera won the 100m T53 (19.08).
Colombia enjoyed success in the middle distances, as 17-year-old Brayan Parra Sandoval (T13) clocked 4:23.35 to win the 1,500m T11/12/13/20 and Marcela Gonzalez – winner over 800m 24 hours earlier – won the women's event (5:07.51). Costa Rica's Laurens Molina Sibaja won the men's 1,500m T53/54 (3:15.82).
There was a close finish in the women's 1,500m T53/54 as the USA's Susannah Scaroni (T54) beat Shirley Reilly to the line. The pair finished well ahead of the rest of the field but only 0.25 seconds came between them, with Scaroni - winner over 800m a day earlier - leading the way in 3:35.53.
Out in the field, US Paralympic and world discus F44 champion Jeremy Campbell proved unbeatable in the men's discus F42/43/44/45, rounding off his competition with a best of 58.33m.
Results also went to form in the men's long jump F11/12 as US long jump T11 world champion Elexis Gillette managed to register a mark with his sixth and final attempt - 6.39m proving enough to take the win.
Making her Grand Prix debut, US world record holder Rachael Morrison sealed victory in the club throw F51 with a final throw of 18.03m. In the discus F33/34/51/52 the 27-year-old threw 7.11m to finish 76 centimetres ahead of her compatriot Cassie Mitchell (F51), while Mexico's Leticia Ochoa Delgado (F52) managed 10.46m. The USA's Scott Stokes won the men's club throw F51 with a best of 22.70m.
In the women's long jump F20/37/38/42 Vanessa Low (F42) leapt 4.25m, while Marissa Papconstantinou headed up the F44 class after a sixth and final jump of 4.33m. Daniel Jorgensen (F42) also saved his best until last in the men's long jump F42/43/44, leaping 6.20m.
In the men's shot put F53/54/55 world bronze medallist Scott Winkler (F55) led the way with 9.93m while in the women's shot F53/54/55/56 US Paralympic bronze medallist Angela Madsen threw 7.21m.
The IPC Athletics Grand Prix series now heads to Europe, with the seventh in the 2015 series taking place in Nottwil, Switzerland, on 29-31 May.