"Flying Finn" aims to beat his Dutch rival in Nottwil
With a new racing chair for 2015, Finland's Leo-Pekka Tahti is aiming to get the better of the Netherlands' Kenny van Weeghel.
19 May 2015
Imagen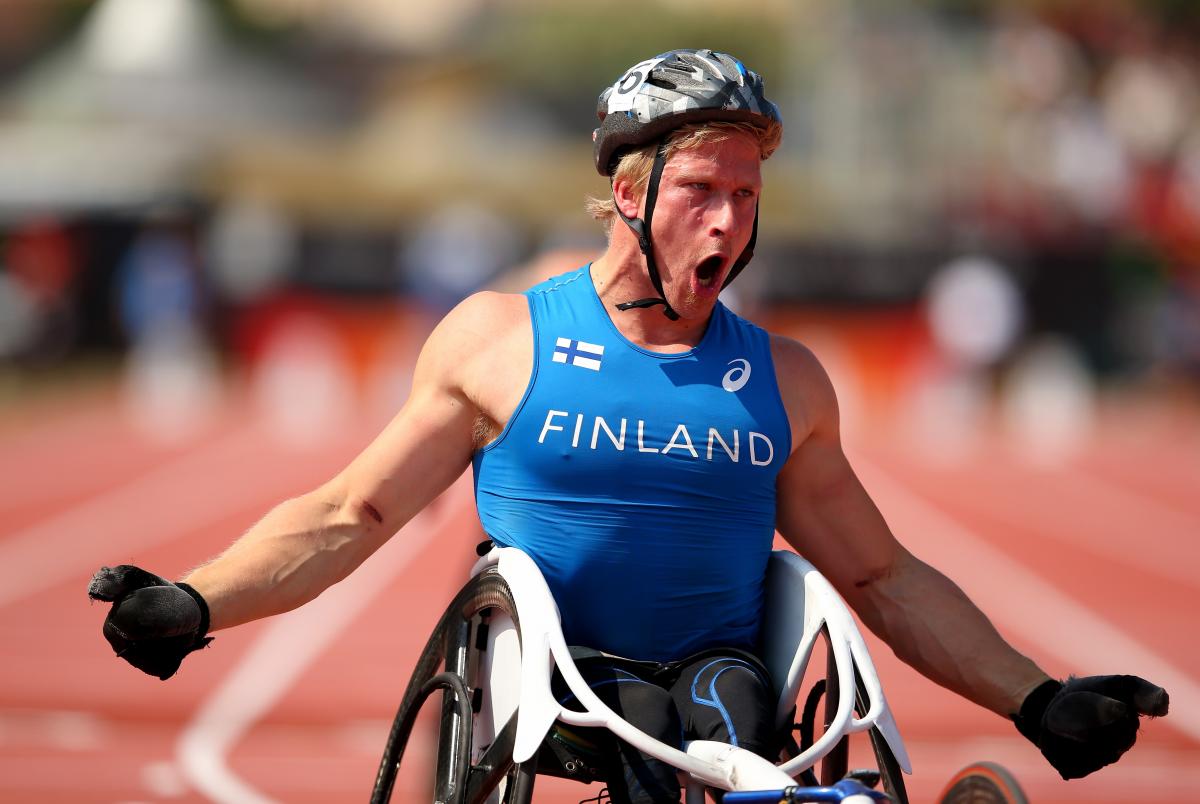 ⒸGetty Images
By IPC
"We wanted to get married in summer as Finland's summer is very beautiful, but I had to think about competitions too."
Finland's Leo-Pekka Tahti believes he is more ready than ever to get the better of his Dutch sprint rival Kenny van Weeghel as the pair prepare to go head-to-head at the IPC Athletics Grand Prix in Nottwil, Switzerland, in less than two weeks' time (29-31 May).
Paralympic, world and European champion in the 100m T54, Tahti has in recent years been thwarted in his quest to dominate T54 sprinting by the Dutchman who won the 200m T54 ahead of Tahti at both the 2013 World Championships and 2014 European Championships.
This year, with the 200m T54 part of the programme at October's IPC Athletics World Championships in Doha, Qatar, Tahti is determined to make double gold his own.
"Of course I want to beat Kenny in that distance but it will be difficult. This year we have put a bit more focus on 200m as well so I think I have a good chance to challenge him in Qatar and maybe in Nottwil too," he explained ahead of Nottwil which is arguably the most competitive wheelchair racing meet of the year.
The Finn has enjoyed a winning start to 2015, with victory in the 100m at February's Grand Prix in Dubai, although he finished behind van Weeghel in the 200m and 400m in the UAE.
It was a similar story 12 months ago in Nottwil, when Tahti clocked 13.86 to win the 100m T54. This year however, with the help of a new racing chair, Tahti hopes to go even faster.
The new chair, built by his father to replace his older model which had seen its fair share of bumps and crashes, will only be a few weeks old by the time Tahti lines up in Nottwil. But he is hopeful that his initial thoughts hold true. After training with his new chair for the first time, he said:
"It felt very good for me and better than expected. The last couple of weeks I felt my level get better and better so at least I am very confident. I hope I can do better times than one year ago. My new chair is a bit lighter too so that might help a little."
Tahti will race in the 100m, 200m, 400m and – more unusually for the 'Flying Finn'- the 5,000m in Nottwil. Not that he is contemplating a switch to longer distances, but where there is a personal challenge at stake, Tahti is quick to rise to the task.
The 31-year-old holds the Finnish records for the 100m, 200m, 400m, 800m and 1,500m – with only the 5,000m and marathon left to complete the set. In fact it was in Dubai three months ago that he added his name to the 1,500m mark.
"I was only two seconds behind the old record and that is why I wanted to see if I could beat it in Dubai, and I did it, so I am very happy for that," he explained.
Now he is hoping the strong line up in the 5,000m T54 in Nottwil will help him to knock 11 seconds off his personal best and once more add his name to Finland's record books.
"There is a great field there and I think this will help me get the record," he said. "That is why I picked Nottwil. Of course my main focus is still the sprints."
Of course in the winter, Tahti has a different focus. Since he was eight years old, he has been a keen wheelchair basketball player. From November to April each year he plays competitively; last winter he played for Russia's St Petersburg side, and travelled to Lithuania for training camps.
Balancing his two sporting passions is not always easy – basketball may help his aerobic levels, but it is not always beneficial to sprinting, and the acceleration required for explosive starts.
"I wasn't in such good shape in the winter maybe, but now I've finished the basketball season I feel much better. Sometimes it can be difficult to do both sports, but athletics is my occupation; it is my dream occupation too so I have to focus on that.
"Next season when I focus on Rio I will only play a little basketball in Finland where the level is a little lower, so it will not be so heavy for me."
If all that is not enough to keep him busy, Tahti will marry his fiancé Sandra in June – just days after competing in Switzerland.
"I had to look at the athletics calendar when we agreed a date," he admitted. "We wanted to get married in summer as Finland's summer is very beautiful, but I had to think about competitions too. If I think about the World Championships then it's the perfect time to get married."
Victory in Switzerland and wedding bells in Finland should make for the perfect start to the summer for Tahti.
The IPC Athletics Grand Prix in Nottwil is supported by IPC Athletics international partner Allianz and will feature 350 athletes from 39 countries between 29-31 May.