Van Rhijn has more left in the tank
The Dutch world and Paralympic champion reflects on her new 200m world record and believes that a fast track at the Grand Prix from 29 May could lead to another.
22 May 2015
Imagen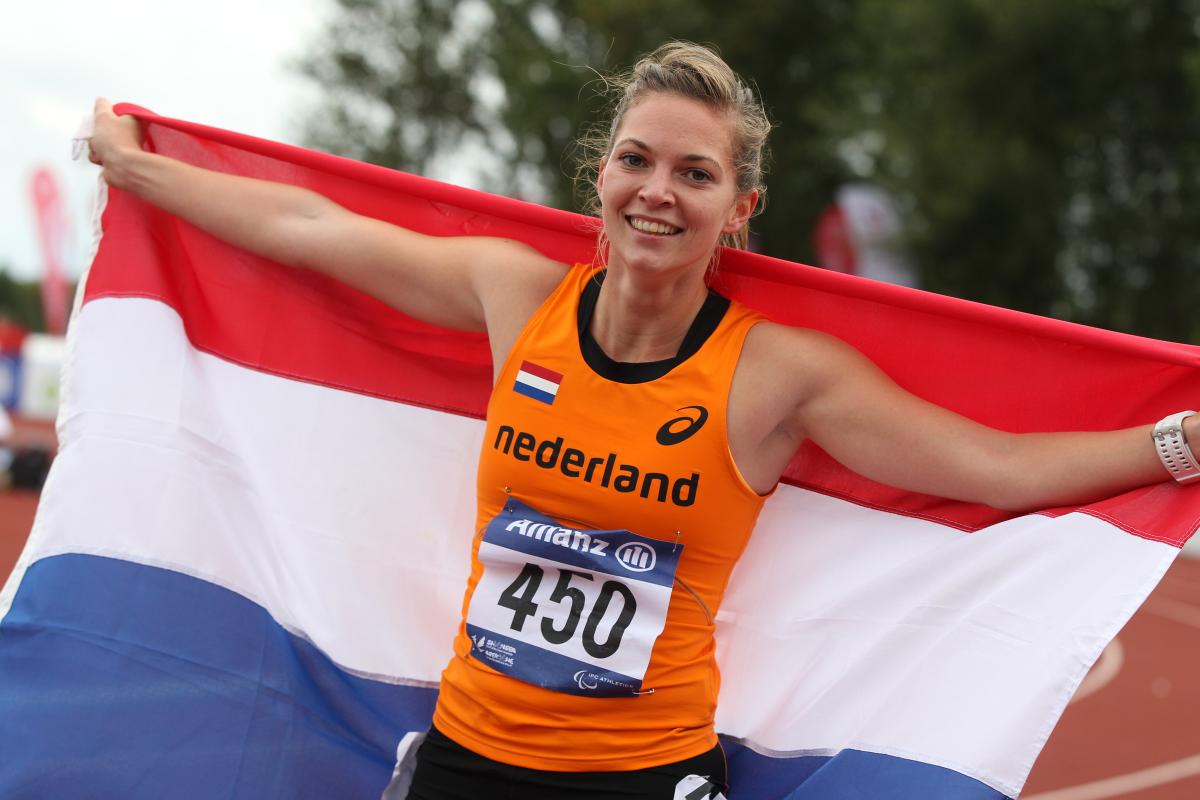 ⒸSporting Wales
Dutch sprint star Marlou van Rhijn sent out a clear message to her rivals last week (Saturday 16 May) when she smashed her own 200m T43 world record. Now she is ready to go even faster when she lines up at the IPC Athletics Grand Prix in Nottwil, Switzerland, which takes place on 29-31 May.
Van Rhijn clocked a remarkable 25.99 seconds at the meeting in Hoorn, the Netherlands six days ago. Nearly three years had passed since she set the previous world record mark of 26.18 at the Paralympic Games in London - even van Rhijn had not expected to open her 2015 outdoor campaign quite so fast.
But now, as the reality sinks in, the Dutch star is determined to build on that success – and she believes the event in Nottwil will provide the perfect stage to put on yet another dazzling performance.
"I want to keep improving, and especially in Nottwil, because that is a very fast track and fast times are set there," she explained. "Hopefully I can get another record in Nottwil – this [world record] caught me by surprise already so I have no idea what more is to come."
Van Rhijn may claim to not have expected to break the 200m world record, but there were clear indications that something special was on the horizon. Earlier in the day the 23-year-old had raced over 100m, crossing the line in a phenomenal 12.69 seconds. But a strong tailwind meant that no record stood.
"I was very excited, a little nervous because it was the first [race of the season], so I didn't know what to expect. After the 100m I thought 'this is going quite well'. Then the 200m was amazing; I really didn't expect it," she admitted.
"In 2014 my 200m didn't really improve – in 2013 as well. I thought it would be nice to go near my personal best. But this I didn't expect."
Acknowledging improvements to both her start and her overall strength, it is clear that one significant change van Rhijn has made over the last year has had a profound effect.
Two months before the IPC Athletics European Championships last August, van Rhijn changed coach. The reigning Paralympic and world champion knew that, in order to keep progressing, she could not keep following the same path.
"Changing coaches hadn't really been on agenda," said van Rhijn. "But I knew something needed to change. I really didn't feel at the right place anymore, so I knew I needed to do something new to motivate me and to get faster."
Van Rhijn set about enquiring in her home town of Purmerend, and discovered, in a "very nice coincidence" that Purcy Marte - a renowned sprint and hurdles coach in The Netherlands - was already set up there with his own training group.
Van Rhijn joined the ranks, and had to adapt quickly to the major changes involved. Competing at the IPC Athletics European Championships in Swansea, Great Britain, last year "was really just about winning".
True to form, van Rhijn won gold in both the 100m and 200m T44, as well as bronze over 400m. Since then, she has not looked back.
"We really started working on my start and my sprint endurance – getting stronger, and more explosive. Purcy is known in the country for being a very good coach to improve your start. That was one of my weaknesses, so I really wanted to improve that.
"The team where I am is all able-bodied so it is very nice to run with other girls who run faster than me and who start better than me," she explained. "It's great to be in an inspiring environment."
The changes to her training regime certainly appear to be working. Back in February van Rhijn broke her own 100m T43 world record at the IPC Athletics Grand Prix in Dubai, UAE, with a time of 12.85 seconds.
"I had no idea I was in that sort of form but I was hoping for it. The 200m really caught me by surprise because I didn't improve it for such a long time, but I really worked on the 100m and I knew in my practises that I was faster than usual, so I had hoped for it," she said.
Now van Rhijn hopes that 2015 will bring further success as she looks ahead to the World Championships in Doha, Qatar, from 22-31 October – and beyond to Rio 2016.
But first, to Nottwil, where she takes on the 100m and 200m against the likes of fellow Dutch athletes Iris Pruysen and Marlene van Gansewinkel, and Great Britain's Laura Sugar. It is a prospect van Rhjin relishes; her opposition had best watch out.
"You need to have rivals to have a fun race," she said. "So I really hope for some good rivalries. Obviously with me winning, rivalry is always good!"
The IPC Athletics Grand Prix in Nottwil is supported by IPC Athletics international partner Allianz and will feature 350 athletes from 39 countries between 29-31 May.