Javanmardidodmani's delight at shooting gold for Iran
"I have done all that I can do to tell my people that disability has no limitations," says star after victory at Deodoro.
09 Sep 2016
Imagen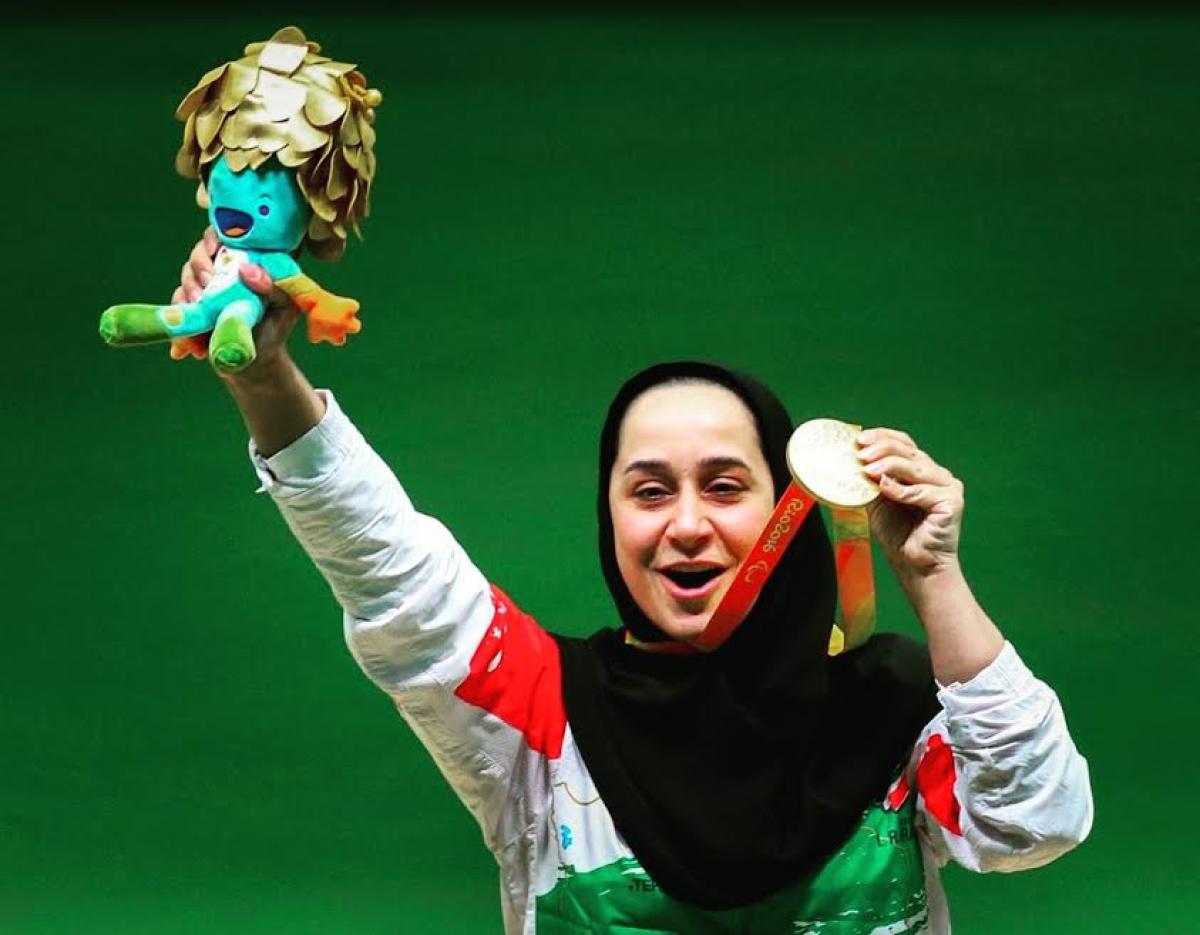 ⒸIPC
By IPC
There was an historic gold for Iran's Sareh Javamardidodmani and a convincing win for China's Chao Yang on the second day of competition at the Olympic Shooting Centre in Deodoro.
Javanmardidodmani made history by becoming Iran's first ever female gold medallist in shooting para-sport winning the P2 (women's 10m air pistol SH1) event. Olga Kovalchuk of Ukraine secured silver and Turkey's Aysegul Pehlivanlar collected bronze on debut.
"I am very happy that I could get the very first quota for the Islamic Republic of Iran and the very first gold medal for my delegation," said Javanmardidodmani.
Poised from the get-go, Javanmardidodmani was in control from start to finish scoring a total of 193.4. Kovalchuk (191.2) wasn't far behind nor was Pehlivanlar, who finished with 172.3 points.
Improving on her bronze medal from London, Javanmardidodmani was overjoyed with her historical achievements four years on.
"I have done all that I can do to tell my people that disability has no limitations," she said. "I can say these words confidently to the people of my country after winning here today."
Javanmardidodmani's triumph in Rio adds to her remarkable P2 repertoire as the Paralympic, world and Asian Games champion, as well the qualification and finals world record holder.
"I will do my best to improve my records in future competitions and make the people of my country happy," she added.
After finishing fourth in London, Kovalchuk was overwhelmed to find herself on the podium in Rio after an intense few seasons of training.
"It has been very difficult. We trained a lot and the psychological training was also quite difficult," she said.
Kovalchuk hopes to back up her silver medal efforts in P2 with another strong performance in P4 (mixed 50m pistol SH1) on the final day of shooting in Rio.
"For me, P4 is quite a difficult event. I haven't practised it a lot so we will see how I go," she said. "It's not always about winning a medal, it's about overcoming the struggle with yourself."
Appearing at the Paralympic Games for the first time, Pehlivanlar was thrilled to be in Brazil representing her country and to be taking home a medal.
"I don't know how to tell my feelings in words. I knew I could do it so I was very cool inside," she said. "I am very happy and very much enjoying Rio, but I will be more even more happier after this now that I got the medal."
Having only taken up the sport a few years ago, Pehlivanlar has paved the way for a bright future in para-sport shooting.
"I am new and I would like to improve on myself. Shooting is the kind of sport where nothing is guaranteed, but I would like to improve myself very well," she said.
In the P1 (men's 10m air pistol SH1) final, Yang was awarded with China's second gold medal in shooting and their seventh for the Games so far. South Korea's Juhee Lee picked up silver and Uzbekistan's Server Ibragimov won a gripping battle for bronze.
"This is my first Paralympic Games and the first time that I win the gold medal" said Yang.
"I am very excited and also animated because we did a lot of training and put in lots of effort.
"In China, my family and my friends gave me so much support and I feel very, very excited."
Yang opened fire with a 10.3 and retained the lead for the entire nine series of the final. At one point he was a massive 4.1 points ahead of second place.
"There is no strategy, I just did my daily training very well and I practiced my basic skills so no strategies, just basic skills," he explained.
Yang will put celebrations on hold until the end of the shooting schedule as he remains focused on his next two events P3 (mixed 25m pistol SH1) and P4 (mixed 50m pistol SH1).
"Tonight I will not have a celebration because we still have more competitions, but after all is done we will do some celebrations," he said.
Already winning two P1 bronze medals from the last two Paralympic Games in Beijing and London, it was time for Lee to upgrade, although he admitted to being a little disappointed to miss out on gold.
Incredibly, Ibragimov survived a shoot-off for fifth place against South Korea's Seo Youngkyun and went on to claim bronze.
After prevailing over Youngkyun, the former world record holder went head-to-head with Poland's Szymon Sowinski in an edge-of-your-seat clash for the minor medal.
Needing to close a two-point margin, Ibragimov shot a 10.1 while Sowinski could only manage a 7.9, gifting the bronze medal to Ibragimov who is the first ever athlete to represent Uzbekistan in shooting at a Paralympic Games.