Jeremy Campbell excited for London return
The US Paralympic and world champion discus thrower will line-up at Sunday's Sainsbury's Anniversary Games.
22 Jul 2015
Imagen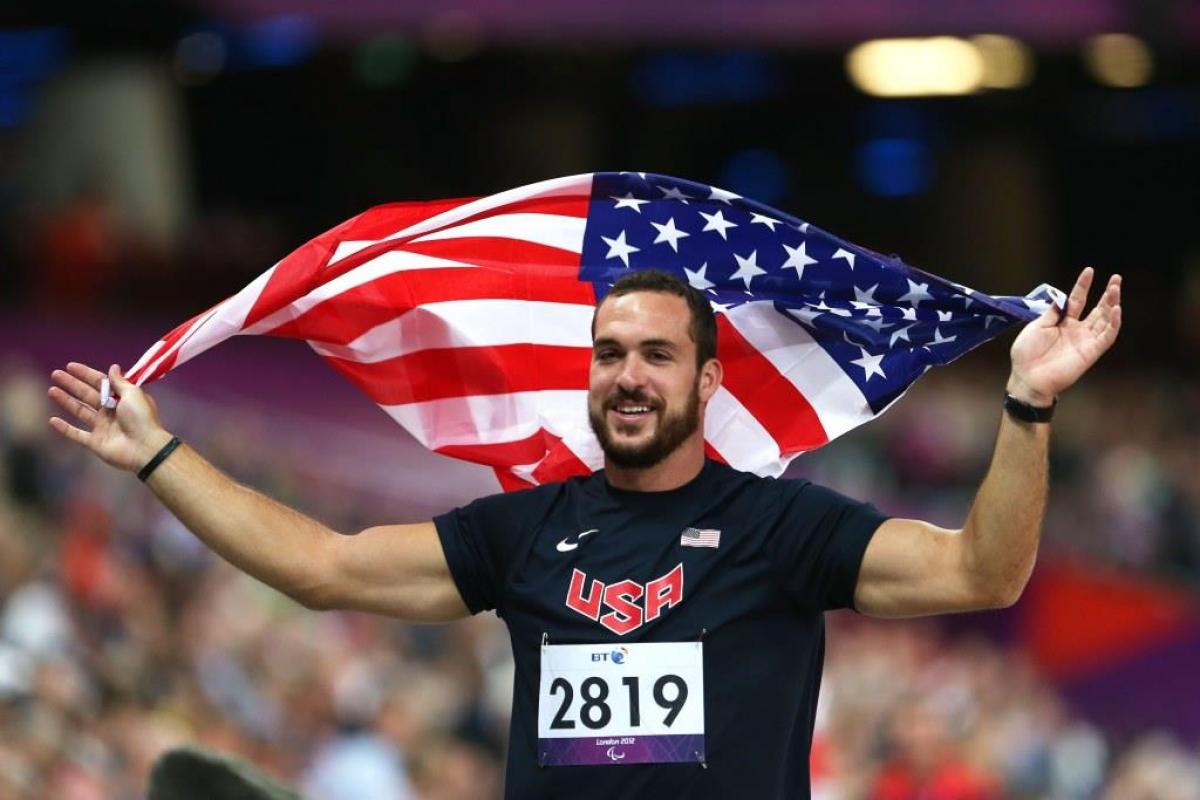 ⒸGetty Images
By IPC
"You can't always be at your best, but if you're consistent at a certain level and then everything just kind of clicks together."
The USA's world and Paralympic discus F44 champion Jeremy Campbell says his year finally starts in earnest at the IPC Athletics Grand Prix Final, part of the Sainsbury's Anniversary Games taking place at London's Olympic Park, on Sunday 26 July.
Campbell has been training in the US for most of 2015 as issues away from the track meant his focus needed to be away from the glare of competition.
Now, Campbell is relishing the opportunity to line up against a stellar international field at London's Queen Elizabeth Olympic Park and test himself against some of the world's best.
"It's been a strange year," admitted the 27-year-old. "For me, training is there more than it's ever been, it's been really consistent. I had some things going on this year that I had to try and get figured out, so I know that my training is there to spark some consistent far throws.
"I want to re-align my mind to international competition – get that fire in my belly, because sometimes being away from it all and not competing internationally all year long, you kind of forget what it's like," he acknowledged.
"It's going to be good just to be back in that atmosphere. I want to throw well and have a good competition - and having thrown well, get that boost of confidence."
Campbell is relishing the chance to return to the place where he clinched Paralympic gold in 2012. The American has fond memories of competing in London both in 2012 and again at the inaugural Anniversary Games in 2013 – although victory was beyond him two years ago, when a broken throwing leg meant he had to do standing throws using his walking leg.
A strong performance in London this weekend is also vital preparation for the American as he gears up for both August's Parapan American Games in Toronto, Canada, then October's World Championships in Doha, Qatar.
"It's crazy to be back [in London] and realise it's already been three years since the Games, so I'm excited to get back there. That place is amazing. It's going to be fun to be in that stadium again," he said.
"It's a great competition, so it's going to be exciting to be there and help spark everything up and give me that little burst that I need to go in to the final couple of months of training. I see this definitely as preparation, but I want to go in there and compete well."
Helping drive Campbell's hunger for further success this year is the prospect of coming up against his long-time adversary Dan Greaves, Great Britain's Paralympic and world silver medallist. The pair are set to battle for World Championship gold once again in three months' time. For Campbell, it is a rivalry that inspires him further.
"I've been throwing against Dan for a while now and we've always had a great friendship in competitions, and I've enjoyed talking with him and hanging out. It's not like there's any animosity between us," Campbell said.
"I think with our event, we need that. We need that competition to push each other and just to show that competition is elite – no more winning by several metres or anything like that. It's exciting, you can no longer walk in to a competition and be like 'Oh I'm just going to take it;' you know other people are going to throw well and you've got to be at your best and you've got to compete – that's really good for our sport."
In April, Campbell threw 60.19m - a distance that still tops the world rankings for 2015. He is determined to return to that form starting on Sunday - National Paralympic Day in the British capital.
"I've had so much more training, so I know that distance is there," he said. "You can't always be at your best, but if you're consistent at a certain level and then everything just kind of clicks together - I can't wait for that because that's going to be exciting," he said.
Indeed, the American - who set the discus F44 world record three years ago in the build up to the London Games when he threw 63.46m in Oklahoma, USA - believes he's in the sort of form that could see his world record mark extended even farther.
"I think it definitely has room to grow sometime soon," he admitted. "If the environment is right, why not?"