Josh Sweeney named captain of US ice sledge hockey team
Iconic player Sweeney to lead his squad into home World Championships in attempt to avenge second-placed finish from 2013.
01 Oct 2014
Imagen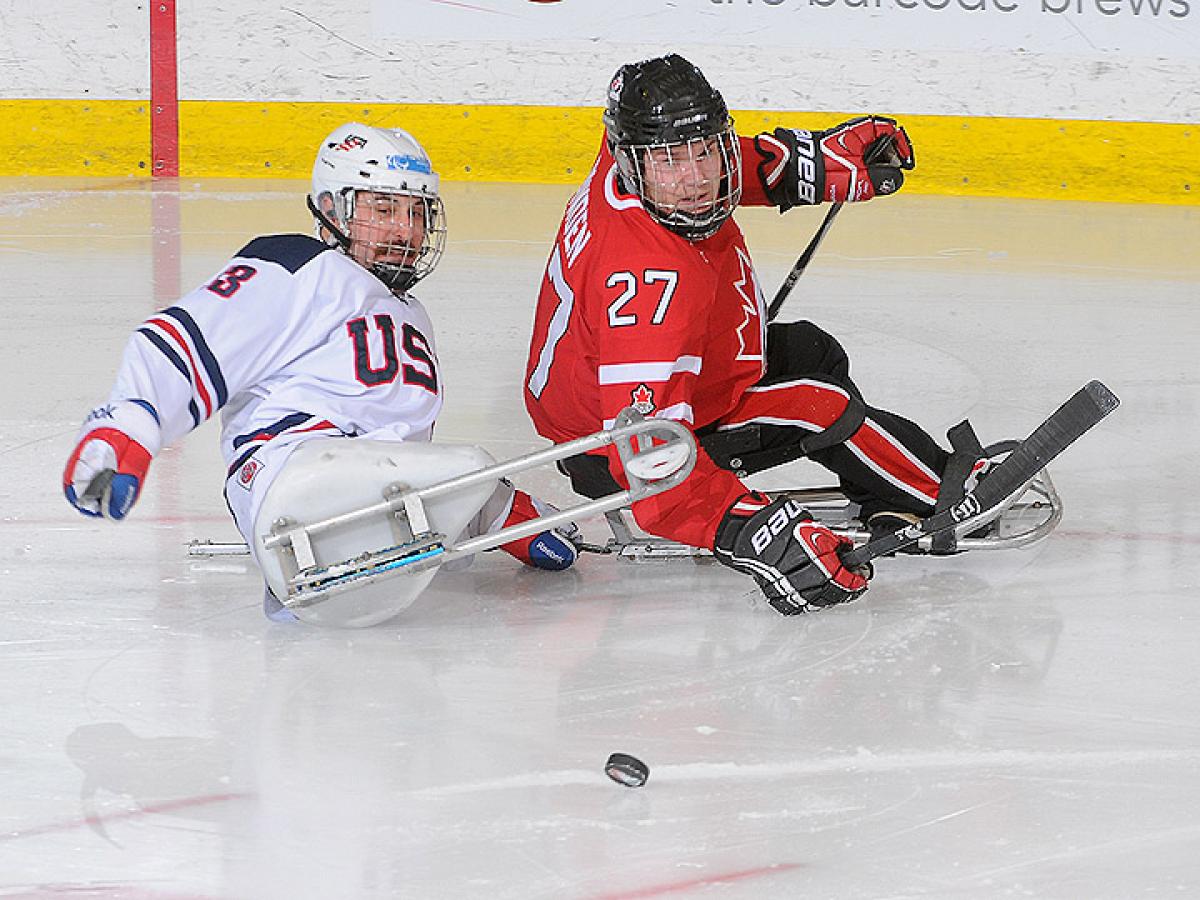 ⒸAndy Devlin Hockey Canada
By USA Hockey
"Josh has provided great leadership to our team, both on and off ice"
Josh Sweeney, the man who scored the one and only goal to clinch the gold medal at the Sochi 2014 Paralympic Winter Games, has been named captain of the 2014-15 US National Ice Sledge Hockey Team, USA Hockey announced on Tuesday (30 September).
Nikko Landeros and Josh Pauls have been selected as alternate captains.
"Josh has provided great leadership to our team, both on and off ice," said Dan Brennan, general manager of the US National Ice Sledge Hockey Team. "His dedication and hard work sets a tremendous standard for our other players. Nikko and Josh are terrific players and leaders in their own right. They compete with great passion and have a wealth of international experience."
Sweeney, a forward, is in his fourth season as a member of the team. An alternate captain a season ago, he scored the lone goal in Team USA's 1-0 win over Russia in the gold-medal game oat Sochi 2014. Overall, he posted four goals and four assists in 12 games during the 2013-14 season. This past summer, Sweeney received the Pat Tillman Award for Service at the 2014 ESPY Awards. During his career, he has nine goals and 14 assists in 23 games.
Landeros is entering his sixth campaign as a defenseman with Team USA. Last season, he notched a goal and six assists, five of which he tallied during the gold-medal run at the 2014 Winter Paralympics. He also helped Team USA earn gold at the 2010 Paralympic Winter Games in Vancouver. In 77 career games, Landeros has accumulated 20 goals and 40 points.
Pauls, a defenseman, is embarking on his seventh season. A forward the previous two seasons, Pauls has been among the USA's leading scorers. In 2013-14, he was second on the squad with 11 points (5-6—11) as team USA captured gold in Sochi. He tallied a team-high 20 points (9-11—20) in 2012-13. Pauls was a part of the USA's gold-medal squad at Vancouver 2010. In 87 career games, he has recorded 21 goals and 46 points.
The highlight of the season for 2015 will be the IPC Ice Sledge Hockey World Championships A Pool which will be hosted by USA Hockey, US Paralympics and IPC Ice Sledge Hockey at the HARBORCENTER in Buffalo, New York. The tournament will run from 24 April - 2 May.
The IPC Ice Sledge Hockey World Series will also make its debut to continue the meteoric success of the sport at Sochi.
The 2014-15 US season gets underway on 2 October with a training camp in Arlington, Virginia, at Kettler Capitals Iceplex, practice facility of the NHL's Washington Capitals.
The 2014-15 US National Ice Sledge Hockey Team includes a total of 17 players. Eleven return from the 2014 US team that won gold in Sochi, including goaltender Steve Cash; defensemen Tyler Carron, Nikko Landeros and Josh Pauls; and forwards Declan Farmer, Dan McCoy, Kevin McKee, Adam Page, Paul Schaus, Josh Sweeney and Brody Roybal.
Over the last five major events, Team USA has won four gold medals (2010 and 2014 Winter Paralympics, 2009 and 2012 World Championships) and one silver medal (2013 World Championships).
Dan Brennan, director of sledge and inline national teams for USA Hockey, is serving as the general manager. Jeff Sauer is in his fourth season as head coach. Additional staff members include team physician Mike Uihlein, athletic trainer Mike Cortese and equipment manager Joel Isaacson.