Jozef Metelka targets able-bodied Worlds
The Slovakian world and Paralympic champion wants to change the perception of Para cyclists.
19 Nov 2016
Imagen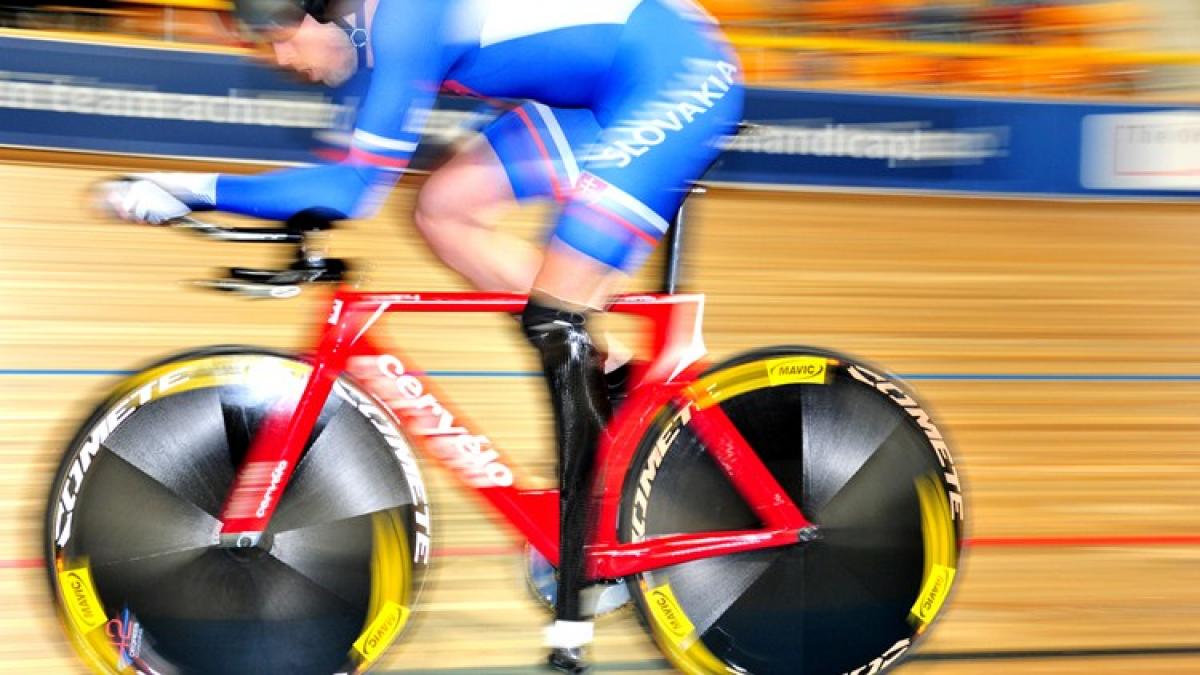 ⒸJean-Baptiste Benavent
By UCI
"I like to race on anything that has two wheels."
Double Paralympic champion, UCI world champion and UCI World Cup champion: after a year of back-to-back successes, Slovakian Para cyclist Jozef Metelka is also targeting the able-bodied World Championships next year.
Metelka, who had his left leg amputated after a motorbike accident in 2009, finds confidence in his previous achievements.
At the 2016 UCI Para Cycling Track World Championships in Montichiari, Italy, he qualified for the 4km individual pursuit final in a time of 4:26.924. Not only was it a Para cycling world record for the C4 class, it was a time that would hold its own in any international competition.
He wants to bring that to the 2017 UCI Track Cycling World Championships presented by Tissot in April.
"Montichiari would have to be the highlight of my season," said the British-based Slovakian who won the world title. "I proved I'm worthy of elite competition, not only with other Para cyclists but with everyone. I produced a really good time."
Metelka dominated the UCI Para Cycling Road World Cup with five victories in six races, became UCI world champion in the 4km individual pursuit, and Paralympic champion in both the 4km individual pursuit and road time trial.
Only in the 1km time trial on the track has he had to settle for silver: at both the UCI World Championships and Rio 2016, he finished second to Great Britain's Jody Cundy.
"Jody Cundy is a human rocket," Metelka sad. "In Rio I was aiming for silver in the kilo. I wouldn't call that defeat but rather management of expectations. I was happy with silver."
The UCI Para Cycling Track World Championships were in March, six months before the Rio 2016 Paralympics. Meanwhile the Road World Cup ran from May through until July, making for a long, packed season.
"You're riding a very fine line when you have to peak more than once in a season. If you push too much you go over that line," the 30-year-old said.
"Fortunately I didn't overdo it and everything went well. Putting goals down on paper looks easy, but the easier it looks, the harder the work behind it. People don't realise the hours, the kilometres and the intensity that we put in."
Metelka puts between 3,000km and 3,500km a month in the beginning of the season, and is capable of covering 160km on the track in just one day.
"Even if I'm alone, I don't get bored. I am always trying to hold one line to perfection. Even when I ride thousands of laps there is something new. And if I do get bored I go the other way," he said.
Changing perceptions
"It's not about me, or England or Slovakia. My big dream is to bring cycling and Para cycling closer together, and to change people's perception of Para cycling. We are also elite athletes," he said.
He recognises that the 2017 Track Cycling World Championships are a long shot. Focusing on his Paralympic campaign this year, he was not looking to earn qualification points for next year's Worlds.
He therefore jumped at the chance when offered a starting spot at the opening round of the Tissot UCI Track Cycling World Cup in Glasgow, Great Britain, at the beginning of November.
"I had been on holiday since Rio because I really needed a break. Then my coach rang me while I was in Spain and told me to get back on my bike because I could compete in Glasgow," Metelka said.
"So basically I turned up there with just one week of training. I came 14th but I think if I had had two weeks' training, I would have gone under 4:30 and made the top-10."
Skiing, mountain biking and playing tennis from a young age, Metelka is a qualified ski instructor, and has also dabbled in basketball and recently discovered paddle boarding which he has introduced into his training for core stability. He calls himself a cyclist simply "because that is a major part of what I do at the moment."
Asked if he is a road cyclist or a track cyclist, he hesitates for a long time:
"That is very difficult. I like to race on anything that has two wheels. If there is cross-country Olympic or downhill mountain biking at the Tokyo 2020 Paralympics I would love it."