Katie Kelly carving a name as top para-triathlete
The Australian quickly adapted to the sport and is a Paralympic favourite in the women's PT5 class.
21 Feb 2016
Imagen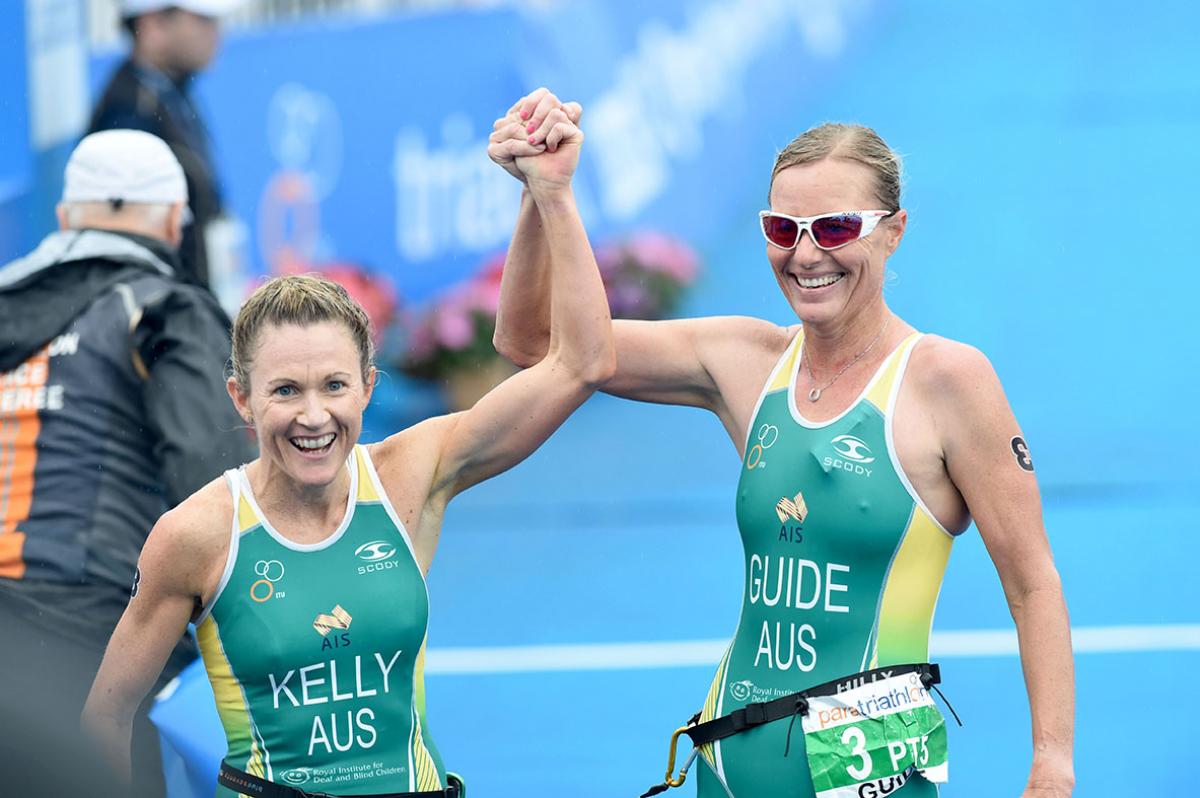 ⒸITU
By International Triathlon Union
If you were to look at the International Triathlon Union (ITU) career of Australia's Katie Kelly, it would look like a storybook debut. In just her first year competing at the elite ITU level for para-triathlon, she not only won every single race she contended in, but she also ended her season by becoming the 2015 world champion for the PT5 sport class.
But if you were to ask Kelly what she makes out of her inaugural year, she would tell you it was just the pinnacle result of over five years of competition and hard work.
According to Kelly, her story is just getting started.
Born with a degenerative disease that has slowly downgraded her eyesight to a legally blind state, Kelly came into her own in para-triathlon after years of experience with the sport. Before fully committing to the paratri-elite field, she had spent the previous five years doing many different triathlons and marathons, including the Alice Springs Marathon, the Port Macquarie Ironman in 2013, as well as the Darwin Triathlon Long Course and the Midnight Sun Marathon held in Norway in 2014.
"What was incredible was that despite losing my eyesight there was still a way for me to keep doing what I love doing. The day I was told my eyesight had deteriorated to the point of being 'legally blind' was the very same day I rang Triathlon Australia to inquire about competing as a vision impaired athlete," said Kelly about transitioning into the new sport opportunity. "I thought to myself, 'If I can, then let's find out if there was a way that I could keep competing and doing triathlons' - and then it turned out to be much more than I ever expected."
More than she expected was that not only was Kelly a natural when it came to adapting to the sport, but she thrived. By joining forces with two-time ITU world champion and Australian Olympic medallist Michellie Jones to act as her companion and guide, she went on to win her first World Para-Triathlon Event (WPE) race in the Sunshine Coast.
She did not stop there.
She then continued on and earned gold WPE medals in Yokohama and Iseo-Franciacorta and was crowned the PT5 Australian national champion.
Making a name for herself in a sport that many would have thought was impossible to carry on with, Kelly ended 2015 with one final race held in Chicago, USA, that ultimately capped off a seamlessly perfect season. With Jones by her side, she was crowned the PT5 para-triathlon world champion.
"I could never had possibly ever imagined that I would find myself in the space of 12 months going from being a person who competes in triathlon like many thousands of Aussies for the fun of it, to being part of the Triathlon Australia elite para-triathlon team. Then to eventually qualifying for Chicago and going on and competing and actually winning the World Champs. The experience and the result achieved was simply pure joy, it was just incredible," said Kelly.
While adding a world title to her collection in only her first year is reason to appreciate a level of self-assurance in her talent, Kelly still acknowledges that she has a lot to improve on.
"It's a title I don't entirely feel comfortable with because I still feel I have to prove myself much more to really earn the credentials and to prove I can put on a consistent performance," she said.
"The motivation is purely to do what I know I am capable of and that's for every race," Kelly added. "I always want to know that for every race I've given it my all. Obviously some races are more intense, but it is the consistency that is the key."
Kelly along with the entire para-triathlon community have a huge year ahead of them for the sport. With the sport's debut at the Rio 2016 Paralympic Games this summer, every athlete is looking toward the new season as a means of practice and anticipation in order to qualify and get ready for the Games.
With a professional season now under her belt, Kelly's preparation has consisted of working with a new trainer and has been able to identify her strengths and weaknesses in order to grow within all aspects of her racing.
She also knows that she can look forward to racing with Jones again as her guide.
"We're always in contact and talking about many things about our preparation and racing. Michellie is a fantastic sounding board for me on my training, and general day to day work. She's always available and I'm very lucky to have access to that type of experience and knowledge from an athlete who has achieved all of it in the sport," Kelly said of her race partner, who will also accompany her in Rio.
While Kelly pushed herself to the limits in 2015 with great success, and will look forward to an even more important year with the pending Paralympic Games on the horizon, Kelly is not just focused on her own path.
"I know that Australian triathletes are very passionate about evolving para-triathlon and the outcome of all this hard work has meant para-triathlon has rightly earned it's spot in the Paralympic programme. The critical step now is to ensure we develop pathways and identification programmes so we can nurture more para-athletes at a younger age and have them participating in [para-triathlon].
"Access to sport for people with a disability is one aspect I am very focused on advocating and am currently working to set up a new foundation called Sport Access which will focus on removing barriers for children to play sport."
Sport fans from around the world can now buy their Paralympic tickets for Rio 2016 from authorised ticket resellers (ATRs).
The IPC's Global ATR is Jet Set Sports, and Rio 2016 tickets and packages can be purchased on the CoSport website.
Residents of Brazil can buy 2016 Paralympics tickets directly from the Rio 2016 website.