Kokarev breaks the world record as Russia strike triple gold
Russia won three European swimming titles in Eindhoven on Tuesday evening with Dmitrii Kokarev and Dmitry Grigorev breaking records.
06 Aug 2014
Imagen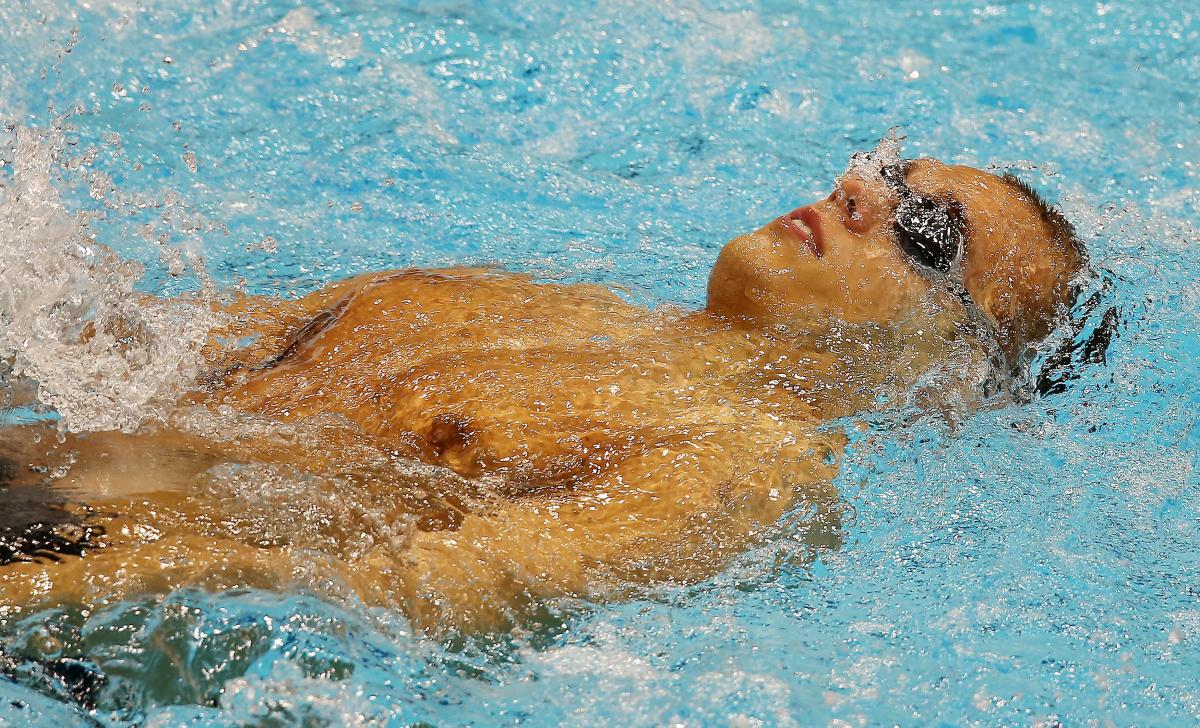 ⒸGetty Images
By IPC
Dmitrii Kokarev smashed the men's 50m freestyle S2 world record on Tuesday (5 August), day two (5 August) of the 2014 IPC Swimming European Championships, as Russia won three of 13 medals events during the afternoon session.
Easing to his first victory of the Championships in Eindhoven, the Netherlands, nine-time world champion Kokarev (58.43) looked a strong contender for further success this week as he beat Ukraine's Serhii Palamarchuk (1:00.50) into silver and Poland's Jacek Czech (1:02.22) the bronze.
Dmitry Grigorev (56.84) also secured gold for Russia with a new European record in the men's 100m butterfly S10. Spain's David Levecq (58.05) tried to go with the 21-year-old but he had too much pace and secured his first European title. Ukraine's Denys Dubrov (58.53) finished in third.
Sandwiched in between Kokarev and Grigorev's successes, teammate Aleksandr Nevolin-Svetov (1:00.21) won his first gold of the Championships in the men's 100m backstroke S12. Not far behind was Ukraine's Sergii Klippert (1:00.78). Roman Makarov (1:02.63) added to the Russian medal tally with bronze.
Oliwia Jablonska (1:07.90) won Poland's first gold of Eindhoven 2014 with a new European record in the women's 100m butterfly S10, much to the delight of her fans. Having debuted at London 2012, the 17-year-old finished ahead of Russia's Nina Ryabova (1:09.91) and Hungary's Luca Sos (1:07.90) in silver and bronze respectively.
Italy's Trimi Arjola (46.97) said she did not expect to win as she converted her fastest qualifying time into gold in the women's 50m freestyle S4, with the Netherlands' Lisette Teunissen (46.97) in silver. Ukraine's Olga Sviderska (47.06) impressed in bronze with a new S3 world record. Norway's Ingrid Thunem (53.94) also set an S2 world record, despite finishing seventh.
Germany's Kristen Bruhn (1:37.90) retained her European title in the women's 100m breaststroke SB5. Sabine Weber-Treiber (1:54.90) kept her form from the heats to win Austria's first medal with silver. Bronze went to Hungary's Fanni Illes (1:59.13).
"It was not as easy as I had hoped," said world record holder Bruhn. "In the morning it was long and easy and relaxed, so I tried to get under 38 seconds."
In the men's equivalent, Karl Forsman (1:36.44) won Sweden's second gold of the meet.
"I knew I was the best swimmer today," said Forsman who led from the front throughout. "I just had to prove it to everybody. I am not so pleased with the time but the victory is even better.
"The other races are just a bonus. I am still new. I am still here to learn."
Russia's Iurii Luchkin (1:38.11) just edged Germany's Niels Grunenberg (1:38.80) to the silver.
After an injury ravaged 2013 season, Spain's Richard Oribe (41.12) added men's 50m freestyle S4 gold to the bronze he won on Monday.
In a close finish he just beat the Czech Republic's Arnost Petracek (41.47) and Ukraine's Andrii Derevinskyi (41.90) to the top podium spot.
Eighty minutes later, Oribe then helped Spain (2:36.29) win gold in a thrilling mixed 4x50m relay (20 points), a new event that saw mixed gender teams compete for the first time.
Trailing to Russia at the halfway point, Teresa Perales put in a sensational third leg to put the Spanish in contention. Sebastian Rodriguez (2:36.29) then completed the job as Ukraine (2:38.88) edged out Russia (2:40.35) for silver in a tense finish.
"It was really hard fight against Russia," said the Spanish coach, who admitted he expected his team to win silver. "It was really nice. The four members of the team made their best time and they are competing better in relays than in individual events so that is really great for the team."
Despite only finishing with silver in the relay, Ukraine continue to lead the medals table, thanks to two golds in the evening session - adding to the three they won this morning.
Yevheniy Bohodayko (27.93) was just outside the world record as he won the men's 50m freestyle ahead of Great Britain's Matthew Walker (28.19) and Russia's Sergey Sukharev (28.32)
Teammates Oksana Khrul (38.25) and Olena Fedota (39.01) soon followed Bohodayko on to the podium with gold and silver in the women's 50m butterfly. Russia's Anastasia Diodorova (39.03) was a fraction behind in bronze.
Susannah Rodgers (33.50) picked up Great Britain's fourth gold of the day leading home the German duo of Denise Grahl (33.71) and Kirsten Bruhn (36.13) in the women's 50m freestyle S7.
In the very next race, Sascha Kindred (32.71) won his 12th European title in the men's 50m butterfly S6, to cap off a superb day in the pool for Great Britain.
"I'm really happy to win the race," said Kindred who won his first European gold in 1995. "I went in there to try and perform my best and I managed to win the race. I'm a little bit disappointed with my time, but I won the race and it will keep the youngsters on their toes, so I'm happy about that!"
Russia's Sergey Klyagin (33.41) and Germany's Sebastian Iwanow (36.71) picked up the other medals.
Great Britain's five titles on day two moved them up to second in the medals table, one place above Russia, but still behind Ukraine who now have 31 medals, made up of 10 gold, seven silver and 12 bronze.
The 2014 IPC Swimming European Championships continue until 10 August and feature around 380 of the world's best swimmers from 37 countries.
Tickets are still available at www.eindhoven2014.com, as well as high quality photos of the event.
All morning and evening sessions will be livestreamed at www.ParalympicSport.TV and live results will be available at the Eindhoven 2014 website.
Live updates will be posted to the IPC Swimming Facebook page and the Twitter account or search #Eindhoven2014.