Triple gold for Great Britain and Ukraine on second morning of the IPC Swimming Euros
Great Britain's Hannah Russell celebrates her 18th birthday with a European title in Eindhoven, the Netherlands.
05 Aug 2014
Imagen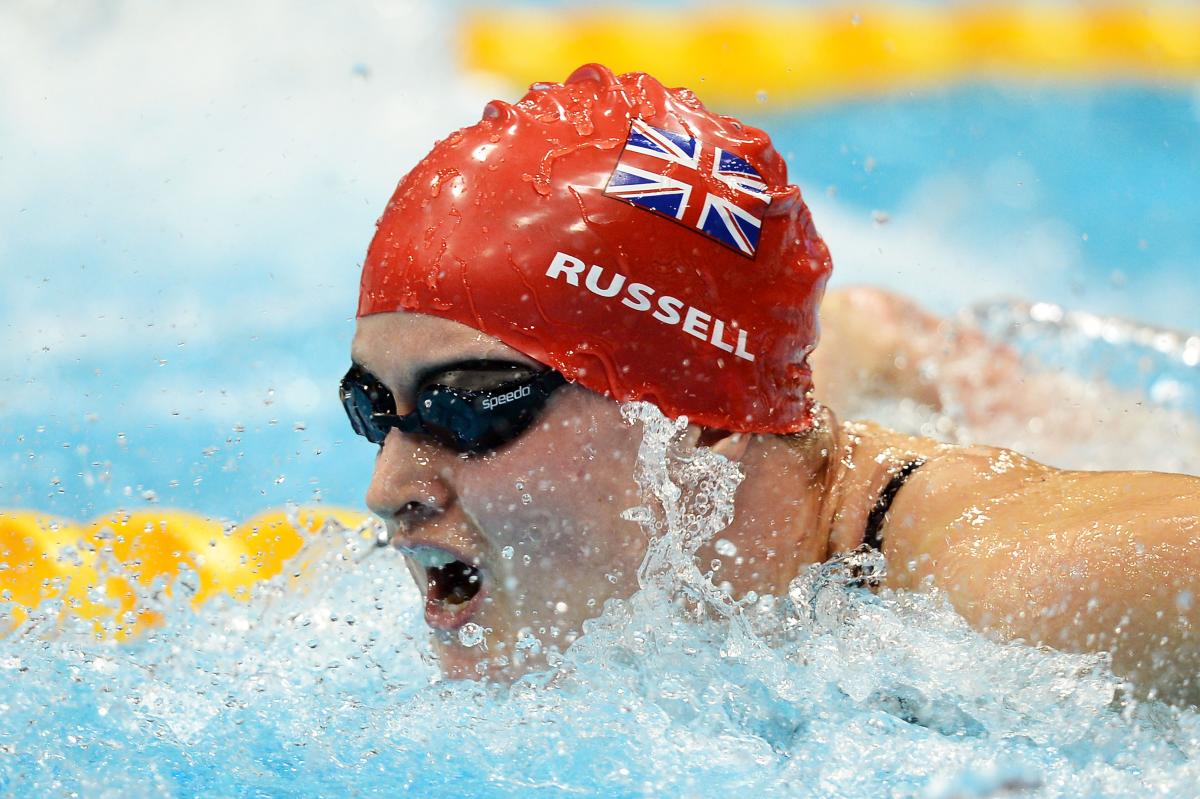 ⒸGetty Images
By IPC
"I've come away as a European Champion, it's a dream come true. I'm really, really pleased."
Swimmers from Great Britain and Ukraine sealed triple gold for their countries during Tuesday (5 August) morning's finals at the 2014 IPC Swimming European Championships in Eindhoven, the Netherlands.
In a busy session of swimming at the Pieter van den Hoogenband Swimming Stadium, there were 12 medal events and heats in a further eight, as Ukraine maintained their place at the top of the medals table.
Leading the medal surge for Ukraine was Hennadii Boiko (1:09.84) in the men's 50m freestyle S1. Adding to his 100m gold from Monday (4 August) Boiko beat Israel's Itzhak Mamistavlov (1:13.13) and his compatriot Anton Kol (1:18.76) to the top spot.
Ukrainian world champion Dymytro Vynohradets (49.51) completed his sprint double in the men's 50m freestyle S3. Greece's Ioannis Kostakis (51.60) and Spain's Miguel Martinez (53.13) sealed silver and bronze respectively.
Dmytro Zalevsky (1:08.68), Victor Smyrnov (1:10.17) and Oleksandr Mashchenko (1:13.44) made up an all-Ukrainian podium in the men's 100m backstroke S11.
Five British swimmers also medalled on Tuesday morning.
Hannah Russell (1:08.29) said she could not have wished for a better 18th birthday present as she won gold in the women's 100m backstroke S12. Both her and Russia's silver medallist Darya Stukalova (1:09.28) beat Russia's Paralympic champion Oxana Savchenko into bronze (1:12.07).
"I am absolutely amazed," said Russell. "I never realised with my class and being visually impaired, I had no idea where I was in the race. I tried to keep it together and do what I've been doing in training. Obviously it's paid off, it's fantastic.
"I've come away as a European Champion, it's a dream come true. I'm really, really pleased."
World champion Oliver Hynd (4:31.66) eased to victory in the men's 400m freestyle S8 to retain his European crown. Russia's Denis Tarasov (4:33.67) took silver whilst Hynd's teammate Josef Craig (4:38.14) claimed bronze.
"I'm really happy to be here and to get to swim my races," said Hynd, who also won a Commonwealth Games gold last week. "I'm really happy with the outcome. I stuck to my race plan and it all went well.
"The 200m medley tomorrow is my best race, so hopefully I can have some more success there."
Completing the triple for Great Britain was Stephanie Millward (4:41.99) who won a terrific tussle with teammate Amy Marren (4:47.66) in the women's 400m freestyle S9. The British pair were together until the last 150m before Millward upped the pace leaving Marren behind. Spain's Nuriia Marques (5:01.95) was third.
Norway's Sarah Louise Rung (1:44.64) retained her 100m breaststroke SB4 European title. The seven-time world champion beat Italy's Giulia Ghiretti (2:00.10) to the wall whilst Natalia Shavel (2:01.27) collected Belarus' second medal of the week.
"I am happy with it being gold. I broke the record two weeks ago but I was hoping to go a second faster. I am pleased. It's my second best time so I am pleased with the race," said Rung who won silver in Monday's 100m freestyle.
In the women's 400m freestyle S8, Denmark's 18-year-old Amalie Vinther (5:17.48) extended her lead at every turn to take her first European title.
"It was a tough race with good competitors. It was fantastic. I did not expect to win because there are some tough swimmers" said Vinther who beat the Dutch duo of Romy Pansters (5:29.83) and Lisa den Braber (5:40.54) into second and third respectively.
Despite feeling unwell with a fever, Italy's European record holder Cecilia Camellini (1:23.32) fought back in the last few metres against Germany's Daniella Schulte (1:23.84) for a stunning victory in the women's 100m backstroke S11. Ukraine's Maryna Pidduba (1:25.77) won bronze.
Italy struck gold again soon after with Federico Morlacchi (4:18.34) victorious in the men's 400m freestyle S9. The 20-year-old eased to the win ahead of Croatia's Kristiijan Vincetic (4:23.14) and Portugal's David Grachat (4:26.61), who both sealed the first medals for their countries.
Anna Krivshina (1:08.47) won Russia's only gold of the morning in the 100m backstroke S13 finishing ahead of the Netherlands' Sterre Verman (1:13.84) in silver and Karina Petrikovicova (1:17.13) who won Slovakia's first medal in third.
Spain moved to second position in the medals table with gold in the men's 100m breaststroke SB4. Ricardo Ten (1:37.29) topped the podium with Greece's Antonios Tsapatakis (1:39.23) and Italy's Effrem Morelli (1:49.64) joining him in the medals.
Heats
David Smetanine (41.03), France's 100m freestyle S4 silver medallist from Monday, qualified quickest over the shorter distance but will be challenged for gold by Slovenia's Darko Duric and home favourite Michael Schoenmaker.
Germany's world record holder Kristen Bruhn (1:46.98) qualified fastest in the women's 100m breaststroke SB5, an event that could see Austria land their first medal through Sabine Weber-Treiber (1:59.24).
Russia will be optimistic of landing at least two golds later after Dmitrii Kokarev (1:00.41), a bronze medal winner on Monday, was fastest in the men's 50m freestyle S2 and Sergey Sukharev (28.47) went quickest in the men's 50m freestyle S7.
Sergii Klippert (1:02.25) of Ukraine led the way in the men's 100m backstroke S12, while 17-year-old Oliwia Jablonska (1:10.39) could make Poland's first medal of Eindhoven a gold after she was fastest in the women's 100m butterfly S10.
The women's 50 freestyle S4 could be a thriller with Trimi Arjola (46.28), Italy's 100m gold medal winner from Monday, going head-to-head with Ukraine's multiple world champion Ukrainian Olga Sviderska (50.40)
A close contest is also expected in the men's 100m butterfly S10. Just 0.4 seconds separated Spain's David Levecq (58.90) and Great Britain's James Hollis (58.94) in qualifying.
Hollis' teammate Susannah Rodgers (33.84) led Germans Denise Grahl (34.59) and Kristen Bruhn (36.17) in the women's 50m freestyle S7 finals and another Brit, legendary six-time Paralympic champion, Sascha Kindred (33.61) qualified fastest for this evening's men's 50m butterfly S6.
The 2014 IPC Swimming European Championships continue until 10 August and feature around 380 of the world's best swimmers from 37 countries.
Tickets are still available at www.eindhoven2014.com, as well as high quality photos of the event.
All morning and evening sessions will be livestreamed at www.ParalympicSport.TV and live results will be available at the Eindhoven 2014 website.
Live updates will be posted to the IPC Swimming Facebook page and the Twitter account or search #Eindhoven2014.