Leeper, Singleton to headline Arizona Grand Prix
Fourth IPC Athletics Grand Prix of 2014 will also feature Americans Raymond Martin and Shirley Reilly ahead of her clash with Manuela Schaer in Switzerland, and Canada's multiple world champion Brent Lakatos.
09 May 2014
Imagen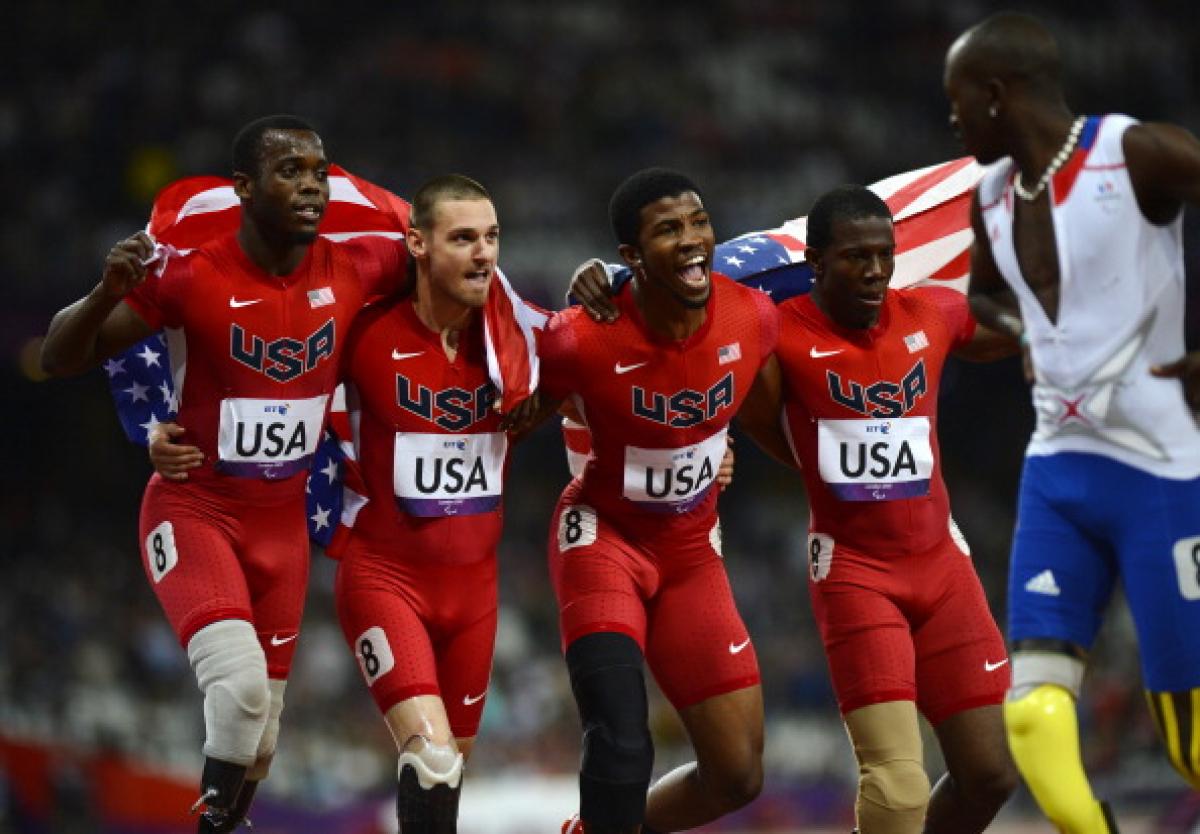 ⒸGetty Images
By IPC
"If I line up against the likes of David Prince or Blake Leeper, I know there is going to be a competitive race."
The USA's world champions Blake Leeper and Jerome Singleton are among a host of stars hoping to earn their stripes at the Desert Challenge Games in Mesa, Arizona, this week (9-11 May) as the 2014 IPC Athletics Grand Prix continues in the USA.
The sprint races involving Leeper and Singleton are set to be one of the major highlights at the event which will attract nearly 200 athletes from 11 countries.
At last year's World Championships in Lyon, France, Leeper won three silver medals in the 100m, 200m, and 400m T43, whilst Singleton clinched bronze in both the 100m and 200m T44. The two also formed part of the USA's world-title winning and world-record breaking 4x100m T42-46 relay team.
But any camaraderie from that relay success will be left in the locker room as the pair line up against a stellar field including fellow countrymen and world medallists David Prince and Joshua Kennison.
With no major international event for American athletes this year, the Grand Prix circuit takes on even greater importance, and both Singleton and Leeper are keen to prove that they are the men to beat.
"My goal is to go out there and run as fast as I can," Singleton said. "When it comes to amputee sprinting, there are certain people I would like to run against. The reason I say that is now I'm healthier than I've ever been in my career.
"If I line up against the likes of David Prince or Blake Leeper, I know there is going to be a competitive race.
"The biggest thing to me is coming out with the win, that's the most important thing. If I run with those guys and I cross the line first, then I know I run well."
A world 100m T44 champion in 2011, Singleton failed to medal at London 2012. Changing his prosthetic at the end of 2011 marked the start of a gradual process to find the best alignment for his leg and body. Last autumn, Singleton made the final adjustments, removing the crepe from his prosthetic.
Now the University of Michigan graduate, who majored in mathematics, physics and engineering, believes he is able to perform better than ever.
"I actually feel like this a new beginning," he said. "I wanted to use my background in science and technology and engineering to really take time to figure out a leg that works for me. I never really did that before, I never really focused on running.
"It's been a two to three year process, and this year is the first time I feel confident in my prosthesis. For the first time I can just run and not be prohibited."
Leeper only started running competitively four years ago, and is also taking the opportunity to learn more about the mechanics behind a strong performance on the track.
"This is my first year when I can actually sit down and take my time, get stronger and focus on things that I haven't been able to before," he said.
"But at the end of the day I'm a competitor; I love to win. I don't just go and show up just to take second. It might be a down year but I'm working twice as hard to get prepared for 2015 and 2016."
With American sprinters showing impressive strength in depth on the track - they won 10 of the 15 world medals from the 100m, 200m, and 400m T43/44 - Leeper believes the competition in Arizona will only make him go faster.
"It's great for us because it's raising the bar - the time that won the 100m at the US Paralympic Trials in 2007 or 2008 wouldn't even get you to the finals at the Trials now.
"To say you are the best in America - that's a great statement. That's the goal - to be the No. 1 American; the No. 1 in the world. But it starts out here in America. I'm competing against the best in the world and I don't even have to leave the country."
Raymond Martin is another American star who shone in Lyon last summer, picking up five world golds from 100m through to 1,500m T52, and he will be hard to beat again this weekend.
Paralympic marathon champion Shirley Reilly, who won 400m T53 silver in Lyon last summer, will be hoping for a strong performance before she heads to Switzerland for the Nottwil Grand Prix, where she is expected to take on the 1,500m against many of the top racers in the world including Swiss-born Manuela Schaer.
It is not just home grown talent lining up in Arizona - a clutch of international athletes is also set to compete, including Brazilians Lucas Prado and Felipe Gomez, who finished first and second, respectively, in the 100m T11 in Lyon.
Canada's four-time world gold medallist Brent Lakatos goes in the 100m, 200m and 1500m T53, whilst his wife Stef Reid, Great Britain's long jump F44 Paralympic silver medallist, will be the one to watch in the field, having provisionally set a new world record of 5.45m in Florida in April.
Live results will be available here.
The 2014 IPC Athletics Grand Prix features nine events in five regions, including new events in Nottwil, Switzerland, and Tunis, Tunisia, as the sport expands into Africa.
After Arizona, the competition heads to Nottwil from 16-18 May for the first European leg ahead of the 2014 IPC Athletics European Championships in Swansea, Great Britain, from 18-23 August. Media accreditation for the Nottwil Grand Prix can be obtained through Evelyn Schmid (evelyn.schmid@spv.ch).
For further information about the IPC Athletics Grand Prix, please visit the Grand Prix homepage.