Leo-Pekka Tahti and Marc Schuh gear up for Swansea showdown
The 'Flying Finn' and the 'Pocket Rocket' are ready to renew their rivalry at August's IPC Athletics European Championships
30 Jul 2014
Imagen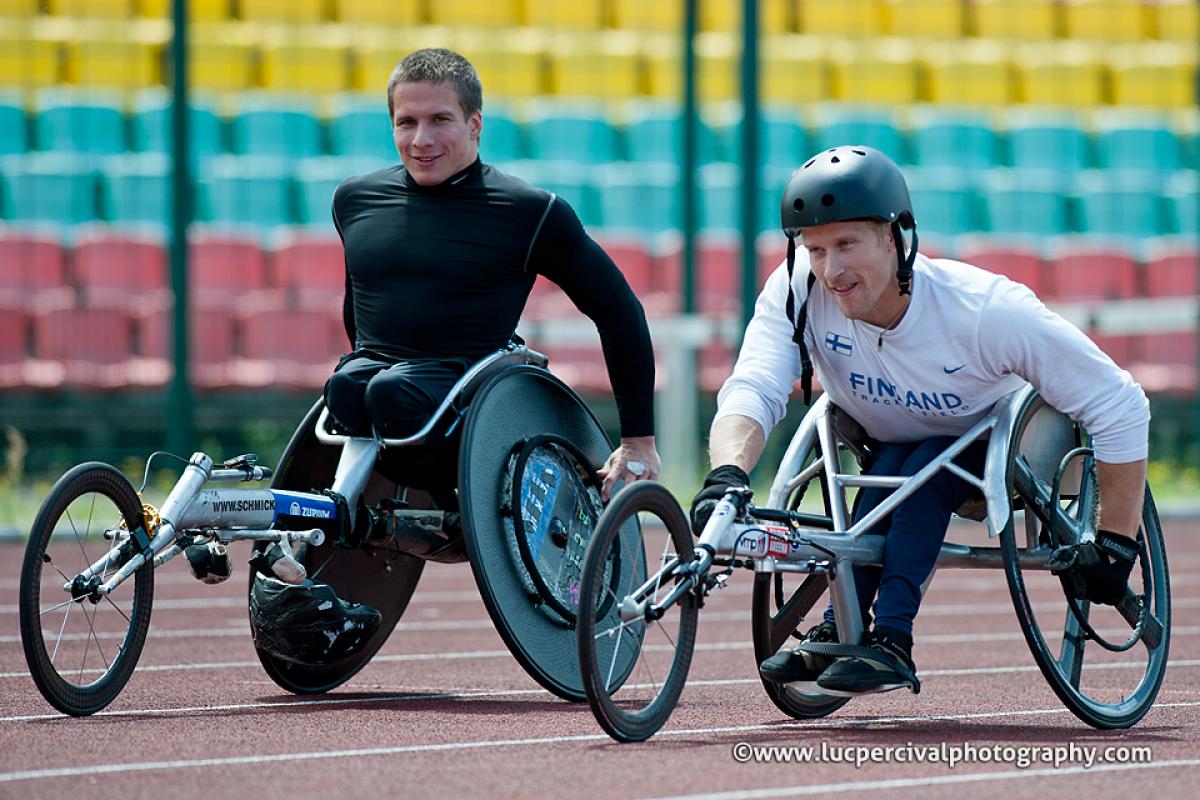 ⒸLuc Percival
By IPC
"It's very interesting to go to the big competitions. I expect a very tough race in Swansea, absolutely. I'll have to be at my best to achieve what I want to achieve."
Leo-Pekka Tahti and Marc Schuh insist they are both ready to steal the show as they gear up for a Swansea showdown at August's 2014 IPC Athletics European Championships in Swansea, Great Britain.
'The Flying Finn' Tahti will face German counterpart Schuh – known as the 'Pocket Rocket' – in the 100m, 200m and 400m T54 races.
Tahti got the better of Schuh in the 100m at June's IPC Athletics Grand Prix in Berlin, Germany, clocking 14.38 seconds to take gold ahead of Schuh, who finished second in a time of 14.65.
But when it comes to the 200m, there is literally nothing to split them – guaranteeing fans a red-hot race in August.
Schuh said: "I'm a 200m and 400m specialist – on the 400m I have the European record, and on the 200m Leo and myself have the exact equal time.
"Kenny Van Weeghel is a little in front, but me and Leo will be fighting until the finish line."
Tahti, world record holder in the 100m T54, insists he can continue to improve ahead of the European Championships.
The three-time Paralympic champion said: "I'm getting better and better. I've had an improvement in my acceleration at the start, so I think I'm in the right place ahead of Swansea.
"There are some races next in Finland, and then I'll try to put more focus on my training ahead of the European Championships. I'll probably try to compete in England before Swansea, and after that I'll be ready."
Tahti's achievements include three successive 100m T54 Paralympic titles dating back to Athens 2004 – as well as two gold medals from the same event in the World Championships in 2011 and 2013.
But despite all that experience, he is already looking forward to competing in Swansea.
He said: "I still get excited, it still gives me a buzz. It's always a very high level in my class, especially in Europe. The level is very high and that's why I have to wake up all the time.
"It's very interesting to go to the big competitions. I expect a very tough race in Swansea, absolutely. I'll have to be at my best to achieve what I want to achieve."
For Schuh, the European Championships could provide a chance to claim his first major gold medal after missing out at the Paralympic Games and World Championships.
Schuh said: "This year is going really well, way better than 2012 – which was my worst year – and also better than 2013. It's really going well and I'm looking forward to the European Championships now.
"I enjoy the big events. I keep my focus, try to remove the crowd from my mind and really stay focused. I just hope I don't get too nervous.
"The 400m is really hard to predict. We have four really good athletes in that race – David Weir, Marcel Hug, Kenny van Weeghel and myself – and at the Swiss nationals, we were all within 0.3 seconds of each other, so ahead of the European Championships we've already found out we're all at the same level. It should be a great race."
Tahti and Schuh are two of 560 athletes from 39 countries competing at the Swansea 2014 IPC Athletics European Championships between 18-23 August.
Tickets for the event at Swansea University are now on-sale and can be purchased via the Swansea website. Prices start from £3 per session.
Media accreditation for the event is also now open via the Swansea website.