Lima 2019: How Para sport changed Efrain Sotacuro's life
Paralympian believes Parapan American Games can help Peru grow
30 Apr 2018
Imagen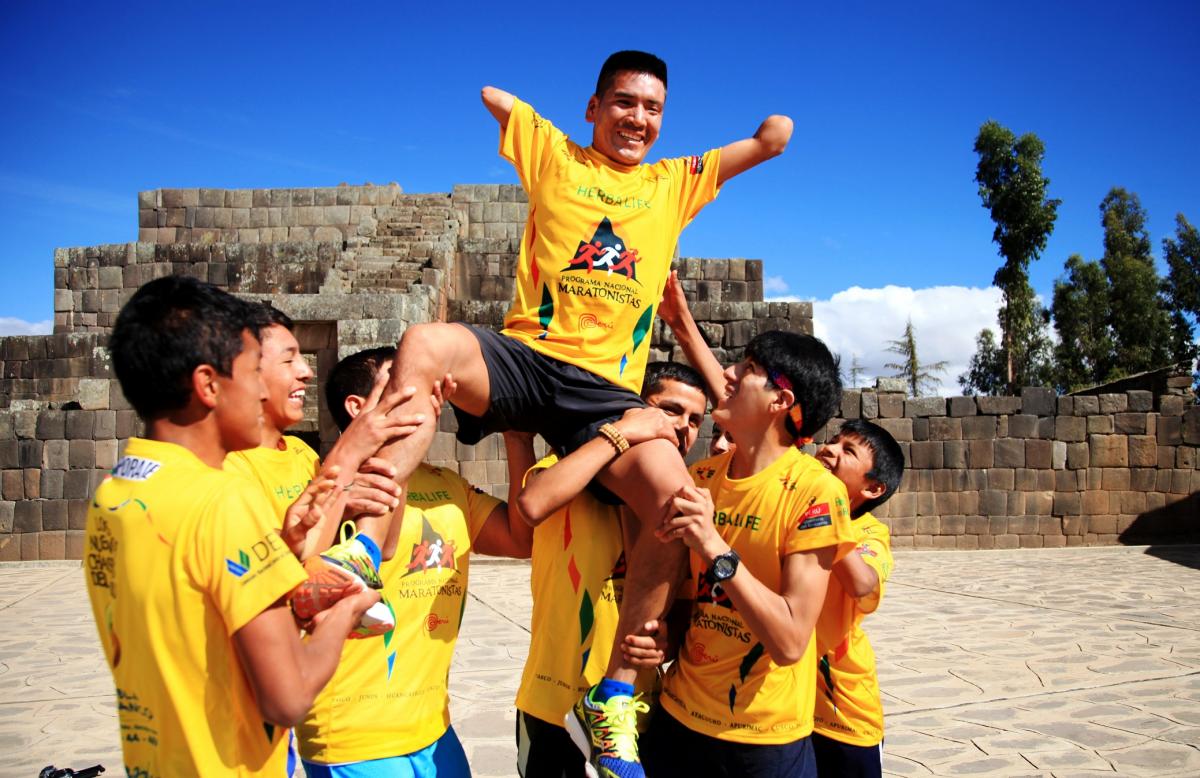 ⒸLima 2019
By Lima 2019 and IPC
"Many times I thought I would never fully accept my impairment. But I had the will to leave my fear behind and fight to become an example for many people with impairment. The most important thing is to never give up."
"I reacted to the accident with fear, did not want to go out to the streets and did not accept myself. But Para sports changed my life."
Efrain Sotacuro was playing with his friends and cousins in his hometown of Huancavelica, Peru, when he touched the high-voltage transmission lines by accident. He does not remember anything else but crying. As a result, he had both his arms amputated.
"I could not believe what was happening to me. I had to overcome many things, like kids at school laughing at me for looking different. Before the accident, I wanted to become a great football player. But all that was over for me."
Step by step, Sotacuro slowly started to free himself from that emotional hole. Now, several years after, he has become one of Peru's most successful Paralympic athletes, a role model and an ambassador for the Lima 2019 Parapan American Games.
"At first, I had to learn everything again, including how to write with my feet, to use my stumps to change my clothes, wash myself, and to learn how to make myself feel useful again," the 27-year-old said.
In 2012, when he was picking up his membership card from the National Council for the Integration for People with Impairment, he was suggested to take up a sport. "That is when I started to run. It was the beginning.
"Para sports changed my life, helped me a lot. I wanted to run and achieved it. It opened me many doors. It was not easy but I moved forward and now I always have a positive attitude. To represent Peru is the best.
"Many times I thought I would never fully accept my impairment. But I had the will to leave my fear behind and fight to become an example for many people with impairment. The most important thing is to never give up."
In 2016, Sotacuro finished fourth in the men's marathon T46 at his maiden Paralympic Games in Rio, Brazil. "I want to apologise to my country, I wanted a medal but could not win it. But life gives you second chances and I am training triple harder to be better prepared for Tokyo 2020."
Before that, he is anxiously waiting for his home Parapan Ams in Lima, in 2019. "It will be a big sporting celebration for Peru. They will help create awareness and more opportunities for people with impairment.
"My dream is to win a medal at the Parapan American Games and, later on, at the Paralympic Games. I want my country to celebrate. I want people with impairment to not let themselves down or hear what people say about them. Move forward and make your dreams come true."
Lima 2019 will be held between 23 August and 1 September and will feature a record 1,850 athletes who will compete across 17 sports.