London 2017: Day 2 evening athlete reaction
Flashquotes from some of Saturday evening's World Para Athletics Championships medallists.
15 Jul 2017
Imagen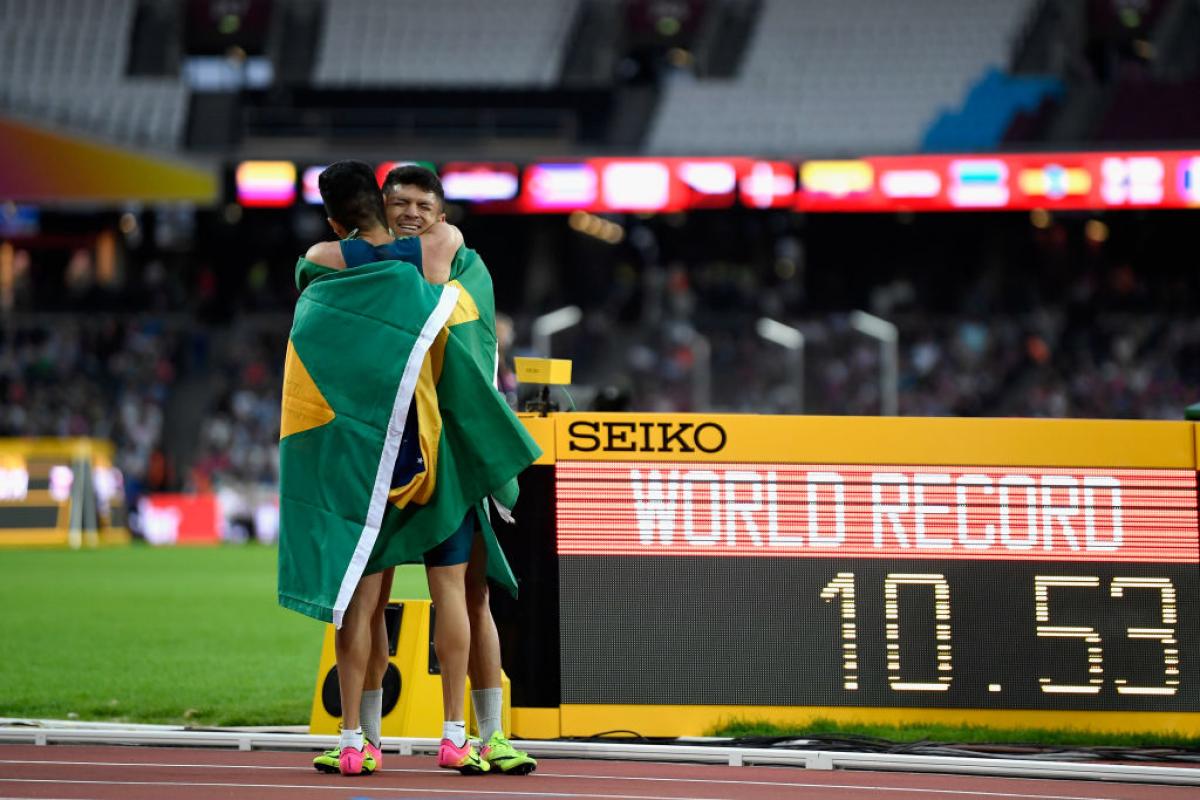 ⒸGetty Images
This page will be updated with athletes' quotes throughout the third session of the World Para Athletics Championships London 2017 on Saturday (15 July) evening.
Men's 1,500m T46
David Emong (UGA) - Gold
"I'm so happy to win the first para athletics gold for my country at a big championships. It's not easy but I prepared very well because last year in Brazil I won silver and I wanted gold this time.
"I was expecting to win because I have been training at altitude with Uganda's champions Moses Kipsiro and Stephen Kiprotich. They have helped me to have excellent preparation. It's the first for my country and everyone there will be very happy for me.
"Last year I wasn't ready to win. I lacked behind at the end, but this time I was ready and in the last 100m I knew it was mine."
Samir Nouioua (ALG) - Silver
"I have been winning since 2004 so it's difficult for me to lose this time. I had poor preparation and it wasn't good enough to keep gold. My legs felt very heavy at the end. I wanted to win but my legs were too stiff and tired."
Men's 5,000m T11
Samwel Mushai Kimani – Gold
"I feel delighted after this race because I came here to defend my title. I was prepared well and managed it as planned. I have to thank to my guide James who started to work with me around ten years ago. I have to dedicate this title also to him. We still have 1500m ahead of us so I hope I will do well.
"All the titles are important to me but this one is even more important securing me qualification to Tokyo 2020. I arrived on 11 July but mMy team mates had some visa issues so they missed the flight in Dubai and are arriving tonight. Of course, I had a bad feeling because of that because we are a team."
Men's 100m T47
Petrucio Ferreira dos Santos (BRA) - Gold
"I always feel comfortable with the second half of my race, so I just went out and did what I knew I could do. This medal is just as important as my Olympic gold because I haven't won one of these before. Before the last world championships I was injured two days before the event.
"My sign at the start of races (when I put my arm up to my head like combing hair) is a message to my mum. It reminds her of what I have done since I was a child."
Men's 200m T42
Richard Whitehead (GBR) - Gold
"The stadium is obviously electric, you can tell that they are very patriotic towards not just Great Britain athletes but Paralympians in its entirety. Every athlete got a good cheer, they got great support.
"You can see how see how far it comes in the last four or five years and it's a pleasure to be a part of it."
"It's the best stadium in the world, with the best fans in the world."
Men's 100m T33
Ahmad Almutairi (KUW) - Gold
"I love it that I can raise the Kuwaiti flag for my country. It's great to win here because I was here in 2012 and and I didn't win anything then. I'm so happy to put that right.
"The competition was very tight tonight but I was never worried, even when I was behind at the beginning. I knew I had enough distance to make it up. But there was confusion at the start because I thought the athetes either side of me moved. They should have been warned.
"The crowd were great, they were cheering all of us on. I felt they were cheering for me as well as the British guys.
"I felt that I would break the record tonight, so that wasn't a surprise."
Men's 100m T34
Walid KTILA (TUN) - Gold
"I had the lead but I came under a lot of pressure and managed to win it. But I was very confident before the race because I had done a lot of work to be ready. "
Women's 200m T37
Nataliia Kobzar (UKR) – Gold, CR
"I must say I am in a shock now. I guess I surprised my opponents and also the people in the crowd. It was such a strong field and I managed to beat them all, it is just amazing and I am over the moon. My coach ran to me right after the race, she hugged me and cried. She could not believe her eyes. My team supported me here – there is not many of us, just 15 – 20 people. But it helped me a lot and now I feel I would love to celebrate. But I still have two events in my schedule."
Women's 200m T38
Sophie Hahn (GBR) - Gold
"It feels absolutely incredible to break a world record in front of a home crowd is phenonominal.
"I never thought I was going to break a world record, I just thought go for the gold, dosent matter what time. Just as long as a cross the line first."
Men's 100m T11
David Brown (USA) - Gold
"I've suffered such a lot this season with multiple strains and injuries, it wasn't looking too good for these championships. I really don't know how I did what I've just done out there. It's taken such a lot of hard work.
"It is scary sometimes running so fast without being able to see but I have someone alongside me who I really trust and so much of my achievement must go to him."
Men's 100m T12
Leinier Savon Pineda (CUB) - Gold
"I won in Doha, Rio and now London. I worked very hard back home in Cuba, every day training and then at training camp in Mexico City – that was really important for my success today.
"I am top of the rankings and it's great to run fast, but it's better to win a championship like this in a great stadium. I have so many emotions. I dedicate this medal to all the Cuban people."
Women's 200m T47
Deja Young (USA) - Gold
"I have been through so much pain this year. I was in a car accident eight months ago when I fractured my wrist and I wasn't going to run this year at all.
"There are some amazing athletes out there and I had to battle all the way and get first to the finish line. "
Women's 200m T53
Samantha Kinghorn (GBR) - Gold
"Gold . I can't believe it. That crowd was incredible, I was so scared on the start line and as soon as they called my name I thought I can soak this up a little bit.
"It's been incredible, we have the best support and I think we are the best team"
"I don't know yet. I feel like it's going to take a few days. I didn't think it would come this early in my career and I have been working so hard. I'm going to have to say it a few times in my head before I can say it out loud"
Women's 200m T54
Tatyana McFadden (USA) - Gold, CR
"It has been a really tough year. I think my starts are definitely going a little bit ahead but having the last one, the training was not going really good. So standing here next to Hannah it feels so amazing and it is so great to have such teammates. I am so happy to come here and to be healthy enough – it was only about three months ago and I could not wait to be back to London and to race with my sister. And just to be racing again, it is just amazing.
"The first podium together – I love it. It will be a special moment because I have not done the championships for such a long time. The crowd is absolutely amazing and I am so happy for Hannah. In 2012, it was here very first games and here we are again. She has come a long way since then."
Cheri Madsen (USA) - Silver
"It was a lot of fun to get a clean sweep for USA. I assumed we would, though, because we've been doing really good times this year. I did manage to split the sisters.
"It would have been nice to beat Tatyana. She's the best in the world and you always set your sights on the best. I'm in the best shape ever.
"I raced back in '96 and 2000 but then took a break for 13 years to have kids (Reese, 14, and Melayna, 11). They didn't come to Rio last year but I brought them to London because I wanted them to experience this. They are here tonight and they got to see mom win silver."
Hannah McFadden (USA) - Bronze
"It was amazing – Tatyana is my good lecturer. When she is on, I want to race even better. I am happy she was here with me and grateful for what she had given to me. Just being together off and on the track is helping me a lot. I am so excited. It was my second experience competing together with her. I was here in 2012 when I was just a baby. I did not know what was going on.
"Coming to this audience was really overwhelming. I definitely needed this for my self-confidence and I hope I will manage to recover before the 100 metres race tomorrow. 100 metres is my favourite."
Women's discus F57
Nassima Saifi (ALG) - Gold
"Why have I won all of these medals? If you had seen me in training, you would see it is torture. I have to have a strong desire.
"My coach shows no mercy. There is no left or right, just his way. But a month and a half ago, we got married. Training is training and personal is personal. He is romantic off the training field.
"This medal has a very special place for me. We haven't had time for honeymoon yet but I will give him the medal as a wedding present."
Men's shot put F20
Muhammad Zolkefli (MAS) - Gold
"I came here to bring something back to my country. This is the second world record for me and I am so proud. I have trained so hard for this. I woke up this morning and thought I could break the world record. I always dream that I will do it and tonight I did. World record, Paralympic champion and now world champion – that sounds good.
"I went totally mental when I saw the Australian's distance but I knew it wasn't that far. I knew it was wrong. I got really emotional but my coach settled me down. It did disturb me but now I am extra happy to win."
Todd Hodgetts (AUS) - Bronze
"When they gave me the world record I knew it was wrong. I knew it wasn't that far but it did affect me a little. It was a bit disrupting but I stuck with it. I personally think they should get this stuff sorted out. It was disappointing but I stuck to my plans.
"I love this place, I love London, it's like my second home. Being on the podium is awesome. It took a world record to beat me but he beat me fair and square. This is not the end. I hope at the next world championships I will get him."
Women's shot put F32
Quotes to follow.
Women's javelin F46
Hollie Arnold (GBR) – Gold, WR
"In my fourth attempt, I felt good but I did not realize it would go so far, not the world record. It was just amazing series I had and I am proud of myself. It felt great to win the gold in front of my family and friends at this stadium. I think I took advantage of it and used all the support for my performance. I changed coach after Rio, it was a massive change but I hoped for gold. I am here also to support the young athletes who need it, to share my experience with them. Five years ago, it was very emotional but I came here again to make new memories. Sometimes, I did not feel self-confidence but after three titles and the world record, it gives me a lot."
Women's discus F52
Cassie Mitchell (USA) – Gold, WR
"I have set many world records; I think this is maybe my seventh. But I have never had a world record and the world title at the same time so it is very exciting. It has been a lot in this past two years with the cancer and I am still doing chemo which makes training hard but I am thankful to God and my family and my entire team – they were very supportive during the entire process. I have got gold and a silver, two personal bests, I am very pleased. My first international competition was at the London stadium, I got fourth, so it was very meaningful to come back. The audience here is just wonderful."
Men's long jump T38
Quotes to follow.
Live coverage and results from the World Para Athletics Championships London 2017 can be found each day at www.worldparaathletics.org/London2017. Around 1,150 athletes from 90 countries will compete in 202 medal events between 14-23 July.